How much does a kitchen renovation cost in Melbourne? Kitchen renovation costs will vary significantly depending on the size of your kitchen, the quality of the materials you use and the extent of your kitchen renovations. For example, an entire kitchen replacement costs more than smaller renovations such as installing new kitchen cabinets, adding a splashback or replacing your taps or sink. Although the kitchen renovation cost in Melbourne may not be cheap, a kitchen upgrade can improve your lifestyle. Making your kitchen a nicer space to be in will make cooking and entertaining more enjoyable and create a more inviting place for your family and friends to gather. If you are tired of trying to cook with limited bench space or kitchen appliances that don't work properly, it may be time to make some kitchen home improvements!
To work out how much remodelling a kitchen costs, you'll need to do some planning, designing and budgeting, and then start collecting some kitchen renovation quotes. From luxury custom-built timber cabinetry, top-of-the-range appliances and stylish splashbacks to laminate benchtops, cast iron sinks and ceramic tiles, there are many decisions that will need to be made when undertaking a kitchen renovation project. As well as fittings, materials, hardware and new kitchen appliances costs, you'll also need to factor in labour costs such as designing, plumbing, building costs, electrical work and hiring other professional tradespeople.
If you decide to change the layout of your kitchen by moving walls or plumbing or installing new flooring, that will also increase the cost of the project. The kitchen upgrade costs can really start to add up but, unlike other expenses such as buying a new car, if the kitchen renovations are done properly, they may be a good investment. The kitchen is often one of the rooms people look at most closely when buying a new property, so it can be worth spending the time and money getting your kitchen renovation right.
How to apply for a loan to cover the costs of kitchen renovation
Unless you are lucky enough to be able to cover the kitchen renovation cost in Melbourne out of your savings, chances are you'll need to borrow some money. Several banks and money lenders offer home improvement loans that can help cover your kitchen upgrade costs. If you are looking for a fast, hassle-free personal loan, MoneyMe provides unsecured personal loans from $2,100 up to $50,000. With low personalised fixed interest rates and no early exit fees, a MoneyMe personal loan could be just what you need to cover your kitchen renovation cost in Melbourne if you want to pay the loan off early. To apply, you need to be at least 18 years of age, a permanent resident in Australia and currently employed. If you meet this criteria, you can apply online without needing to pay an application fee.
On the online application form, you'll need to provide financial details such as your income, mortgage or rental payments, your ideal borrowing amount and what your loan is for. MoneyMe is a responsible lender, so it is part of our standard practice to look at your credit report when assessing your loan application to help us understand your credit history. However, we consider other factors too, to get a more complete picture.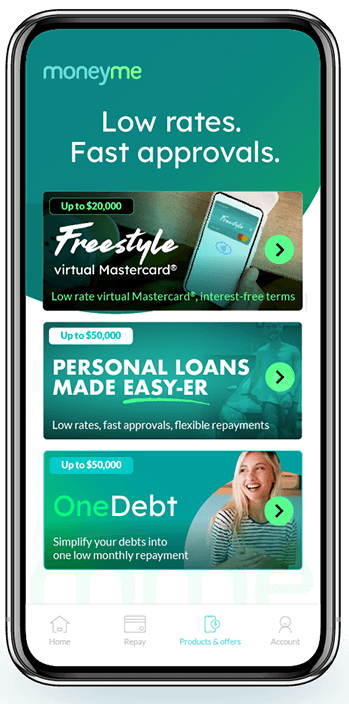 How long does it take to get the loan?
You may have been thinking about renovating your kitchen for years, or you might have just moved into a new home where the kitchen is in serious need of work but, whatever your situation, once you've made the decision to renovate, chances are you'll want to get started as soon as you can. That's where MoneyMe can help. With no face-to-face interactions and without complicated paperwork to submit, our application process is done entirely online and can be completed in a matter of minutes.
Rather than requesting bank statements and payslips, using our advanced technology, you can allow us to get read-only access to the last 90 days of your banking history in seconds. And our proprietary advanced loan management platform means the assessment process is super-fast, too, so you won't need to wait long to see whether your loan application has been successful. As soon as you've digitally signed your contract, we can transfer the money to your account on the same day. We know you'll be eager to get your kitchen renovations started, so we want to make sure you get your money ASAP!     
When looking at the kitchen renovation cost in Melbourne, we all know it is nowhere near cheap, especially if the quality is important to you. Still, with a MoneyMe unsecured personal loan, you can get the same-day funds you need to get started in no time.
Whether it's for large or small kitchen costs, a bathroom remodel, new bathroom costs, or other home improvement expenses, we've got you covered. MoneyMe is the official finance partner of the renovation TV show on 7two called DVine Living. Hosted by Dale Vine, this show features some of the best home reno tips and DIY ideas that you can try out on your home. Be sure to visit the DVine Living page and tune in on every episode to get more ideas on how a personal loan can help you with your next home improvement project.