Get approved for a debt consolidation loan online today. We offer unsecured personal loans of between $2,100 and $50,000 online and in a matter of minutes. Simplify and streamline your finances by exchanging multiple creditors and fees for just one lender and our low fees and charges. Our application process is a low doc, fast and intuitive online form. We don't need your payslips or to confirm your employment with your boss. It really does take less than 5 minutes to apply online with MoneyMe.
Merging all of your existing debt into a single, manageable repayment is a popular way of refinancing. It helps to reduce costs and tidy up your credit file.
What is debt consolidation?
Debt consolidation is the process by which a borrower combines or consolidates all of their existing debt across multiple lenders into one, single debt with manageable monthly repayments, low fees and low rates. We offer a personal loan for debt consolidation for up to $50,000. These are unsecured personal loans that take you less than 5 minutes to apply for online.
If you're interested in consolidating your existing debt, then you will need to apply for either a personal loan amount for the total cost of your debt or our Freestyle virtual Mastercard® offering up to $20,000.
Personal loans are paid in cash directly into your bank account. Once the money has cleared (usually within 24 hours of signing your online loan contract) you will need to disperse those funds to your individual creditors yourself. Some money lenders who offer a debt consolidation product pay out your creditors on your behalf. MoneyMe doesn't work that way.
Your debt consolidation loan is then repaid over your nominated loan term with us. Existing loan terms range from 12 months to 5 years (60 months). We offered fixed interest rates which means that you know what your repayment amount will be, how many repayments you need to make and the total cost of your loan with us before you sign your contract. If you're not sure how much you can comfortably afford to borrow then use our online tools like a loan repayment calculator. This will give you an indicative repayment amount, interest rate and total loan cost before you even apply. Use this calculator to quickly budget likely repayments and how they'll fit with your existing cash flow.
Remember that when using our online calculator, you are consolidating your debt so when it comes to budgeting for a new repayment amount, remove the payments that you will no longer be making from your budget. Instead of paying multiple creditors every month, you'll be paying just MoneyMe instead.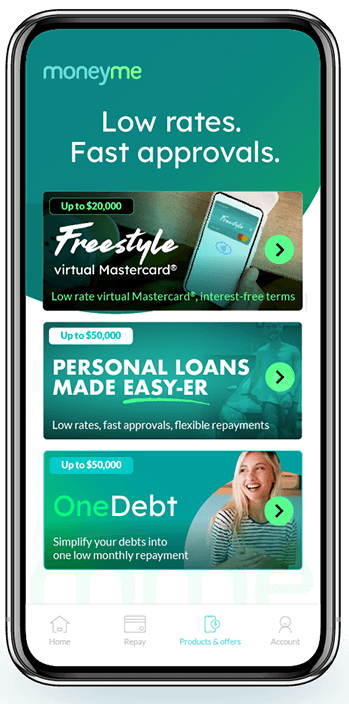 Is it smart to consolidate debt?
Consolidating your existing debt can be a way to tidy up your finances, reduce your interest payments and get in front of your debt. If you have multiple small debts like medical expenses, other bills and expenses, an existing personal loan, credit cards and buy now and pay later commitments, often you also pay a range of different fees and interest rates. While your existing financial status may feel manageable, and you may be meeting your payment obligations without any problems, you could still benefit from checking whether debt consolidation is something that might work for you. MoneyMe offers competitive rates and fees across all of our credit products. By applying for a fast cash loan online with us for the total amount you owe, you could simplify your finances and possibly save money over the long term.
How to get a loan for debt consolidation?
To be eligible to apply for any of our credit products, you must be at least 18 years of age, currently employed and a permanent resident in Australia. Your application form takes you less than 5 minutes to complete and submit. You'll be asked some general finance questions like your current income, your rent or mortgage payments, your existing living expenses as well as any other debts or bills that you have.
As standard practice, we will check your credit file too. Please be as honest as possible when listing your existing debts. Every credit product you have will be listed on your credit report. Don't worry if your credit file looks a bit full or if your history isn't as good as you would like it to be. We undertake a thorough assessment of every application that we receive which includes putting your credit history in perspective. It's just one part of the puzzle, after all.
Approvals are typically offered within minutes of submitting your application during our business hours. Your loan offer will show you the total approved loan amount, what your interest rate is, what your repayment amount is and how often your repayments are direct debited. If you're happy with the loan offer and you are ready to proceed with your debt consolidation loan then simply sign your contract online. Once received by our team, we process the cash transfer of your loan amount immediately. Depending on who you bank with, this could mean that your new funds are in your bank account the same day that you applied for them.
We service all of Australia so you can apply for same day loans in Sydney, Melbourne, Brisbane, Perth and everywhere else all online and all in minutes.
To find out how much you could be approved for on a new debt consolidation loan from MoneyMe, apply online now.