Debt relief is a form of financial assistance designed to help borrowers reduce their financial commitments and get in front of their personal finances again. Whether you are currently struggling to manage all of your expenses and debts or whether you'd like a simpler, less complicated way of managing your money, MoneyMe can help. We offer customers unsecured personal loans up to $50,000 that you can use to pay out all of your existing debts and bills in one fell swoop. Repay your loan with us with fixed monthly repayments over your preferred loan time. Enjoy low rates and fees and no early termination costs. Applications take less than 5 minutes to complete and submit online.
What is debt relief?
A debt relief loan is a type of refinancing loan that helps borrowers to consolidate their existing debts and bills into a single personal loan. Rather than paying multiple creditors, debt relief helps you to reduce your creditors and instead pay a single monthly repayment. If you have multiple debts and bills, then you can apply for an unsecured personal loan from MoneyMe for up to $50,000 online today. Once approved, you receive a lump sum cash amount for your total loan balance transferred into your bank account. From there, use your new cash loan funds to pay out all of your existing debts. Repay your loan amount with us with single, fixed monthly repayments direct debited from your account. There are no early pay out fees on any of our loan products, either. If you're in a position to pay out your existing loan balance ahead of schedule, then we won't charge you an early exit fee.
Other forms of debt relief and consolidation loans often take care of your creditors for you, possibly even to the point where a finance provider is willing to negotiate for lower interest costs on your behalf. Some money lenders offering debt relief will confirm the total owing for each bill or debt that you have and then pay out and close your accounts with your creditors when you have been approved for your finance. We don't work that way. All of our personal loans are paid directly to the borrower and you then close your individual accounts upon receipt of your new funds. You remain in control of your financial position.
Getting timely debt relief assistance could help you avoid exacerbating existing financial issues and progressing to insolvency or bankruptcy proceedings. Consolidation loans simplify and streamline your debt, helping to reduce financial stress and support future financial health. Even if you are not struggling with your existing creditors and would just like to know whether you could reduce your interest costs with a consolidation loan, we can help. Use our online loan repayment calculator to get an idea of what kind of repayments you could be looking at by combining your existing debts into a single loan with MoneyMe.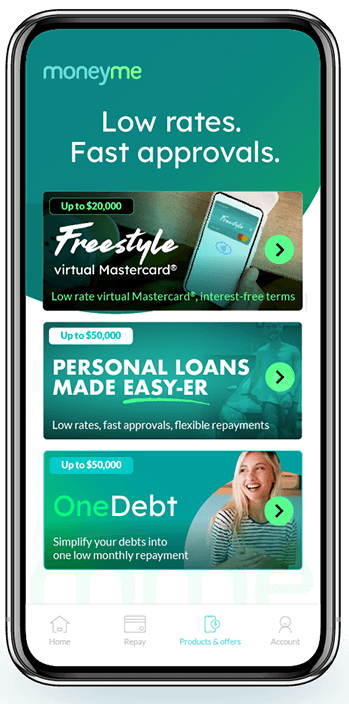 How does one qualify for a debt relief?
Online debt solutions come in a variety of forms and at MoneyMe, we help you reduce your credit obligations with fast, easy personal loans and our Freestyle virtual credit card. To be eligible for our online application process, applicants must be at least 18 years of age, currently employed and a resident within Australia.
Applications take you less than 5 minutes to complete and submit online. We offer a low doc application process which means you don't need to upload loads of supporting documentation when you apply online with us. Instead, you'll be asked to sign into your online banking platform at the end of your application. By logging into your bank via our secure online portal, you are agreeing to send our loan assessment team a read-only PDF statement of the last 90 days' worth of transactions. We use this statement to verify your application details like your income and your living expenses. By verifying your details this way, we chop down processing time significantly. We are able to offer our customers instant online approvals and immediate cash transfers.
How to apply for debt relief?
To submit a new application for same day loans in Sydney, Melbourne, Brisbane, Perth and anywhere else in Australia, open our application form online now. You will need two forms of identification (driver's licence, passport, Medicare card, etc) which are also instantly verified online.
Customers who apply during our business hours will typically receive a response within minutes. If you're happy with the loan offer that we have made you then you simply sign your online contract. Once signed, we arrange the transfer of your new funds immediately. This may mean that your money clears into your account the same afternoon that you applied for it or the next business day at the latest.
Apply online today for debt relief loans from MoneyMe. Reduce your interest costs, stress and your creditors to a single monthly repayment. Loans are available for between $2,100 and $50,000 which you can choose to take over 12 months or up to 5 years. Apply now to discover how much you could be approved for.