When you're searching for credit options, it's always a good idea to do a credit cards comparison with other forms of finance and loans to ensure that you're getting the deal that works for you best. Not all money lenders are alike and not all credit cards come with the same benefits and features. Here we've put together some general information that may help you decide between a personal loan vs credit card and then compare your credit card options. 
What are the types of credit cards?
Comparing credit cards and credit card providers is about more than just checking the advertised interest rates. Interest rates are fairly comparable between providers and securing the lowest possible rate can save you money but it's worth considering a few other things as well as the advertised rates to really get the most from whatever credit option that you ultimately choose.
The first question worth considering is what you actually need your credit card for. Thinking about what you want from a fast approval credit card will help you find the kind of provider that suits you best. If you're looking for fast cash to help you with some ongoing costs like medical expenses or other living expenses, then you may want to consider an interest free credit card.
Many providers, including MoneyMe, offer interest free periods on purchases made with your credit card to help lower your fees and charges. For example, as a MoneyMe customer with a Freestyle virtual credit card, you can access up to 55 days interest-free. When you repay your credit balance within this period, you don't pay any interest on credit funds that you have used. When considering credit cards and providers, check how much you can afford to repay on your credit balance each month and decide whether interest free periods can work for you.
Popular buy now and pay later options offer customers access to normally 4 fortnights of interest free time to pay off a purchase. When you really break down how much time that is, you'll be surprised to discover that it comes to 42 days. While this is a great deal of time to pay off a recent purchase, you can actually achieve more than another whole week when you opt for the Freestyle Mastercard from MoneyMe instead.
The next question worth considering is what kind of credit limit will work best for you. A credit card comes with a revolving line of credit which means that when you repay part or all of the credit balance that you have used, those funds become instantly available again. This can make them a great way to cover your day to day living expenses throughout the month. You can set yourself a clear budget for things like entertainment costs, petrol and groceries, as well as bills and other incidentals, and then at the end of the month (or your next pay cycle) pay out the balance that you have accrued. This ensures that you're making the most of your interest free period and keeping within your living budget.
When it comes to credit limits, you can keep a little left on your card for emergency spending to give you peace of mind when life's little moments happen like needing urgent repairs around the house or to your car.
Maintaining healthy credit card habits helps to keep your spending within an affordable range that you can repay on time and within your interest free period. Using your credit card limit as your spending limit can be one way of ensuring that you don't overspend between pay cycles. Nominating a certain amount from your total credit card balance is another way to help you keep to your budget but you'll need to exercise discipline to ensure that you keep within your self-imposed limits. Ultimately, knowing that you can pay off your entire credit card balance when it's due is a great way to maintain credit affordability, healthy spending habits and keep your credit score nice and high for future credit options like home loans and other large financed projects.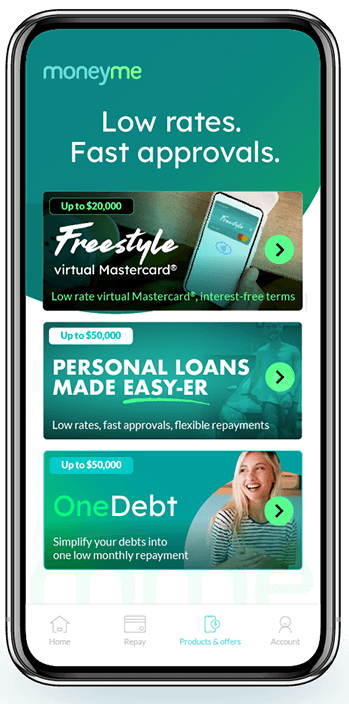 MoneyMe has developed an instant credit card approval process that gets you fast cash when you need it. Completing and submitting your credit card application online with MoneyMe takes you just 5 minutes from start to finish. Approvals are fast, usually returned to you within the hour when you apply during our business hours. When you're approved, we'll let you know the credit limit that we have offered you. You can, at any time, apply to have your credit limit increased or decreased quickly and hassle-free from your MoneyMe dashboard, available on your smartphone. The Freestyle virtual credit card is available for balances between $1000 and $20000.
What are the benefits of having a credit card?
What sort of additional features are offered by your credit card provider? Or what kind of promotions are on offer at the time you sign up? Other considerations you can make to help you undertake and thorough credit card comparison include the features and customer perks list. Not only can you make sure that you're choosing a provider who is willing to reward their customers, you can also check whether the advertised interest rate is introductory only (you will usually find introductory rates on balance transfer promotions), what kind of annual and monthly fees will be charged, and other fees and charges like late payment fees, cash advance fees (and interest rates), fees charged for exceeding your credit limit and fees for using your card overseas. All of these little features can add up quickly and make your new credit card your favourite way to shop.
Why should you compare credit cards?
Shopping for a credit card can seem a bit overwhelming at first. There are a lot of providers and it might be tempting to choose your everyday bank option. It can certainly be tempting to simply apply for the first option that comes your way. Taking some time to quickly evaluate not only credit card options but also the providers can offer you a range of benefits:
Save you money – choosing interest free periods and lower fees and charges help to lower your total credit card costs over the long term
Save you time – providers like MoneyMe specialise in tailoring application processes and ongoing management of your credit to tech savvy customers. We offer no bull rates and easy finance all managed online. We don't even have a physical office address. If you need us you can call us during our business hours, live chat with a consultant via our website or shoot us an email. We'll usually communicate with you via text and email. Keeping things easy, fast and hassle-free is what we're all about.
Boost your credit rating – MoneyMe has a special internal credit rating. As a valued and reliable credit customer with us, you unlock lower fees and better rates for future credit products like our fixed rate personal loans.
How to apply for a credit card?
Choosing the right credit card comes down to ensuring that all of your financial needs are met. Not everyone lives or manages their money the same way. Not all people need money for the same reasons. The ideal credit card is the once that works for what you need. That might mean lower annual fees or monthly fees, or that might be longer interest free periods. 
If you're considering buy now and pay later options, it's worth remembering that the Freestyle Mastercard with MoneyMe actually offers you a longer interest free period than most deferred payment services. If you're repaying fortnightly, for example, over 4 fortnights then you're really only accessing 42 days of interest free time. When you choose MoneyMe, you can access up to 55 days interest free instead as well as knowing that your Freestyle account is powered by Mastercard so will be accepted a lot more places. 
Finally, Freestyle is made for the Gen Now credit user. We don't send you a plastic bank card that you need to keep in your wallet. Instead, Freestyle is an online credit card and lives in your smartphone. You can use it wherever tap and go is accepted as well as for online shopping. You can even transfer cash directly from your Freestyle account to your everyday banking account (or another person's) when you need a quick cash loan between pay cycles.
To be eligible for any of our credit products, including our range of personal loans, you must be at least 18 years of age, currently employed and a resident in Australia. Applications are completely online and take you just 5 minutes to complete and submit. We specialise in low doc personal loans and credit, so we won't ask you for reams of paperwork. Instead, we verify your application details completely online. You'll be asked to input your online banking credentials at the end of your application. This gives us access to a PDF format 90-day banking statement which will verify your salary and your living expenses instantly. This is why we can offer an instant credit card approval process and we save you time and frustration with every credit application you make with us.