We offer consolidation loans of up to $50,000 designed to help you clean up your existing financial commitments and small debts, reduce your interest payments and get in front of your finances. Approvals are fast and hassle-free. Customers who apply for our personal loans or our Freestyle virtual credit card online during our business hours typically receive their approval within minutes. As a wholly online lender, everything you need to apply, get approved and receive your new funds is available via our website. We probably won't need to call you and we don't need to confirm your income status with your employer. Enjoy competitive rates and fees like no early pay out fees when you choose MoneyMe.
What is a consolidation loan?
A consolidation loan is a type of personal loan designed to help make existing credit more affordable and easier to repay. MoneyMe offers customers competitive fixed interest rates across all of our unsecured personal loans which means that combining your debt and paying it all out with a debt consolidation loan could help reduce your lending costs. If you have multiple small debts like credit card debt, buy now and pay later debt, other personal loan balances and bills approaching, then you can apply online for a fast cash loan for the total cost of your existing debt commitments. Pay out everything you owe with your new personal loan funds and repay your loan balance slowly over time. Available loan terms from MoneyMe start with short term finance options over 12 months up to larger personal loan balances of $50,000 repaid over 5 years (60 months).
How do consolidation loans work?
Debt consolidation loans are simple, straightforward and powerful finance products that can help lever borrowers out of expensive debt. Debt relief loans have been around for a long time but borrowers who have been approved for this type of loan in the past have often not had very flexible lending terms and criteria. MoneyMe is different. When you apply for consolidation loans with us, we do not repay your creditors on your behalf like other debt relief services may. Instead, we pay you the total loan amount that you're looking for directly into your bank account. From there, you disperse your funds as you need to and close your individual accounts once your outstanding debt has been settled. It's important to understand that if you are planning to apply for our consolidation loans, you must also plan to close out your accounts too once you receive your funds.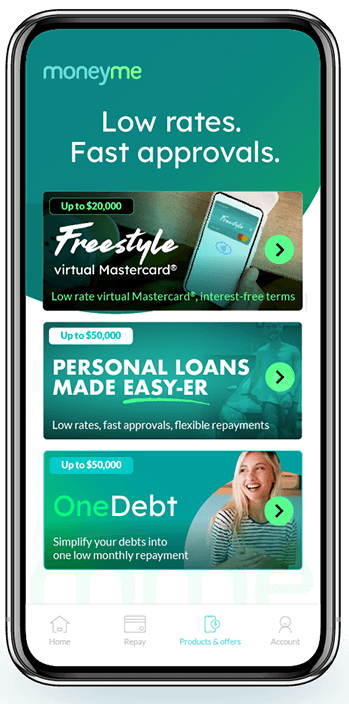 Like any kind of loan, consolidation loans are offered as lump sum cash amounts that are repaid slowly over your nominated loan term. All of our personal loans are offered with fixed interest rates which means that you know what your repayment amount will be every month and how many you need to make over the term of the loan. We don't charge our customers early pay out fees so if you are approved for our debt consolidation loans and you're in a position to close out your loan balance before the term ends, then you can do so without paying any additional termination fees.
Full details of your repayments, schedule, interest payments and loan term will be included in your loan contract. Approved applicants typically receive their loan contract within minutes of applying online with us. If you're happy with the loan amount that we have offered you and you are ready to proceed, then you simply sign your contract online and our loans team processes your cash transfer immediately. This means that if you apply online during our business hours then you could have a same day cash loan in Sydney, Melbourne, Brisbane, Perth or anywhere else in Australia the same day that you apply.
What is a consolidation loan?
To be eligible for any of our finance products, applicants must be at least 18 years of age, currently employed and a resident within Australia.
Applying online with MoneyMe is quick and easy. Our online application form takes you less than 5 minutes to complete and submit. You'll be asked to provide details of your income, your living expenses like your rent or mortgage repayments, your existing debt commitments and any other expenses you regularly pay.
Unlike other lenders, we don't need any supporting documentation, instead offering customers a low doc process that requires two forms of identification only (driver's licence, Medicare card, passport, etc). Once you have submitted your application form, you'll be asked to sign into your online banking platform. This is a secure portal, and our loan assessment team does not receive access to your account or your login credentials. We receive a recent 90-day transaction statement in PDF read-only format directly from your online bank account. We use this statement to verify your application details like income, expenses and other debt commitments.
We will also access your credit file as part of our standard lending criteria. As a responsible money lender, it is important for us to offer credit only to customers we believe can comfortably manage their new commitment. When applying for consolidation loans, remain as honest as possible and include all of your existing debt and financial commitments. Your credit file will list all debt currently under your name.
Apply online now for consolidation loans between $2,100 and $50,000 and you could have the money you're looking for in your bank account within 24 hours of applying.