We offer customers access to fast loans in Australia. Featuring a completely online loan application and approval process, MoneyMe is the next generation in money lending that gives customers smart, easy and quick access to the funds they need. Here at MoneyMe, we keep things nice and simple.
MoneyMe's range of personal loans and credit options cater to all kinds of Aussies at all stages of life. You can apply for quick loans online ranging from $2,100 to $50,000 or go for our Freestyle Virtual Mastercard® that offers up to $20,000 in a matter of minutes. Freestyle works like a credit card, but better: rather than a traditional plastic card to keep in you wallet, Freestyle lives in your phone. Take it anywhere and use it anytime.

When we say same day loans, we mean it. Our application process is designed to be completed online in just 5 minutes. Approvals are fast and as soon as you digitally sign your new loan contract, we transfer your new funds on the same day. Depending on who you bank with, your funds may hit your bank account in as little as 60 minutes.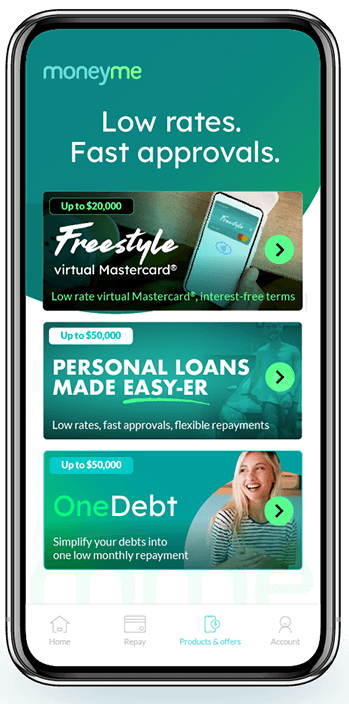 How to get a loan fast and easy in Australia?
Getting a loan from MoneyMe is fast and hassle-free. Our express loans are designed to be quick and painless to apply for, and on some occasions, we probably won't need to call you at all. No need for a personal loan broker to do things for you. When you apply online with us, we ask for a read-only access to your banking activity to fast-track your application. 
To take out a loan with us, you'll need to know how much you are borrowing. We offer both small loans and long term personal loans so whether you're looking for a quick cash loan to help you move to a new rental property or a larger fixed rate personal loan to pay for things like a new car or upcoming tuition costs, you will undergo the same streamlined process.
It's a great idea to undertake a quick personal loans comparison in Australia before opting for a lender. This gives you the chance to comapre things like the interest rates available as well as any other fees and charges like early termination fees. For example, when you opt for fast loans Australia from us, we don't charge you an early termination fee if you want to pay out your loan balance before the loan term has elapsed. And if you're an existing MoneyMe customer with a good repayment history with us, you may be able to access personal loans with better rates and value the next time you apply. This is great news for applicants looking for low credit score personal loans. 
Another great resource to use is a personal loan repayment calculator. This tool is designed to help you understand the total cost of our loans online and to help you understand how to refinance a personal loan. For example, if you have a collection of smaller debts that you want to tidy up, then opting for a personal loan for debt consolidation could help you save on interest and other ongoing credit fees in the long term. Simply total up everything that you currently owe and apply for one of our easy loans online for the total balance. Once you have been approved and have accepted your loan offer, your mney hits your account the same day. You can then use them to close out your other smaller debts and comfortably manage a single monthly repayment with us instead.
Alternatively, our credit card option offers customers more flexible access to cash when they need it. Freestyle customers receive a pre-approved credit balance up to $20000 they can use to pay for whatever they need and the peace of mind in knowing that when they need money straight away, it's ready and waiting. Purchases made with your Freestyle account also come with 55 days interest free so if you repay your total borrowed amount with that period you essentially have an interest free credit card option that's a lot more flexible than another buy now and pay later credit options. With Freestyle, you can quickly transfer cash amounts directly to your own or someone else's bank account.
How much can you borrow with a fast loan in Australia?
Our range of personal loans is available for balances between $2100 and $50000. The application process is the same, no matter the size of the loan. The processing time for any of our fast loans in Australia is also the same. You can get a $5000 personal loan in minutes or a $30000 personal loan in the same amount of time.
For customers seeking our more flexible credit line option, apply online for the Freestyle virtual credit card. Applications are the same and approvals are super fast for balances of up to $20000.


Can you get a fast loan in Australia with bad credit?
We believe in and support responsible lending in Australia. We only offer our credit products to individuals who can comfortably afford their new credit commitment. When you apply for any of our easy finance options online using our quick and simple online form, you can expect to be asked for information relating to your current living expenses like what kind of rent or mortgage repayments you currently pay, your average costs for bills and other living expenses like fuel, entertainment costs and subscription services, as well as any other debts that you currently have. It's important to be honest in this part of the credit assessment as often people who borrow more than they can comfortably afford to repay will compound existing debt issues rather than fix them. We understand what living expenses are like and what you are most likely to pay. We will be fair in assessing your credit application and only offer what we believe is best given your current circumstances.
Using this information, we review your credit report to check your current credit score and then will offer you a credit estimate based on that information. If you don't have any credit history or your credit history could be a little better, then we understand. It may work better for you to opt for one of our short term loans to get you started first. Taking a smaller quick loan option with us will show us what kind of credit customer you are with smaller credit risk. This can then help you to improve your credit score with us. When we have seen that you have repaid your credit with us and you have a strong history of reliability, we can then re-evaluate your credit score and improve your internal rating with us. 
A good credit rating helps you when you need to apply for bigger loan amounts for things like tuition fees or other big ticket assets or life events. Our loan options are flexible so when you need money for the bigger stuff, come back to MoneyMe and enjoy the same low rates and fees.
Ready to apply for fast loans in Australia? Start online now and complete your application in just 5 minutes.