Are you wondering what is an average personal loan interest rate in Australia? Banks and other money lenders offer borrowers a range of different interest rates depending on the product and the applicant. Rather than charging a standard average personal loan interest rate, lenders will often have a minimum and maximum rate for each personal loan product they offer, and your individual rate will depend on the particular circumstances that you will need to provide in your personal loan application.
How to determine your interest rate
One of the main factors that determine what your average personal loan interest rate will be is your credit history, as your credit score gives the lender an indication of how likely it is that you'll be able to make your repayments on time. A lender will rate their customers according to their credit score, and the better the credit score the lower the interest rate. Some lenders, such as MoneyMe, also have an in-house credit rating system for their customers. At MoneyMe we like to reward you for on-time payments, so if you build up a strong MoneyMe credit history you'll be eligible to borrow a larger amount of money at a cheaper rate next time you apply for MoneyMe loans online. And we don't automatically reject anyone who has a mark on their credit file. We understand that people's circumstances change so we take into consideration a whole range of information when determining your borrowing capacity and personal loan rates.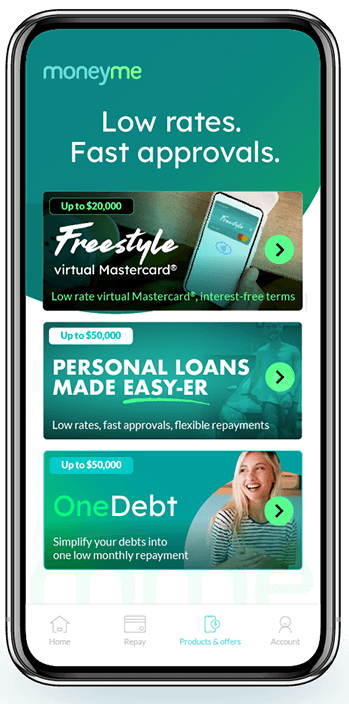 Factors to consider
There are many factors to consider when thinking about average personal loan interest rates such as whether you should get a fixed or variable interest rate. You may prefer to get a fixed rate personal loan so you know exactly what you'll be paying each month. This makes it easier to budget, and you'll be safeguarded against any rises in the official interest rate. If you've got a bit more flexibility in your budget though, you may decide to take out a variable rate personal loan so you can benefit from any potential drops in the official interest rates, although on the flip side you'll also need to pay more if interest rates rise.
But don't just apply for a loan right away
With such a wide range of personal loans available all with varying interest rates, it's a good idea to do a personal loan comparison in Australia to find out which loan best suits your circumstances. Apart from comparing interest rates, it is important to take note of the comparison rates as well. The comparison rate also comes as a percentage, but unlike the interest rate, it also factors in fees that are associated with the loan so it gives you a better reflection of the true cost of the loan. When comparing comparison rates between lenders, you'll need to check how their comparison rate has been calculated as they may not all be worked out exactly the same way. The MoneyMe comparison rate is a single percentage figure that combines your personal loan rate with any associated fees for the entirety of the lending period. 

Some people take out a personal loan for debt consolidation to try to lower their interest rates. Getting one larger loan to pay off all your small loans will generally mean you pay a lower interest rate than what your average personal loan interest rate was across all your loans. As well as saving you interest, consolidating your debts will also make it easier to manage your money by only having one monthly repayment instead of having to juggle several different payments. Another way to reduce your interest rate is to refinance your personal loan, especially if your credit rating has improved since you first took out your loan.
Get an estimate of your interest rate
At MoneyMe, personal loan interest rates will differ between products and applicants, and as you would expect high-risk credit customers will normally attract higher interest rates. Our free online loan repayment calculator will help you estimate what likely interest rate will be offered to you if your loan gets approved. Starting from as low as 6.25% per annum, you'll find MoneyMe's personal loan interest rates are some of the most competitive in Australia. With our responsible lending practices, we like to be fully transparent with our personal loan rates. You'll know upfront about any fees and you'll never be left wondering about our cost structure.
Personal loans made faster and easier
The application process for MoneyMe personal loans is quick and easy and can be completed online. The application process should only take a few minutes and we use the latest in financial technology to ensure you'll get a fast outcome. Once your loan has been approved, depending on your bank, the money could be in your account within one hour if you apply during business hours. If you have any questions, please contact us via our website, call us on 1300 072 042 or send us an email and our friendly support team would love to help you. If you are looking for low rate quick cash loans, then you've come to the right place.