Apply online for short term loans in Brisbane in just minutes. Enjoy fast approvals and even faster transfers with funds capable of hitting your account the same day that you have applied for them. We service all of Australia, including Brisbane and the surrounding regions of Fortitude Valley, South Brisbane, Redcliffe, Beenleigh, Sherwood, Ipswich, Logan City, Redland City and Moreton Bay. There's no need for unnecessary phone calls. Everything you need to apply now is available online. Apply now to find out how much you could be approved for with balances between $2100 and $50,000 available.
How do short term loans work?
Short term loans in Brisbane are lump sum cash loans paid directly into your account. When you apply for any of our finance products, including our Freestyle Mastercard, and are approved, you are offered a loan contract that shows you how much you have been approved for, how long the loan term is, how many repayments you need to make as well as fees like establishment fees and the interest rate offered. Interest is fixed for the term of the loan and calculated at the start so that every monthly or fortnightly repayment is the same for the duration of the loan.
If you're looking to redraw some credit after you have repaid some of your loans, then, unfortunately, you won't be able to. Personal loans don't offer a redraw facility, but we do have the Freestyle Mastercard that does offer you the ability to use credit funds again once you have repaid them. The Freestyle account from MoneyMe is available for balances between $1,000 and $20,000 and customers enjoy up to 55 days interest-free on purchases made using their online credit card. This means that when you repay your credit balance within the interest-free period you are not charged any interest on those funds at all. You can continue to reuse and repay those funds as often as you like. You can also transfer cash amounts to your own or another person's bank account. A cash advance Brisbane option using your Freestyle account does come with additional fees and is not subject to the same interest-free period that purchases are.
Small loans like our instant cash loans can help you out of a tough financial spot right when you need a fresh influx of money. Customers have used our range of financial options to help them move to a new rental property, pay off or study tuition costs, buy small assets like new computers as well as cover unexpected expenses like urgent car repairs, emergency travel and medical bills. Whatever you need some quick cash for, MoneyMe can help and in a fraction of the time that other credit providers might take. Our fast and easy online application form takes you just minutes to complete and submit and customers who apply during our business hours typically receive a response within a matter of minutes. If you're happy with the quick loans offer that we've made you and you're ready to go ahead then you can simply sign your contract and return it to us. There's no need for a printer and scanner because our contracts are online too. Once our loans team has received your signed contract then we transfer your new cash loan directly to your account. Customers can receive their funds the same day they have applied for them, depending on who they bank with. Same day loans in Brisbane that are quick, painless and ready right now – that's what we're all about.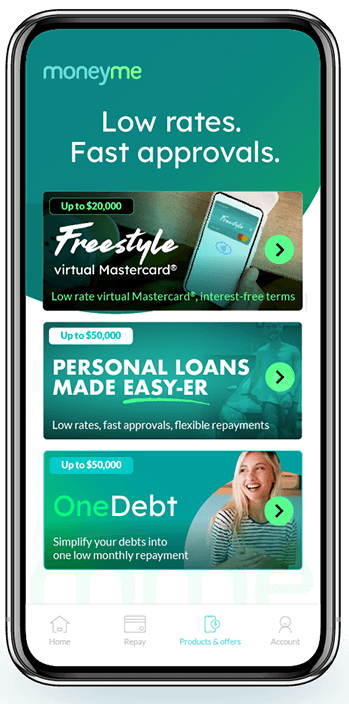 Where can I get short term loans in Brisbane?
Get your short-term loans in Brisbane from Australia's online lender – MoneyMe. Applications take you just minutes to complete and we won't need to check with your employer or probably need to speak with you at all. As a MoneyMe customer, everything you need to manage your loan or your Freestyle account is available online too, with mobile-friendly options that allow you to manage payments, apply for credit increases or arrange a cash advance instantly.
We have developed a fast and intuitive software solution that allows us to fairly and responsibly process new applications for our personal loans and Freestyle Mastercard in a fraction of the time. Rather than asking for lots of paperwork, we will send you to a secure online portal that asks you to log into your online banking platform. This portal is managed by illion's bank-level encryption data and when you log in, you are automatically sending our assessment team the most recent statement of the last 90 days' worth of transactions in your account. We use this to verify all of your application data and it's why we can issue approvals so quickly.
Why do short term loans have higher interest rates?
You can expect higher interest rates on our short term fast loans in Brisbane because you are paying interest on the amount borrowed for a shorter period. Larger loan values come with lower rates of interest because you're paying interest on your loan amount for potentially up to 60 months whereas our smaller loan balances are available for just $2,100 and can be taken over 12 months.
Do short term loans affect credit rating?
Your credit rating is affected by several factors, and the amount of credit you currently have is just one of them. Other things that can affect your credit score include how many credit enquiries have been made (how many times you have applied for credit) as well as how many times you have been rejected. It is part of our standard practice to check an applicant's credit file as part of their loan assessment, but we understand that your credit score is just one part of the story and will fairly assess your entire application before returning a decision.
If you're ready to apply online today for short terms loans in Brisbane, then you're just minutes away from submitting your new application. Remember, you could have the funds that you're looking for in your account within 24 hours. Apply online now.