MoneyMe is Australia's online lender servicing the entire country, including Perth and surrounding areas like Joondalup, Rockingham, Fremantle, Armadale, Mandurah and Bunbury. Get approved in a matter of minutes for short term loans in Perth from the country's wholly online lender specialising in intuitive and fast applications and approvals. Our online application form takes you just minutes to complete and submit.
How can I get a small term loan in Perth?
Getting small loans and short terms loans in Perth with MoneyMe is quick and easy. We offer our customers a fast and intuitive online application form that takes you just minutes to complete and submit. To be eligible for any of our finance products, including the Freestyle virtual Mastercard®, you must be at least 18 years of age, currently employed and a permanent resident within Australia. If you can tick all of those boxes, then you can start an online application now.
Your application form for any of our quick loans and Freestyle credit cards will ask you for some general information relating to your current financial situation. You'll be asked what you earn, what your living expenses are and other general costs like debts you have and other bills that you pay. At the end of the application form, you're directed to a secure online platform powered by illion's bank-level encryption software that will ask you to log into your online banking website. We don't receive any of your login credentials and nor do we gain access to your account. This part of the application process is designed to send an automatic 90-day transaction statement from your current bank account to our loan assessment team which we use to instantly verify your application data. This way we don't need to speak with your employer and we probably won't even need to talk to you over the phone either. Our loan assessment team and our software solutions allow us to deliver fast approvals all online and usually, when you apply during our business hours, within a matter of minutes.
If you have been approved for any of our cash loans or our Freestyle online credit card, then you'll be sent your digital loan offer as soon as possible. Read through your offer to find out what the interest rate offered is as well as other fees and charges relating to your chosen finance product. Fees like establishment fees are rolled into your loan balance so there is no upfront cost to you. 
 When you're happy with the loan or credit offer then it's simply a case of digitally signing and returning your loan contract to us. Once our team has received your signed contract (there's no need to print anything out and scan it back – it's all online!) then we authorise the transfer of your new funds immediately. Depending on who you bank with this could be same day loans in Perth that hit your account within 24 hours of you submitting your application with us.
Our cash loans come with a fixed interest rate and fixed repayments determined by the loan term that you choose. If you're interested in our short term loans in Perth then you can opt for a loan balance starting at just $2,100 over 12 months all the way up to loans for $50,000 and repaid over 5 years (60 months). Your loan contract will show you how many repayments you will need to make and when they will be direct debited from your account. We don't charge our customers early termination fees so if you're in a position to repay your loan balance beforehand then you can do so without having to pay additional charges.
There is no redraw facility available for our range of personal loans so if you're looking for a line of credit option that allows you to redraw on credit that you have used and repaid then you might want to consider our Freestyle virtual credit card. This is a revolving line of credit that works just like any other credit card with the exception that it lives in your smartphone instead of your wallet. You can even send an instant cash advance Perth to your own or another bank account when you need to. Additional fees and charges apply for cash advances.
Freestyle customers with MoneyMe enjoy up to 55 days interest-free on purchases they make using their line of credit. You can use your Freestyle virtual Mastercard® in-store wherever Tap n Pay is accepted and for quick and easy online shopping.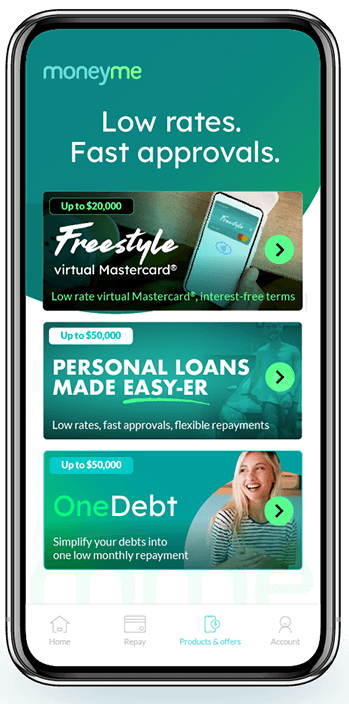 Do short term loans affect credit rating?
All kinds of credit will affect your credit rating but the key to keeping your credit score healthy is to stay comfortably within your own financial limits. Choose credit products that you can comfortably repay and always stick to the repayment arrangements offered. If you're not able to repay your loan or any other bills, then setting up a payment plan with your credit provider will help you avoid bad credit entries.
What are short term loans used for?
Short term loans are handy cash injections ideal for when life throws some surprises your way like unexpected expenses, urgent stuff you need to pay for or even a trip away when you really need it. Our loans terms and balances are flexible offerings between $2,100 and $50,000 which means you can use your fast loans Perth for nearly everything from home renovations, moving to a new rental property and covering your upfront costs to getting yourself a new car, a new boat or even covering the cost of an upcoming study – the possibilities are endless. Once you have sent back your signed contract, you can access the money you need sooner rather than later.
Ready to apply for our range of short term loans Perth or our Freestyle Mastercard? You're minutes away from submitting your application. Start now.