Have you ever found yourself in a stressful situation when you don't have enough money to cover emergency expenses such as car or home repairs, medical bills, unexpected travel, family emergency, and moving costs? People in this tight financial spot often assume that payday loans (like MyPayNow and Beforepay) are their best options. However, the truth is that there are better and even cheaper alternatives.
At MoneyMe, we offer a line of credit called Freestyle virtual credit card that specifically caters to people who need to pay their bills with reusable loans and cash advance. This financing option also provides an array of benefits not found in your typical payday loans. 
Flexibility is one of the most notable advantages when you choose Freestyle over traditional payday loans. This financing option gives you a specific credit limit or the maximum amount of money you can use–let's say it's $20,000. You don't need to use this entire amount; it can be just $1,000, $15,000, or not even use it for the meantime since it all depends on how much you need and when you need it. As a result, you'll only pay interest on the amount of money you use rather than the entire limit. For example, you get approved for $20,000 but only take out $1,000. You'll only be responsible for the interest charges against $1,000. This also means that you don't even need to pay any interest unless you have tapped your line of credit. 
By contrast, traditional payday loans like MyPayNow and Beforepay require borrowers to pay interest charges on their entire loan amount. This may not make sense for people whose daily or short-term expenses often fluctuate or change. 
Simply put, Freestyle Virtual Credit Card is the best option for borrowers who are mainly concerned with 'sporadic' emergency expenses and bills and need flexible instant loans.
Are there any hidden charges involved?
At MoneyMe, transparency and honesty are at the heart of what we do. And as an advocate of responsible lending and borrowing, we also educate people and give them accurate and complete information about our loan products to help them make sound financial decisions. 
When you choose any loan products from MoneyMe, you can see ALL the costs associated with borrowing money, the credit limit, and the repayment terms. We don't want you to experience 'surprises' from unaccounted and hidden fees that could force you to make drastic lifestyle changes and cost-cutting measures. After all, we want our clients to access funds that they can realistically afford. 
With Freestyle Virtual Credit Card, your annual fee is based on your credit limit, while the monthly fee is based on the money you used. We even waive monthly fees if your balance is less than a specific amount. 
Meanwhile, your interest rate is based on your creditworthiness. You can expect better and more competitive rates if you have a good credit history because you have proven yourself as a responsible borrower. 
If you want to know the variable costs and the cost of your loan, simply fill out the MoneyMe loan rating form. Within seconds we can determine your loan rating and repayments to help you make an informed decision. You don't even need to apply for a loan to receive our loan rating assessment or use our personal loan repayment calculator.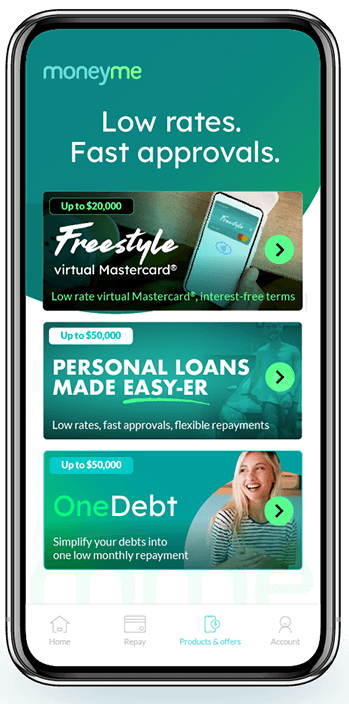 Aside from the interest rates, these are the other cost variables that affect your repayments: 
Annual Percentage Rate. APR is the total amount of cost paid every year when you borrow money. And because it includes all fees associated with borrowing money, it is always higher than the interest rate. You can enjoy a lower APR if you have a good credit rating. 
No early payment or early termination fees. If you pay your loan early, we won't charge you anything. 
Zero fee. If you need to change a payment and it's within your loan term, inform us at least one business day before the payment is scheduled, and we will change it without charging you any fee. However, we charge a $15 dishonour fee if the account is not up to date by the last day of the month.
Is there any eligibility criteria?
To be eligible for our Freestyle Virtual Credit account and other personal loans products, you must be at least 18 years old, an Australian resident, and employed. Our credit card fast approval application is done entirely online and does not involve time-consuming requirements like phone or telephone interview and paperwork. Simply complete our online application and enter your personal and bank details. Within minutes you can expect to receive a decision, and once approved, you can use your line of credit instantly. 
With Freestyle Virtual Credit Card, there's no need for you to stress over emergency expenses and bills nor accept high-interest rates from traditional payday loans.