Looking for a great rate credit card? Apply online with MoneyMe today. We offer customers fast online approvals and competitive interest rates for both personal loans and our Freestyle virtual Mastercard® that works just like any other credit card with the bonus of not taking up any room in your wallet. Your Freestyle card lives in your smartphone—the one thing you're never going to leave home without.
As a wholly online money lender, we strive to offer our customers the latest and best in technology which includes the easiest credit card application online that we can make. We use the power of the internet to process our completely online application forms quickly and easily. There is no lengthy paperwork to worry about and no annoying phone conversations, just quick loans processed fast. We don't even have a physical office. The savings we make, we pass on to our customers, including saving valuable time and energy with a fast approval credit card option you can apply for right now.
How to apply for a credit card online?
To be eligible for any credit card you will need to have a good credit rating, be at least 18 years old and currently employed. You need to be an Australian resident as well to qualify. 

When it comes to credit checks, we understand if your credit rating isn't as good as it could be. Life sometimes happens or you may be too young to have a solid credit file just yet. MoneyMe doesn't work as a lot of other credit providers. We have our own in-house credit rating system we use in conjunction with your standard credit file. You can boost your rating with us by taking out small loans or short term loans first. This helps to build a solid history with MoneyMe as a reliable and trustworthy credit customer. For every personal loan that you successfully repay within the loan term, your credit rating at MoneyMe improves helping you access better interest rates and lower fees for future credit products with us.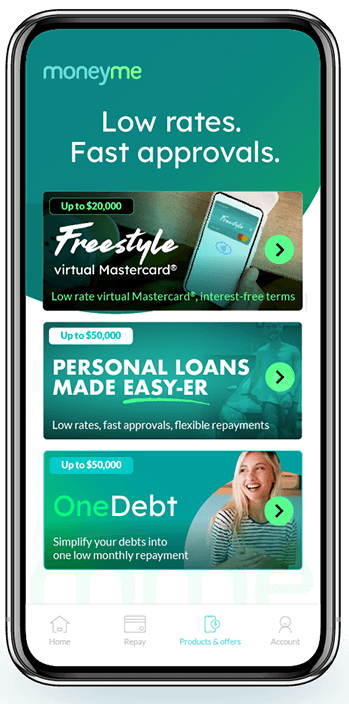 Is it safe to apply for a credit card online?
MoneyMe uses bank-level encryption to keep your details safe. When submitting bank statements online, we use illion's trusted and secure technology that provides read-only access to a 90-day snapshot in PDF format of your bank statement transactions. No one – not MoneyMe or illion – has access to your online banking details.
How to get approved for a credit card online?
The best way to ensure that you are approved for a credit card application is to be completely honest on your credit application. Double-check our lending criteria to ensure that you meet everything on our list before applying:
Can you get a credit card immediately?
Yes! Instant credit card approval is possible. When you apply for a Freestyle account with MoneyMe during business hours, you can expect an answer from us in just a matter of minutes. Once you have been approved and accepted your new contract with us, your account is set up and ready to use.
The credit balance that you are approved for will be determined by your current debt, living expenses, and income. We believe in responsible lending so we will only approve applicants for a credit balance we believe they can comfortably repay. This commitment to our customers means that we can tailor your credit approval to your needs. 
You can use your credit for nearly everything you need to purchase or pay for. You can opt for a balance transfer which takes credit funds you own on another credit card and puts them towards your new credit balance. For example, if you have a credit card balance with one credit provider then you can apply for a higher limit to another provider and transfer the balance you currently owe to your new higher limit credit card offer you some additional funds and consolidating your debt to one account.
Credit cards can be used to cover everyday expenses, helping you to set realistic and achievable living budgets. If your credit card is only approved for a certain amount, then you know that each month you absolutely cannot spend more than that amount. Once your income is paid to you, you can transfer the balance of your credit card from your cash account, and your credit card is then repaid, ready to be used the following month. 
Alternatively, a credit card can be used for additional, emergency funds when you need them. Use your credit card for paying for repairs to the home or car. Pay for moving costs like the rental bond payment, cleaners, and removalist services. We also offer bond loan options for renters moving to new homes that help to cover your upfront security deposits with fast cash, and renovation loans for homeowners who need some extra cash to make improvements or repairs in a hurry.
Use your credit card to book your holiday and get early bird specials on flights, accommodation, and travel insurance. You can pay for your entire holiday upfront and then repay the balance of it to your credit card with manageable repayments each month. If you are considering some travel, then we also have a holiday loan option that offers you the same upfront funds to pay for your trip at competitive interest rates and manageable monthly repayment options.
The Freestyle account with MoneyMe also comes with 55 days interest-free on purchases made which means that if you repay your total balance with this period, you are essentially using an interest-free credit card. Unlike other buy now and pay later options, the Freestyle account has the added flexibility of transferring instant cash directly to your account or someone else's. 
If you'd rather not repay the balance in full then there will be a minimum monthly repayment required similar to minimum monthly repayments charged on our same day loans. The repayment that you make, however, is then automatically more credit funds that you can draw on your credit card in the future. Our instant loans are different. Even if you make additional payments on our cash loans online you do not have a personal loan redraw facility so think carefully about how you want your credit funds to work for you before you apply for our range of products: personal loan vs credit card.
We don't charge early payout fees on our loans so if you do have one of MoneyMe's easy loans and you'd rather switch to a credit card with a revolving line of credit, then you can pay out your balance on your same day cash loan and then apply for our credit card option instead. 
Use your Freestyle virtual credit card with MoneyMe for everything, from everyday expenses to setting up your home office. Use what you need, repay it again, and know that it's there for use in the future. Maintain peace of mind knowing that you have instant access to pre-approved funds of up to $20000 if you ever need it. 

Now that you know just how good the Freestyle account, it's time to apply. For flexible credit, alternative choose the MoneyMe credit card, apply online today. Apply online now for access to fast credit, instant loans, and no-nonsense application approvals.