If you're looking for an interest-free credit card then compare offers from providers and secure yourself to the longest interest-free period available. We offer customers the Freestyle online credit card that works just like any other credit card with the added benefit of living in your smartphone and not your wallet. You use in-store wherever Tap n Pay is accepted and for easy online shopping. You can even transfer cash from your Freestyle account to your regular bank account (or another person's) for a fast cash injection when you need it.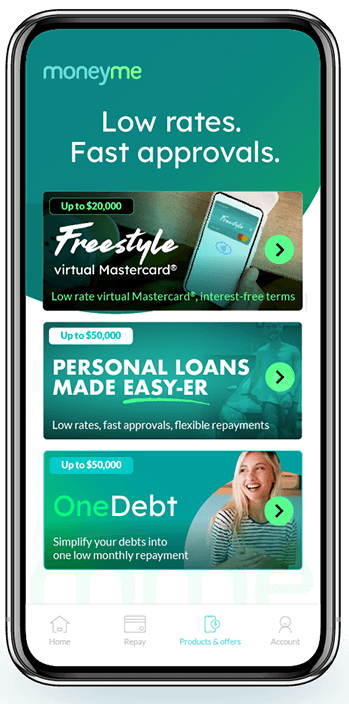 How does an interest-free credit card work?
If you're smart when you're shopping for a credit provider then you can secure yourself a great interest-free period on purchases made. A better one, in fact, than popular buy now and pay later options. For example, when you are shopping online, you fill your shopping cart as you normally would and when you get to the checkout, you choose any of the buy now and pay later options available. This will send you directly to your online account where you confirm the payment schedule proposed and you agree to make your first instalment immediately.
Your total interest-free period starts from the date of purchase and each repayment must be made by the due date or you will incur a late fee for every missed payment. You are also limited to a certain number of concurrent purchases as well as a total credit limit applied to your account. And, most importantly, not everyone accepts buy now and pay later options. 
Let's compare this scenario with our Freestyle account. Freestyle is a virtual credit account and is accepted wherever Mastercard is accepted which is almost everywhere. It can be used internationally as well as at home. We also offer our customer 55 days interest-free rather than the standard 42 days interest-free from popular buy now and pay later options. You can get another 13 days (almost a fortnightly pay cycle) longer when you choose Freestyle.
You are also not subject to concurrent order limits which means you can use your Freestyle account for purchases everywhere, as many times as you like up to your pre-approved credit limit. And you can do all of this immediately.
In order for you to be eligible for the Freestyle credit card, or any of the MoneyMe credit products, you will need to be currently employed, an Australian permanent resident and to be at least 18 years of age. If you tick those boxes, then you're just minutes away from completing and submitting a credit card application online with us.
Speed and a lack of hassle is what we're all about. We have developed a wholly online application process that is easy to fill out and intuitive. Rather than asking you for lots of documents to support your application, we use the last 90-day bank statement from your everyday account instead. We do this by asking you to log into your online banking website. This gives our assessment team instant access to your salary and expenses details so we can verify your application faster.
As a responsible money lender, we also go through all of the usual checks you might be familiar with, but we do this fast, too. We use your bank statement to confirm your current living expenses, your income details and any other debts that you might have. If your credit file is great, then your internal MoneyMe credit score will be very high. If you've had some trouble in the past with credit, then you can still apply for our other loan products. For every successful loan repaid, your credit score with us increases which can help you with future credit applications. As a MoneyMe customer, you automatically qualify for our credit score privileges, which means that you unlock better rates and fees the higher your rating is. 
So, how quickly can you get approved when you apply with MoneyMe? When we said fast approval credit card, we really meant it. The Freestyle account is available with approval within the hour when you apply during our business hours. This is the same approval time for our other loan products. 
If you're trying to decide between a personal loan vs credit card, then take some time to look over how they both work when you choose easy finance from us.
A fixed rate personal loan is a lump sum cash payment transferred into your bank account. When you are approved for your personal loan with us, you are offered a quick online contract which includes your fixed monthly repayment schedule and payment amount. This doesn't change over the term of your loan unless you want to pay out your loan early. We don't charge early termination fees so it's easy to finalise your loan ahead of schedule with us. If you keep the loan schedule, then you repay a set number of repayments over your nominated time. There is no personal loan redraw facility available so you can't draw fresh funds from your existing and simply up it when you need to. 

Freestyle offers you instant access to funds up to a pre-approved credit limit that ranges from $1000 to $20,000. You can repay funds you have used as you want to, sticking to either the minimum monthly repayment or choosing to increase those payments and save yourself some interest. As soon as some of your credit has been repaid, it becomes available for you to instantly draw on again. That's whether you have repaid all or only some of the credit you have used. It's a revolving credit line that offers you instant loans over and over again.
Does any bank offer an interest-free credit card?
Credit is money a lender offers at a fee and that fee is determined by the interest rate that comes with the credit option. In short, no. No bank offers an interest-free credit card, but you can access interest-free periods for some types of spending on your credit card. When you repay your credit within the interest-free period then you are not charged the interest rate. Terms and conditions will apply to interest-free offers so ensure you read them thoroughly to ensure you're getting the most from your credit card.

If you're looking for instant credit card approval from the Gen Now friendly lender working to bring you the best credit card benefits and the most intuitive application, then you're looking for MoneyMe. Apply online now to find out how much you could be approved for and start living your life with a little more flexibility.