Fast and hassle-free credit card approval is possible with MoneyMe! We have developed a quick and easy way to apply for any of the credit products that you enjoy at great rates and low fees. We don't use multiple documents or keep you on hold for hours. Applying for instant credit card approval from MoneyMe takes just a few minutes to complete online through our website and you usually receive an answer on the same day. For other credit products like our loans online, you could even have your new funds transferred directly to your bank account within the hour. Now, that's fast approvals and fast cash.
Along with our Freestyle credit card, you can apply for everything from small loans Australia, ideal for covering travel costs like a gap year or your yearly holiday abroad, as well as quick personal loans for fast refinancing or purchasing larger assets like a new car or boat. Whatever you need your money for, we're here to help with low doc personal loans and instant credit card approval all available through our website right now.
How do instant approval credit cards work?
At MoneyMe, we make it easy to get the funds you need sooner rather than later. Our online application process takes just a few minutes to complete and approvals are usually received within the hour. That means that you can apply for instant credit card approval right now and get an answer from our team within minutes.
As a completely online lender, we don't have costly branch offices to keep. This means we can pass on savings directly to our customers across all of our credit products as well as offer the fastest online application and approvals process possible. We don't need reams of paperwork and we don't call your employers for details of your working history. In fact, we probably won't need to call you at all. Everything we offer is designed to be accessed quickly and painlessly which means you get access to the money you're looking for faster. 

The Freestyle Virtual Mastercard® works just like any other credit card with the bonus of not taking up space in your wallet. Freestyle, just like MoneyMe, is a wholly online credit card, living in your smartphone and usable for both points of sale in-store and online shopping. Balances are available for up to $20,000 and eligible customers receive up to 55 days interest-free on purchases made. That means that if you replace the funds you have spent on your credit card from MoneyMe within 55 days of your purchase then you pay 0% interest. You can't get better than that!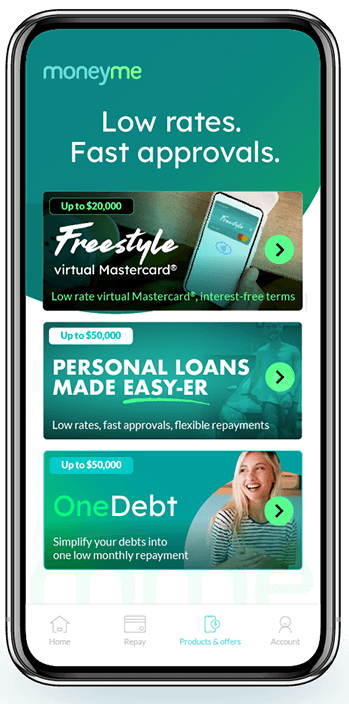 How to get instant credit card approval?
To be eligible for instant credit card approval from MoneyMe you will need to have a good credit rating, be at least 18 years old and be currently employed. To be eligible for any of our financial products, you need to be an Australian resident as well. 
When it comes to credit checks, we understand if your credit rating isn't as good as it could be. Life sometimes happens or you may be too young to have a strong credit history just yet. The good news for new credit customers is that MoneyMe doesn't work as a lot of other credit providers. When we assess applications, we use our own in-house credit rating system in conjunction with the review of your standard credit file. If you're concerned about your credit file or not sure what's on it then you can access it for free online. Simply search for 'personal credit history' in your favourite online search engine and you'll have a complete copy of your own credit history emailed to you in a matter of minutes. It's always a good idea to regularly check your credit file to ensure that any personal loans or other credit products which appear there are definitely yours.
If you're looking for ways to make sure that your application with MoneyMe is as good as it possibly can be then we have some tips for you to consider. For anyone with no credit history or poor recent history, you can boost your rating with MoneyMe by taking out small personal loans or short term loans first. Successful repayment of smaller loans will help to show us how reliable and trustworthy you are as a credit customer. For every unsecured personal loan you successfully repay within the personal loan repayment terms, your credit rating at MoneyMe improves and you unlock more features and more competitive rates.

At MoneyMe, we like offering rewards to good customers. On your next application for short term loans or larger unsecured loans like our long term personal loans, we offer you revised fees and charges, a more competitive interest rate on your loan term and possibly higher personal loan redraw funds to draw from for quick and easy refinancing.
How to use your new credit card from MoneyMe
Fast credit card approval from MoneyMe means that you get a great rate credit card for balances of up to $20k in record time. Using your new Freestyle credit card is easy. Use it to cover everyday expenses like your petrol and grocery shopping and set yourself a realistic and achievable living budget. At payday, replace the funds that you have spent immediately and take advantage of our 55 days interest-free period.
Credit cards are also a great source of instant cash you might need to cover emergency expenses or larger yearly costs like your car servicing and registration, insurance renewals and other regular yearly fees that always seem to arrive all at once. Your credit card can also be the perfect way to pay for the upcoming holidays. Often travel agents will offer customers access to lower costs and early bird booking discounts when you pay for your entire holiday in one go. Using your credit card from MoneyMe means that you can cover everything from flights to accommodation and tour costs immediately and then slowly repay your holiday costs over a term of your own choosing. You get access to possibly cheaper holidays, lock in your holiday dates immediately and then you can sit back and relax as the time of departure approaches. Take your credit card on holiday with you and use it for spending money, setting yourself a clear and achievable holiday budget or leave in your smartphone for any emergency costs that might arrive. Holidays never seem to go exactly according to plan but you can relax knowing that you have immediate access to additional funds should you need them.
Freestyle from MoneyMe is a flexible credit option. You can transfer credit easily to friends and family or send cash funds directly to your own bank account. Borrow money from your own credit card funds and repay it in your own time, according to your own budget.
MoneyMe is all about making sure that our customers access the best credit products like our instant credit card approval that we have to offer as quickly and easily as possible. Apply online today for instant credit card approval for up to $20,000 now.