Get the money you need today with MoneyMe. We are Australia's wholly online lender offering short term loans in Hobart and surrounding regions like New Town, South Hobart, West Hobart, North Hobart, Ross Bay and Dynnyrne. Apply online in just minutes from the comfort of your own home and enjoy a quick, intuitive application process and fast approvals. Customers who apply during our business hours could have the funds they're looking for in their account within 24 hours of applying.
How do short term loans work?
Getting small loans and short term loans in Hobart are just like getting larger loans. When you are approved and have accepted the terms and conditions of your loan agreement, you are transferred a lump sum cash amount into your bank account. You are free to distribute those funds however you need to. You repay your loan amount with fixed monthly or fortnightly repayments at a fixed rate of interest. Before you accept your new cash loan you can check the total affordability of your chosen finance option, making note of the total interest payable over the loan term and how many repayments you need to make. 
Our range of same day loans in Hobart start at $2,100 and are available for balances up to $50,000. If you're interested in a cash advance in Hobart that can help you get from pay cycle to pay cycle more comfortably then you can opt for a smaller amount over a loan term of just 12 months. These smaller loans can help you cover some unexpected costs that have cropped up or help you free up your cash flow when life events arrive like moving to a new rental property, getting a new car or even planning a trip away. Your short term loan is easy to budget for with fixed repayments that you know ahead of time will be direct debited.
Customers have also opted for quick loans to help them refinance. Refinancing is the process of consolidating multiple bills and debts into a single loan, helping to tidy up your payments and possibly even help you to avoid costly interest payable to multiple credit providers. If you're considering a refinancing option, then it's a good idea to take note of all of your current bills and debts. Compare this to your income stream/s to discover what your borrowing power is (how much you can comfortably afford to borrow) and how your regular cash flow will be affected by a new repayment schedule amount. You can use our online repayment calculators to give you an indication of what kind of repayments you can accept to pay on a loan of your desired amount. Adjust the loan term to check whether short term loans or long term loans are better for you.
Even after you have repaid some of your loan amounts, you are unable to redraw new credit funds from that loan. If you need more quick cash, then you'll need to pay out your existing loan balance and reapply for a new loan. We don't charge early termination fees for customers seeking to pay out their loan balance ahead of schedule. 
A revolving line of credit is a different financing option that does allow you to redraw credits funds you have used after you have repaid them. Our Freestyle virtual Mastercard® is a great example of this type of finance. With more offers than a traditional credit card, you can apply for a Freestyle account for balances between $1,000 and $20,000. Customers also enjoy up to 55 days interest-free on purchases made using their Freestyle account which means that when you repay your credit balance on purchases within that period, you are not charged any interest at all. 
The Freestyle account also comes with the added flexibility of a cash advance facility. This means that you can transfer cash amounts from your Freestyle account instantly to your own or another person's bank account. Different fees and charges apply as well as different interest rates on cash advances and they are not subject to the same interest-free period that purchases made with your Freestyle Mastercard are.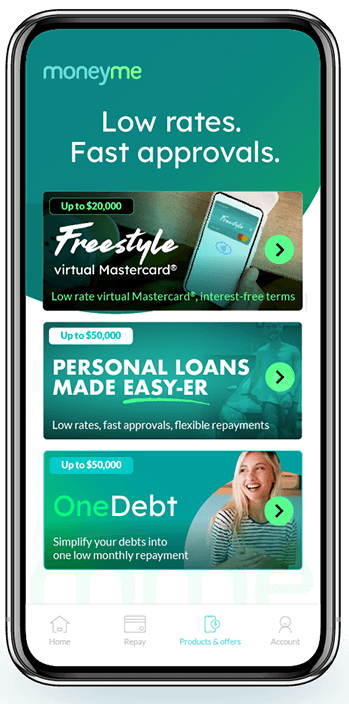 Where can I get short term loans in Hobart?
Getting fast loans in Hobart is quick and easy with MoneyMe. We offer customers a simple and intuitive way of applying for all of our credit products online and in just minutes. Our online form will ask you for some basic financial information like how much you currently earn, your bills and debts and your living expenses. To be eligible for any of our finance products you must be at least 18 years of age, currently employed and a permanent resident within Australia.
Do short term loans affect credit rating?
All credit products affect your credit rating but the key to keeping your credit score healthy is to meet your credit obligations on time or else make payment arrangements with your provider if you are unable to. The more credit you have, the lower your credit rating too. Other factors that can impact your credit score include how many credit enquiries have been recorded and how many times you have been rejected. 
Why do short term loans have higher interest rates?
Short term loans often come with higher interest rates because of the shortened loan term. This means that while interest is higher, you are paying it for a shorter period than you would with other, larger personal loans.
You're minutes away from submitting a new application for short term loans in Hobart with MoneyMe online today. Customers who apply during our business hours typically receive a response in a matter of minutes. If you're approved, like your loan terms and are ready to proceed then signing your contract is quick and painless using an online, digital signature. Once your signed contract has been received by our loans team then we authorise the transfer of your loan funds immediately. This could mean that the money you need hits your account within 24 hours of submitting your application. Apply online now.