We offer customers short term loans in Melbourne and surrounding areas that take you just minutes to apply for and you could even have the funds that you need in your account the very same day. We are a wholly online lender which means you can apply for credit from anywhere including the Melbourne CBD, South Melbourne, Frankston, St Kilda, Bundoora, Dandenong, Werribee, Docklands, Southbank and Port Melbourne right now and from the comfort of your own home. Discover the best short-term loans from Australia's Gen Now lender offering fast, painless and low doc personal loan applications.
What are short term loans used for?
Short term loans in Melbourne are ideal for giving yourself a little extra breathing space or getting some lower costs assets you need right now. Whether you're looking for a small loan to help you move to a new rental property or you're looking to buy something like a laptop, new music sound system or even a second-hand car, our range of quick loans start at balances of $2,100 you take over as little as 12 months. If you're on the hunt for a larger purchase or you're planning some big upcoming life events like a wedding, finally getting started on those home renovations you've been planning, going on an epic overseas trip or buying yourself a new boat, car or caravan, then our same day loans in Melbourne range up to $50,000 you can take over 5 years (60 months).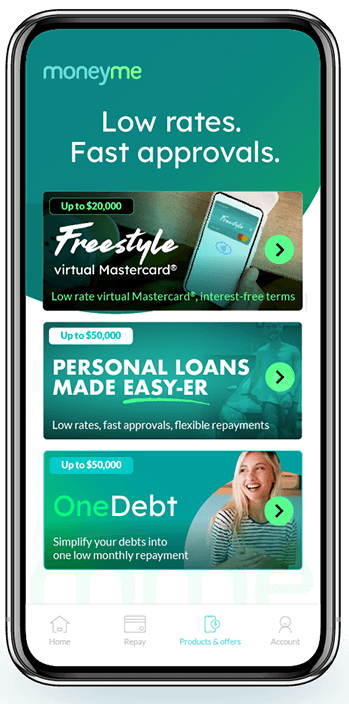 Where can I get short term loans in Melbourne?
We're Australia's online lender specialising in providing our customers with intuitive, no bull and no-nonsense access to fast approval online loans. Our application form takes you just minutes to complete and submit and there's no need for unnecessary phone conversations or even the need to check your employment details with your current employer. You'll need some basic forms of identification and that's it.
Getting any cash loans, or even our Freestyle Mastercard available for balances of up to $20,000, online is quick and easy. You'll be asked for standard financial information like your current living expenses (including rent, mortgage, utilities and other living costs), your current employment details and any other bills and debts that you have. You'll then be directed to our secure online portal powered by illion's bank-level encryption software which requests you to log into your online banking portal. This is so we can receive a read-only PDF format statement from your account showing the last 90 days of transactions made. We use this statement to instantly verify your application data and it's the secret to how we're able to offer fair and reasonable cash loans in a matter of minutes.
When you receive an offer for credit from us, everything you need to know about either your cash advance in Melbourne or your Freestyle virtual credit card is included. We send you easy-to-understand information that clearly details all fees and charges that apply as well as other relevant information like their interest rate you have been approved for and the term of your loan or your repayment obligations for our Freestyle virtual Mastercard®. If anything is unclear then, you can get in contact with our team via live chat through our website, send us an email or give our team a call for a quick chat.
We understand, however, that our customers are interested in getting reams of communication from us. We won't tie you up on the phone for unnecessary conversations and most of our communication with you will come via text or email. It's simple and straightforward finance without the frills and the confusion.
Our range of cash loans is available for balances starting at $2,100 through to $50,000. No matter how much you're applying for, all of our credit options are fast loans in Melbourne which means you can apply for any loan for between 12 months and 5 years and get approved the same day. In fact, depending on who you bank you could even have the funds you've been looking for in your bank account within 24 hours of applying.
Why do short term loans have higher interest rates?
Credit providers make money in a few different ways by extending lines of credit to customers. One of those ways is via the interest they earn on balances borrowed by their customers. The longer and larger the loans value, the more opportunity there is to earn interest. Therefore, short term loans are often offered with higher rates of interest because there is less time for the money lender to make money from the loan. At MoneyMe, however, and unlike other credit providers, we don't sting our customers with an early termination fee if they're in a position to repay their loan balance ahead of schedule. So, if you want to save yourself some interest fees and you can comfortably repay your remaining balance early then we'll make it easier for you, not harder. It's just one way that we like to reward our great credit customers.
Do short term loans affect credit rating?
All types of finance will affect your credit rating. Your credit score is higher the less credit you currently have and is also determined by your past credit behaviour as well as other factors like how many credit enquiries have been made (how often you have applied for new credit) and how many times you have been rejected. If you're a good credit customer who repays their loans or credit cards on time – or else arranges payment plans with your provider so you can comfortably manage your commitments – then your credit score is unlikely to be negatively affected by new credit. You can check your own credit history online for free at any time and it's always a good idea to keep an eye on it.
Ready to get started on a new application for short term loans in Melbourne? Start now and you could find out how much MoneyMe approves for you in a matter of minutes. Sign and return our loan contract within our business hours and you could have the money you need in your account today.