If you're looking for fast, fuss-free small loans Sydney, look no further - MoneyMe has got you covered! We offer quick, fixed rate, easy loans between $2,100 to $50,000 over loan terms of 1 to 5 years. Our express application process is 100% online, and there's no messing about with uploads of payslips or other supporting documents.
No paperwork, no phone calls, no fuss - you can apply for quick cash loans Sydney and our next-generation Freestyle virtual Mastercard in less than five minutes - all using the MoneyMe app on your smartphone.
To apply for a line of credit or find out how much you might qualify to borrow with one of our payday loans, apply online today
How are the interest rates calculated for a small loan?
As part of the approval process for our MoneyMe small loans Sydney, we'll run a credit check covering the past 24 months. Credit checks inform the level of risk we take on when allowing a customer to borrow from us. The better your credit score is, the lower the perceived risk of lending to you - and the better line of credit interest rates you'll be offered when you apply for our same day loans. 
Getting payday loans with damaged credit can be difficult, but it's not impossible. MoneyMe assesses each loan application individually, so you won't automatically be declined for having a line of credit payment default on your record. 
However, some circumstances will cause you to be declined when you apply for a line of credit, such as if you're bankrupt, in a debt arrangement, or if you have a consistent pattern of defaults. To increase your chances of success, it's important to be smart about how much money you apply to borrow.  
We want to make sure that no MoneyMe customer experiences financial duress because of their required line of credit payment. We take care in our assessments to ensure that our unsecured personal loans are only approved for customers who are comfortable repaying their debt. These considerations extend to the loan terms offered, such as the amount you get approval to borrow, at what line of credit rates, and over how long.
By taking out small loans Sydney and demonstrating that you can make each affordable line of credit payment over time, you can improve your credit score and be eligible for higher credit limits and lower line of credit interest rates the next time you apply. 
How does the repayment work?
When you take out small loans Sydney with MoneyMe, you'll need to sign a loan agreement before you can access your cash. This is where you'll find your loan conditions, including the loan term (how long you have to repay your loan), the monthly repayment details, and how much interest you'll pay on your loan over time. 
MoneyMe offers some of the most competitive line of credit interest rates in the country. We only offer fixed rate same day cash loans Sydney, so your loan interest rate won't fluctuate in response to economic instability. This means you'll know exactly how much your monthly line of credit payment and ongoing fees will be for the duration of your loan - something particularly useful for budgeting.
Making your monthly personal loans repayment is simple: we'll deduct the agreed amount on a set date using direct debit from a bank account of your choosing. What's more, we don't penalise our customers for making early line of credit payments - in fact, we encourage them! 
To get an idea of what the affordable repayments on your small loans Sydney might look like, you can use our personal loans calculator to compare the different line of credit rates, loan amounts and lending periods before you apply.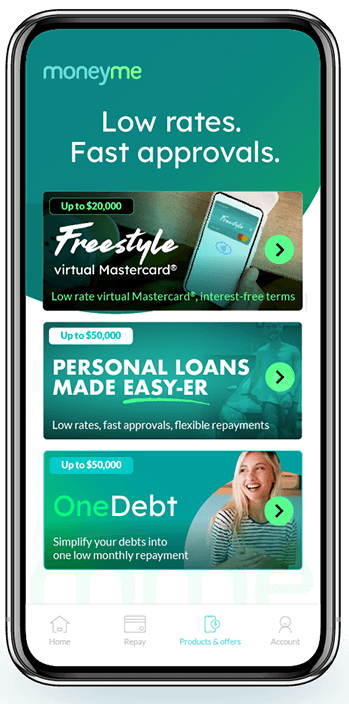 How to apply for a small loan in Sydney?
MoneyMe has made applying for small loans Sydney super easy. 
To qualify, you'll need to be at least 18 years of age and an Australian citizen or resident for tax purposes. We'll verify this using an Australian Government-issued form of ID, such as a driver's licence or Medicare card - so make sure you've got this handy when you start! 
When you're ready to apply for one of our cash loans Sydney, simply download the MoneyMe app or jump onto our website and hit 'Apply Now'. 
First, we'll ask you about how much money you'd like us to lend you for your mini loan, and over how long. Once you've confirmed your preferred personal loans conditions, you'll need to tell us about your employment and income, daily expenditure, and any debt.
Once you've completed the loans application form, we'll check your credit history then ask you to sign in to your online bank platform. It's important to note that we don't receive access to your bank account - our system simply requests a 90-day transaction statement in PDF read-only format from your bank. We'll use this document, and your credit report, to confirm the information you provided around income, existing debt, and other expenses in your application.
And that's it! Our quick loan Sydney application process really is that quick. Within a matter of minutes, you'll know whether your loan is approved and receive online access to a copy of your loan contract. 
Assuming you're happy with the proposed terms, simply accept the contract. Depending on who you bank with and if you've applied within business hours, you'll have the money in your bank account the very same. day!