A bathroom remodel can be perfect for injecting a little life into an old home. However, if you're just starting out and looking into renovating your bathroom, then securing financing is one of the first steps you should take.  At MoneyMe, we offer unsecured home improvement loans of up to $50,000, and you'll find out if you're approved in only a few minutes (during business hours). While your bathroom remodel may not cost as much as this, it is good to know how much you can borrow. Using the MoneyMe loan calculator, you can quickly see your borrowing potential and the fixed repayments. Having this information will give you a good guide for how high you can set your renovation budget. 
In Australia, the average cost of a bathroom remodel is $15,000. However, this all depends on what you plan on doing. With most large renovation projects, especially the bathroom, the entire room is demolished back to the wall studs and then rebuilt. For bathrooms, there are some additional costs when compared to a standard room. These costs can include waterproofing, tiling, plumbing, and specialist electrical. The fittings you choose for your bathroom can be basic and functional or very high-end for that perfect finish. Therefore, the overall bathroom renovation cost can largely depend on what you'd prefer the end result to look like. Many people will add in their ensuites and laundry when getting a bathroom renovated, increasing the overall budget required. However, having all three areas completed together can save you some money compared to doing them separately. While the inside of the home is getting looked after, you could also look at some other areas outside (e.g. patio, veranda, backyard paving) for a complete makeover.
Why should you remodel your bathroom?
There are many reasons you might consider getting a bathroom remodel. For example, you may have recently moved home, and the old decor simply isn't working for you. There have been some vast improvements to bathrooms, including their overall appearance and the feelings they inspire in the homeowner. It used to be that bathrooms were seen as a place to shower and get clean, but today they are considered much more than that. The bathroom is one of the most used spaces in a home, only being second to the kitchen. As a bathroom renovation costs less than a kitchen upgrade, it is usually the first room in a home to receive a significant rebuild. An excellent indicator that your bathroom is due for an upgrade is that you're thinking about it. If the room makes you cringe every time you enter, then it's probably time for those old tiles and tarnished tapware to leave. For inspiration, you can look online for pictures of a recent bathroom remodel and pick out certain elements that appeal to you. 
Another reason for a bathroom upgrade is when you're having the home evaluated, and you're thinking about selling the property. Bathrooms are one of the key indicators that people will look at when buying a property. When looking for a place to purchase, potential buyers will generally want a good quality bathroom. If a bathroom is looking close to brand new, buyers will often choose those over other homes and may be willing to pay more.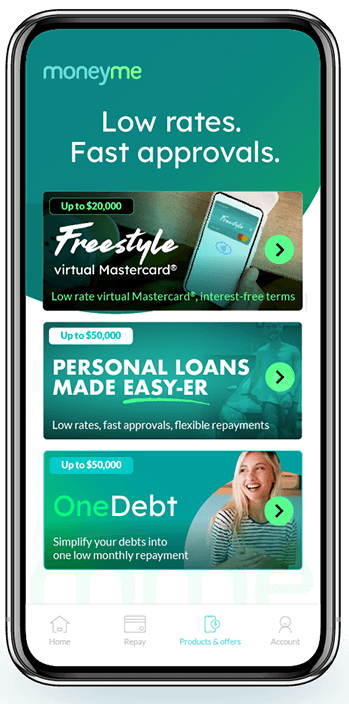 What kind of loan is best suited to cover the costs of remodelling a bathroom?
At MoneyMe, we have a good variety of loans and for your bathroom remodel project. Our personal loan is ideal for renovations and completing other works around the home. These are unsecured loans of up to $50,000, and the funds can be used for anything you need. The loan term is flexible and can be from 1-5 years, depending on the amount borrowed. We have a loans calculator available so you can quickly find out how much your repayments will be based on your estimated loan amount. Our loan calculator will also display the total amount of charges applied to your loan, and you can repay the loan faster if you prefer. 
With the MoneyMe personal unsecured loan, you can apply for a loan of any amount from $2100 to $50,000. This style of loan is perfect for when you're starting out on a bathroom remodel or partially through an existing project and need some additional funds to finalise everything. Although you may have a budget for your project, securing funds a little over what you need is a good idea as it protects you against any problems that you may not have considered. For example, if you are looking for tiles, and the ones you wanted are not available, or you see better ones just outside your range, then having access to extra cash means you can purchase them without any issues. For the best results with your bathroom rebuild, we'd recommend adding approximately 10% to your budgeted costs.
How long does it take to get the loan?
Applying for a loan with MoneyMe is easy, and the entire process can be completed online. First, the application will ask about your living circumstances, including your monthly expenses and current employment status. After you fill out all the details required, you can receive an answer in as little as a few minutes (during business hours). Once your loan is approved, the funds can be available in your account within a day. The speed of our loans means you can take full advantage of any specials you find while looking at fixtures or other items for your bathroom. 
Turn your dream bathroom remodel into a reality with the MoneyMe personal loans. If you'd like to get more ideas on how a personal loan can help you with your next home improvement project, be sure to view the range of mini-episodes of DVine Living hosted by Dale Vine on MoneyMe's DVine Living page.