How much does an average bathroom renovation cost in Melbourne or any other suburb in Australia? From smaller renovations such as replacing your vanity, updating your tapware or resurfacing your shower to larger renovations like installing a new bathroom from scratch, the bathroom renovation cost in Melbourne can vary widely depending on the size of the job. Even though a premium bathroom renovation can be costly, it will not only make your bathroom space more comfortable to be in but, if done properly, it could even add value to your property. Whether you are renovating your bathroom for you and your family to enjoy or making home improvements because you are planning to sell, bathroom renovations along with kitchen upgrades and other home improvements are very popular in Australia. 
The average cost of small bathroom renovations in Australia will be cheaper than the cost of a more extensive bathroom remodel. Still, because bathroom renovation costs can vary greatly, you'll need to get some quotes to get a better idea of your bathroom renovation cost in Melbourne. The bathroom renovation costs you'll need to factor in include materials and fittings such as the vanity, basin, tapware, toilet, floor or wall tiles, shower, lighting and more. Other new bathroom costs to consider are waterproofing, ventilation (such as a ceiling or wall exhaust fan), professional labour costs such as designing, plumber costs and electrical work, as well as the costs of moving plumbing or walls if you are making structural changes to your bathroom's layout. Once you've gathered together some quotes and done a budget, you'll get a better idea of the bathroom renovation cost in Melbourne. If it's more than you can afford to pay upfront, several financing options are available to help.
What kind of loan is best to cover the costs of a bathroom renovation?
The bathroom renovation cost in Melbourne is not cheap, but having a beautiful bathroom can make a big difference to the quality of your home, and thankfully there are different loan options available. From using the equity in your home or refinancing your mortgage to taking out home improvement loans or applying for a line of credit, there are several different ways to cover your bathroom renovation cost in Melbourne. If you are looking for a quick and easy way to finance your bathroom installation costs, one option is to apply for a personal loan. This will allow you to borrow a lump sum of money that you can then pay back through regular instalments (including interest) over the term of the loan.
Whether it's for shower renovation costs or full bathroom renovation costs, MoneyMe has you covered, offering unsecured personal loans from $2,100 to $50,000. With fast approvals, low rates and flexible repayments, this could be just what you need to get your bathroom renovation started. Or if you are doing a smaller renovation and just need to cover things such as bathroom fittings costs, another option would be to apply for a Freestyle virtual Mastercard®. With up to 55 days interest-free on purchases, this virtual card lives on your smartphone and can give you a line of credit up to $20,000 once approved. It provides a convenient way to shop online, Tap n Pay instore, or you can even send money straight to your bank account. MoneyMe is very transparent about our fees and charges, so you can look at the costs of the different loan options to help you decide which will be the most cost-effective and beneficial for you.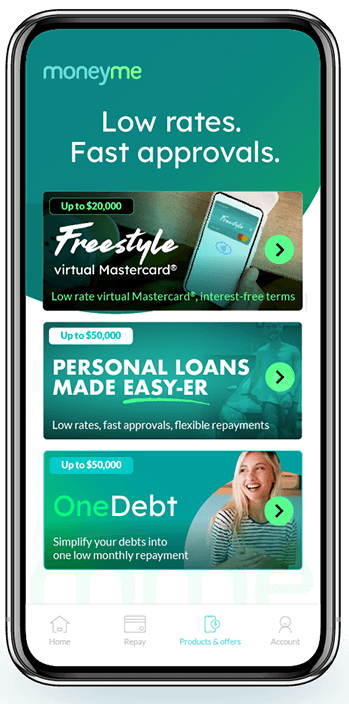 How is the loan amount calculated?
Once you've worked out how much your full bathroom renovation costs and have decided you'd like to take out a personal loan to cover it, the next step is to work out how much money you can comfortably afford to borrow. To do this, you'll need to assess your financial situation by comparing your income to your liabilities (such as regular expenses and any existing debt). MoneyMe also has a free online loan calculator that allows you to select your preferred loan amount, loan repayment period and frequency along with your MoneyMe credit rating. By trying a few different combinations, you can better understand your range of options and what loan amounts and interest rates are likely to be approved.
Once you are ready, you can complete the MoneyMe application online within minutes without needing to supply mountains of paperwork. To fast track your application, you can allow us to use our secure technology to gain read-only access to your banking activity for the past 90 days, and we can let you know whether your loan has been approved very quickly. Once you've signed your digital contract, we'll transfer the money to your bank account straight away. Transfer times can vary between banks, but in some cases, the money can be in your account in just a few minutes. Once you've decided to renovate your bathroom, we know you'll be keen to get started as soon as possible!
Whether you prefer a contemporary style with statement ceramic tiles and a floating vanity or a more traditional bathroom with a free-standing claw-foot bathtub, see your dream bathroom come to life with MoneyMe personal loans. From bathroom renovations and kitchen home improvements to carport building and backyard paving, if you'd like to get more ideas on how a personal loan can help you with your next home project, be sure to view the range of mini-episodes of DVine Living hosted by Dale Vine on MoneyMe's DVine Living page.