Holiday loans are a quick and easy way to book your next travel adventure or life-changing world trip. Here at MoneyMe, we specialise in offering personal loans for any sort of expenses, no matter how big or small, and this includes holiday loans designed to help you take advantage of early bird savings and score great seats and accommodations.
What is a holiday loan?
A holiday loan is just like a personal loan or quick cash loans that you can use when you need money now to book your next getaway. Use it to get tickets for an emergency flight or a well-deserved week of R&R that you've been looking forward to. Often flights are cheaper when you book in advance, just like when you book tour packages and even accommodation. By being able to pay for everything upfront, you could find yourself saving possibly thousands of dollars. Our same day loans are designed to help you book your next exciting adventure sooner rather than later. If you've been endlessly scrolling through holiday destinations both here in Australia as well as around the world, now is perfect the time to stop dreaming and start packing.
We offer a range of fixed rate personal loans as well as our virtual credit card option that you can use to pay for your next holiday or just to have a little extra to spend holidays in style. Our loans online are available for balances between $2,100 and $50,000. No matter how big or small the amount you're borrowing, you get to experience our 5-minute application process without any hassle. 
For individuals seeking a more flexible credit product they can repay in their own time and at their own pace, our Freestyle account could be the better option for you. Freestyle is a virtual credit card that works just like any other online credit card, except that it lives in your smartphone rather than your wallet. Balances are available for up to $20,000 and you enjoy the same quick and easy online application process.
You can use your Freestyle account for shopping both online and in-store wherever Tap n Pay is accepted. So if you're hunting for super cheap flights or accommodation packages and low-cost holiday online, then you can pay for everything using your Freestyle account from MoneyMe. Customers also enjoy up to 55 days interest-free on purchases made with their Freestyle account so when you repay your borrowed balance within this period, you are essentially using an interest free credit card. 
Rather than fixed monthly repayments like our quick loans online, you manage your Freestyle account your own way. The Freestyle virtual Mastercard® is a revolving line of credit that you can continue to redraw up to your pre-approved credit limit. Your line of credit is available to instantly redraw once you have repaid your borrowed balance. A personal loan redraw facility is not available on personal loans so keep this in mind when comparing easy finance options from MoneyMe.
If you've been wondering whether a buy now and pay later option for your next holiday is a good way to go, think about our 55 days interest free feature. Buy now and pay later options can be a handy way to get what you need sooner rather than later but your Freestyle account essentially offers you the same interest free period for purchases made as well as the ability to transfer quick cash loans direct to your everyday banking account or someone else's. Buy now and pay later options don't offer customers that added flexibility.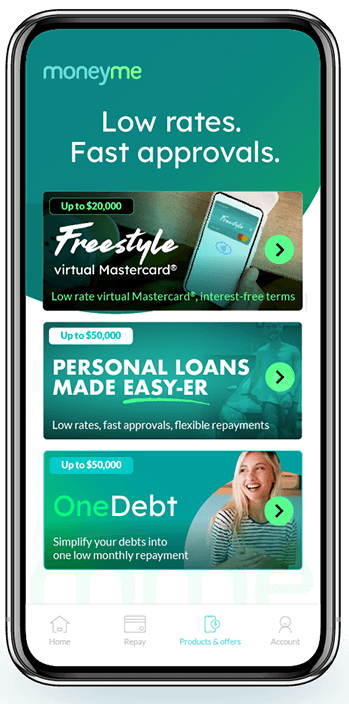 How to get a holiday loan?
Getting a loan with MoneyMe is fast and easy. You can apply online right now for holiday loans from $2,100 up to $50,000. Our online application takes just 5 minutes to complete and we specialise in low doc personal loans, which means there's no need to upload your payslips or print out your loan contract when it comes to signing it. Instead, we use the power of the internet to deliver your contract online and instantly verify your personal details without the need to call you and your employers at all. We do this by asking for your internet banking details at the time of your application. We use this secure, read-only access to check that your salary and outgoing expenses match your application details. It's fast, completely online and it means that we can offer you instant credit card approval without all the fuss and the need of a personal loan broker.

As the Generation Now money lender in Australia, we are committed to ensuring that our customers receive the best online experience for every express loan they apply for with us. We don't have a physical office because we don't need one. We keep our overheads low and focus on the more important things instead.
What credit score do you need to get a holiday loan?
If your credit score and credit history aren't quite as good as you'd like it to be, don't worry. When it comes to responsible lending, MoneyMe understands that sometimes life doesn't quite go according to plan. But that doesn't mean you can't get access to easy money when you need it. We offer low credit score personal loans tailored to you. If you're worried about applying for a long term personal loan because your credit score isn't great, then perhaps it's worth considering a small loan first. As a customer with MoneyMe, we assign you an internal credit score based on your history with us. When you have shown that you're a reliable credit customer, we reward you with lower fees and better interest rates on new loans that you apply for with us. 
Using tools like a personal loan calculator is a great way of checking what you can comfortably afford to borrow before you start your application. A personal loan repayment calculator will show you indicative repayment amounts you could expect for a range of different loan terms. Experiment with the loan amount and the time you would like to take the loan over to find the best working option for you. For example, by reducing the loan term, you can reduce the total interest payable. It's also worth noting that MoneyMe doesn't charge early termination fees for our range of instant loans so if you're in a position to pay out your loan balance early, congratulations! 
For access to quick loans like our travel loan options, apply online right now with MoneyMe. Your application is completed in a matter of minutes and approvals are fast. If you're happy with the loan option and your low rate interest, then it's a simple matter of signing your digital contract and then your new funds are released immediately. This could mean that you have your new holiday loan in your bank account within the same day that you applied for it. 
Start planning that dream holiday or plan your world trip with a little help from MoneyMe. Get approved for new holiday loans today and start booking your next adventure sooner rather than later. Apply online now.
Access cash anywhere you travel
Our personal loans have lower interest rates and more reasonable repayment terms compared to many traditional lenders, plus the additional flexibility that allows you to meet any of your immediate travel needs. By partnering with us, you can access funds between $2,100 and $50,000 by simply filling out our online loan application form.
Another financing option you may want to consider is our Freestyle virtual Mastercard®, which is excellent if you need additional flexibility. While our personal loans provide a lump sum of money, Freestyle gives you a line of credit and a revolving balance based on your spending, making this ideal for everyday holiday. Plus, our virtual credit card also offers up to 55 days interest-free on your purchases.
Whether you choose our Freestyle virtual Mastercard® or any of our personal loan programs, you can always expect competitive rates and reasonable payment terms.