If you're looking into kitchen home improvement, you're probably seeking some advice on getting started, and financing your project should be at the top of the list. Renovating your home is the best way to improve the value of your property, and having a confirmed budget allows you to make informed choices in the project planning stage.  The kitchen is the most important room of any house, and it is often the fastest to become outdated. On average most people will complete a kitchen home improvement every 7-10 years. If you've recently moved into a property, you may wish to make it more suited to your lifestyle, which can be a great time to plan out a renovation project. 
Renovating a home, especially a kitchen, can be quite challenging. This is because there are times when you may not have access to certain parts of your home during the project. For example, when the stove or cooktop is being replaced. In addition to financing the project, you may also consider the time required for completion. Of course, completing some of the work yourself will save money, but often the extended time to finish may not be worth the savings. At MoneyMe, we can help support your kitchen rebuild with our home improvement loans of up to $50,000. With our online loan calculator, you can see how much you can comfortably repay. The repayments for your loan are fixed, and you can make additional payments at any time without penalty.
Why should you renovate your kitchen?
The most common reason to update any kitchen is to add value to an existing property. Other reasons include adding functionality, improving the layout, and updating or replacing old appliances. The total kitchen renovation cost can be the largest part of any home renovation. However, when the renovation is completed professionally, it will add value to your home, and it'll provide you with a kitchen that will last for many years.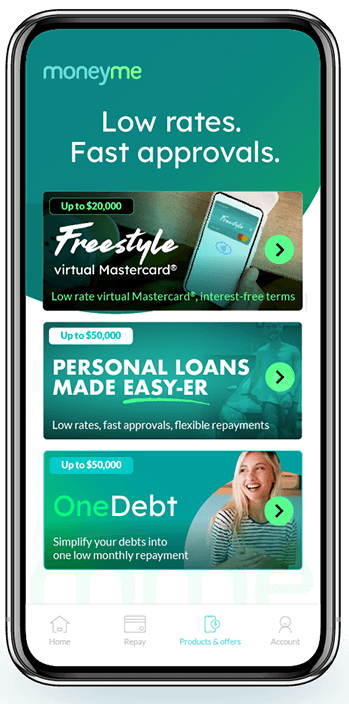 How much does it cost to renovate a house kitchen?
The exact cost of any renovation project depends on what you plan on doing. Some alterations to your kitchen can be completed quickly and are inexpensive, such as painting or upgrading cabinet hardware. However, if you're planning on replacing or changing the cupboards, benches, plumbing, electrics, and appliances, setting a dedicated budget is your first step in the overall project. An average kitchen home improvement will cost from $12,000 to $40,000. The exact amount of your renovation costs will depend on the size and what you're trying to accomplish. 
What you plan on doing with your home after the rebuild can also be a factor in how high you set your budget. For example, if you're planning on selling the property, you may prefer to complete a largely cosmetic renovation. However, if your remodel is for your personal use, you may wish to spend extra on appliances that will last many years. 
The size of your kitchen will play a factor in how much it will cost. You could expect to pay $12-20,000 for a small kitchen, $20-35,000 for a medium kitchen, or $35,000+ for a large kitchen. The three main components of a kitchen home improvement are appliances, trades, and hardware. It can be challenging to plan out an amount for your tradesmen, but you can budget for these to cost from $2-3000 each (plumbing, electrical, installers, tiling). The kitchen hardware (cabinetry, flooring, benchtops, paint, lighting, etc.) will cost about 50% of your entire budget. The cost of appliances entirely depends on your personal preference. For example, to upgrade the oven, cooktop, and dishwasher in a kitchen rebuild, you can budget about $2-6000. Appliances can be the easiest part to budget, as you can visit retail stores or find prices online. Hardware can be a little more complicated to get a confirmed price, but looking at pre-built units from retail outlets can give you a good idea of the costs. Although, if you are looking for custom cabinetry, your costs may be substantially higher than pre-built retail units, but you'll get exactly what you're after.
What is the best way to finance a kitchen renovation?
When you've completed the planning and budget process of your kitchen upgrade, the next stage is securing your finances. At MoneyMe, we have kitchen home improvement loans available. You can apply online, and we offer amounts up to $50,000 to upgrade your kitchen. Although you may have worked out your budget for the kitchen rebuild, it is best to add in an additional 10%, just to make sure you're covered for any unknown costs. Suppose you're looking to renovate more of your property (e.g. bathroom, patio, carport, or backyard paving). In that case, you may wish to complete these simultaneously and apply for enough funds to cover these additional projects. 
At MoneyMe, our personal loans can be taken out for various reasons, including your kitchen home improvement. When you apply online for our loans, you'll receive an answer regarding your approval in less than a few minutes (during business hours). With our fast approval process, it means you can get started on your renovations sooner rather than later. In addition, with personal loans from MoneyMe, you can choose the length of the loan, giving you the option to reduce your regular repayments. All loans from MoneyMe are unsecured, and they are offered based on your ability to repay the amounts borrowed. Personal loans from MoneyMe are a great way to finance any renovation project as we have competitive rates and flexible repayment terms. 
With a MoneyMe personal loan, you can start your home renovation project sooner without paying anything upfront. View the range of mini-webisodes from the TV show Dvline Living with Dale Vine to learn more on how a MoneyMe low rate personal loan could be the solution for your next home project. Each episode features big and small renovation projects - from backyard paving and carport building to bathroom and kitchen upgrades, so be sure to tune in!