Get that extra money you need now
Retirement can be a wonderful time of life. Without the stress of work, you have more time to enjoy all that life has to offer. Sometimes during these years you may find you need a bit of extra cash, and getting personal loans for pensioners is not always easy. It can be difficult to prove that you'll be able to make the repayments when you don't have a regular income coming in apart from your Centrelink payments, and that can make it hard to qualify for a bank loan. That's where MoneyMe can help! We know that as pensioners, you'll want to be able to get access to money when you need it. Whether it's for a holiday, a new car or even unexpected medical expenses, we'll help make sure you have access to extra cash at the time you need it.
Easy access funds to live your best life
There can be many reasons why a personal loan can make your life easier. Retirement is a stage of life where you can look forward to having more time for holidays, and you can often get significant discounts and perks if you make the full payment upfront when you book your trip. If you don't quite have all the money at the time of booking, a personal loan can make sure you can take advantage of all the discounts. Or you may want to get a personal loan for debt consolidation reasons. By consolidating your debts, you can repay a single lender one flat repayment every fortnight or every month rather than trying to juggle multiple bills and debts. 
Whether you need a $5,000 personal loan or a $30,000 personal loan, at MoneyMe, we offer both small loans and large personal loans for pensioners. Whether you need money to see you through until your next pension cheque comes in, or something more substantial, our personal loans start from as little as $2,100 and you can borrow up to $50,000.
If you are looking for quick cash loans, with MoneyMe you'll have an outcome in a matter of minutes. And, depending on who you bank with, in many cases same day loans are possible. Applying for MoneyMe personal loans for pensioners is very straight forward. The application process is all completed online, but our friendly support team is available 7 days a week should you need any guidance along the way. You can phone us, email us or contact us via LiveChat.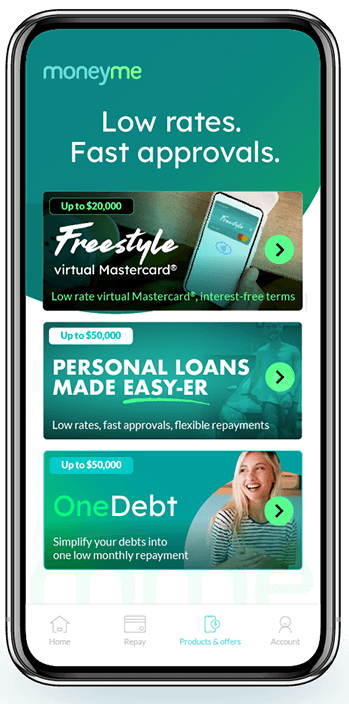 Streamlined, no-fuss application process
If you've decided that span style="font-weight: 400;">short term loans would make your life a little easier, then now is the time to apply for one so you can get access to extra funds as soon as possible. Unless you've applied for a loan recently, you'll probably find the current process very different. No longer will you need to supply a whole mountain of paperwork to get your loan approved. The MoneyMe online applications process is quick and easy. Firstly, let us know how much money you'd like to borrow and what your ideal repayment period is. Next, complete your personal information, bank account details and provide us with a valid email address. Then, you'll receive a decision about your loan approval in just a few minutes. So if you are after express loans, then you've come to the right place. As well as no long wait times, there are also no hidden fees. It couldn't be easier!
Fair and accurate loan outcomes
You may be wondering how much you can borrow. The amount of money that can be accessed through personal loans for pensioners will depend on things such as your present financial commitments and your past financial history. If you are concerned about your credit history, the good news is lenders now take into account the big picture. Traditionally, if there was poor performance in your credit history, that is what the credit report would focus on. Now, we will also have access to the last two years of your transaction history so we can see if your financial situation is improving and take that into account when deciding how much money we can lend you.

Although we want to make sure you are comfortable in your retirement, MoneyMe is proud to be a responsible lender so we are very conscious of only approving loans online that can be comfortably serviced. To help make sure this happens, we provide a free loan repayment calculator to help you calculate what your repayments will be and whether you are able to afford them. All you have to do is select the amount of money you want to borrow, your preferred loan duration and provide a quick description of your credit card history. Once you've entered this information, you'll receive your expected repayment amounts, establishment fees and other ongoing fees straight away. This allows you to check your financial health before taking out the personal loan, create an indicative budget and have more of an idea of how much money you want to borrow.
Your security is top priority
And if you're worried about security, we use the same online security measures as banks and other reputable companies. All your information is entered through a Secure Socket Layer (SSL), which means there is an encrypted connection created between your system and ours. When you take out personal loans for pensioners with MoneyMe, you can rest assured that we take your security as seriously as you do.
If you're a pensioner and are looking for a personal loan, then you've come to the right place. At MoneyMe, we have fair, competitive interest rates that are tailored to your credit profile and history. Apply online today with MoneyMe for personal loans for pensioners of up to $50,000 and you could be paying for that holiday quicker than you thought!