Getting personal credit can give you some breathing space between pay cycles and peace of mind knowing that you have an emergency fund you can dip into whenever you need it. Knowing the best credit card for you and which providers offer features like instant credit card approval helps you find a fast, hassle-free, and effective credit option. Use tools like a credit card calculator to help you find the right credit limit and the right provider.
MoneyMe is the Gen Now money lender specialising in no-nonsense credit for tech-savvy customers. Our application process for all of our credit products is completely online and takes you just minutes to complete. Approvals are fast, often within the hour when you apply during our business hours.
How are credit card repayments calculated?
The minimum monthly repayment for your credit card balance is calculated as a percentage of the closing balance and delivered by your credit provider as a dollar amount. It will never be more than the closing balance. MoneyMe arranges direct debit from your banking account every month or every two weeks for your convenience to ensure that you never miss a repayment when it's due.
You can use a credit card calculator to help you work out how long it will take you to pay off your credit card balance and how extra repayments can help you chop down interest charges.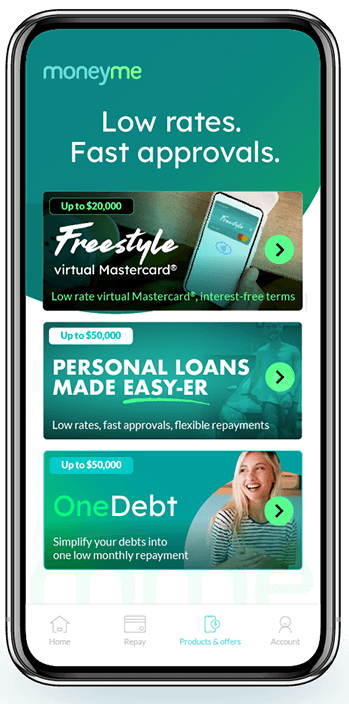 How does interest work on a credit card?
Interest on a credit card is offered at an annual rate which is then calculated and charged monthly to your credit card balance. If the interest on a credit card is 10% p.a. then interest on a balance of $2,000 will be charged monthly on pro-rata of that 10% p.a. To calculate exactly how much interest you will pay each month, convert the annual interest rate into a decimal format by dividing by 100. Divide that decimal by 12 (representing the months in a year) and then multiply that by your balance (in this case $2,000). Convert the monthly chargeback into a percentage by multiplying it by 100. For a $2,000 balance on your credit card, you will be charged 0.83% per month or $16.60.
The higher the balance on your credit card, the more the interest fees will be each month. Using our 55-day interest-free terms means that if you repay the balance on your credit card within our interest-free period, then you're essentially using an interest free credit card option. You can use your Freestyle Virtual Mastercard® throughout the month for all of your expenses – from groceries and petrol to concert tickets and flights – and then on payday you can repay the balance of your monthly expenses in full and not be charged any interest on funds that you have used.
If you'd rather not repay the balance in full then there will be a minimum monthly repayment required similar to minimum monthly repayments charged on our same day loans. The repayment that you make, however, is then automatically more credit funds you can draw on your credit card in the future. Our instant loans are different. Even if you make additional payments on our loans online, that does not mean you have credit funds to draw on again. There is no personal loan redraw facility available. It's important to decide why you need to borrow money before you opt for a credit option in case more flexibility such as that from a revolving line of credit actually works better for you.

We don't charge early payout fees on our loans so if you do have MoneyMe personal loans and you'd rather switch to a credit card with a revolving line of credit, then you can pay out your balance on your quick cash loan and then apply for our credit card option instead.
How are credit card limits calculated?
MoneyMe is a responsible money lender so we tailor all of our credit products from our Freestyle Virtual Mastercard® through to our express loans very carefully. A credit limit is the maximum amount of money you can use from your online credit card. When you apply for our Freestyle account online, you can request a credit limit and we consider this when assessing your credit card application online. Limits provided by us are subject to our lending criteria and eligible customers can receive from $1,000 to $20,000 in credit funds. 
Personal loan eligibility and Freestyle account eligibility are the same. To qualify for our 5 minutes online application process, you must be at least 18 years of age, currently employed, and a permanent resident in Australia.
When assessing applications for our fast approval credit card, we will look at the following factors:
Income – this includes both your regular salary as well as any other forms of income you have. When assessing an applicant's income, we look at your ability to repay the potential debt within three years and your income and salary details impact the ultimate credit limit that you are offered.

Employment – what kind of employment you currently have will also affect your credit limit.

Creditworthiness – Determining creditworthiness will include taking a look at your credit file and your credit history. We understand that a person's credit history doesn't paint a complete picture so your personal loan broker will use their assessment of your file in conjunction with other lending criteria. Recent changes to what's visible on an individual's credit file also help to build more of an understanding of an individual's financial circumstances. For example, credit files in Australia now include the past 24 months of payment history clearly showing how you have addressed any credit issues that you may have had in the past.

Available credit limits – the Freestyle Virtual Mastercard® is available for balances of up to $20000 so any request for a limit beyond this amount cannot be fulfilled. The limit we do assign to your approved application will have been carefully considered to ensure that it remains affordable for you.
There is a range of financial tools online that can help you determine what kind of credit limit you are most likely to be offered. You can also get a free copy of your credit file online. Regardless of whether you are intending to apply for credit or not, regularly checking your credit file helps to keep an eye on what you have borrowed and also helps to catch out any instances of credit theft.
Alternatively, you can make some quick calculations of your own to help you determine what a smart credit limit would be for you. Ask yourself the following questions:
How much do I earn? Include all forms of income.

What are my current living expenses? Be honest with yourself and detail entertainment expenses too.

What's left from my pay after all expenses are paid? Things like mortgage repayments or rent usually take a big chunk of an individual's income. Be smart about what's left over for you to spend on non-essential spending.

What do I need a credit card for? Are you looking for an interest-free account you can use for regular expenses or will this be an emergency fund?
Ready to apply for Freestyle? Complete and submit your application online now. It only takes minutes.