Whether you're a seasoned credit user or looking for new credit cards for the very first time, we're certain you're going to love the Freestyle Mastercard from MoneyMe. This revolving line of credit is available for balances between $1000 and $20000. It takes just minutes to apply online and once approved your new funds are available immediately. When you apply during business hours it typically takes about an hour to get your new fast approval credit card.
How often can I apply for new credit cards?
How often you apply for new credit cards is entirely up to you, but it's generally considered a good idea to wait about 90 days between applications and, ideally, six months. This is to help protect your credit score as multiple credit enquiries can negatively affect your credit rating. You may also find that there are restrictions on the number of credit cards you can have from a single credit provider so it's always a good idea to check before you submit your application.
Waiting between lines of credit is also a good way to develop healthy financial habits. Learning how to budget with your new line of credit can help stop you from overindulging and spending beyond a comfortable credit amount. For example, the Freestyle Virtual Mastercard® from MoneyMe offers customers 55 days interest-free on purchases made which means that when you repay the credit funds you have used for any purchases you make, you are essentially using an interest free credit card. Paying off your total balance is, of course, up to you as well. The great thing about a revolving line of credit is that as soon as even partial repayment to your credit account has been made, those funds become instantly available to use again. It's a great way to ensure that you have access to fast cash whenever you need it.
If you're considering applying for a new credit card because you need access to more credit than you currently have then you have a couple of options to consider. Firstly, you can apply to increase the limit on your current credit account. With MoneyMe, this is quick and easy and can be done via your mobile phone. 

The other alternative you have is a personal loan application. Unlike the Freestyle account, a fixed rate personal loan from MoneyMe is a lump sum cash amount transferred directly into your bank account that you are free to disperse how you need. There is no personal loan redraw facility available so even after you have repaid some of the loans, you cannot draw new credit funds from that loan. Instead, you repay your express loan from MoneyMe with fixed monthly repayments detailed in your loan contract. This gives you the total cost of your loan from us as well as the total interest payable over the loan term. We don't sting our customers for early exit fees on their loans with us which means that if you're in a position to close your loan balance early then you are free to do that without paying an additional fee.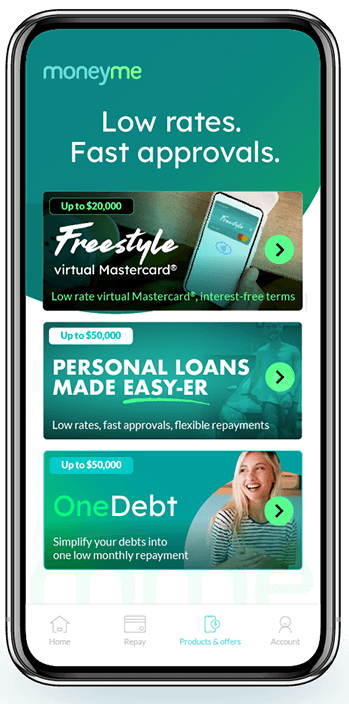 How to use new credit cards?
Getting a new credit card can be a fun and exciting moment. If you have a clear idea of exactly how you are going to use your new funds, then it's time to start putting your plans into action. Credit cards can be a useful source of emergency funding to cover things like unexpected expenses. When the car breaks down or you need to buy an emergency flight, knowing you have access to quick cash loans from your credit line can give you a lot of peace of mind.
Of course, not all last-minute spending needs to be an emergency. Sometimes a great deal for a weekend away comes up and you might not have the cash to cover it. Using your new credit card can help you take advantage of last-minute sales and great offers. Once you have purchased your amazing deal, take some time to work out how you are going to repay your credit funds so that you know you can take advantage of another amazing deal in the future.
New credit cards can also be a useful way of monitoring your monthly expenses. If you choose to use your credit card as your everyday purchasing account for things like groceries, petrol, and entertainment like concert tickets or subscription services then you have a clear spending budget already. Remember that MoneyMe customers with a Freestyle account have access to 55 days interest free on purchases made. This can help you to develop a clear expenditure budget and monitor it closely. When you repay the expenses that you have put on your new credit card then you don't pay interest on those purchases. 
There are lots of great tools online to help you budget and manage your new credit card too. Using things like a credit card calculator can assist with planning your repayments and show you how long it will take you to repay your balance using both minimum monthly repayments that your credit provider sets or by increasing those repayments to something more you can afford, and which will help you avoid higher interest over the long term.
Credit card interest is calculated daily and even without a handy online calculator, you can work out the total interest charged on your balance with a manual calculator and a few quick moments. First, convert the annual interest rate from a percentage to a decimal format. You can do this by dividing the percentage amount by 100. Now divide that annual rate by 12 (i.e. monthly) and then times it by the total amount you have borrowed. You can convert that monthly rate back to a percentage by multiplying it by 100.
When do new credit cards get issued?
MoneyMe is the Gen Now money lender. Our credit card application online is designed to be quick and painless to use, even from your smartphone. The Freestyle Virtual Mastercard® is also an online credit card. Rather than living in your wallet like another piece of plastic, your Freestyle account lives in your smartphone. You can use it wherever tap and go is accepted and for online shopping. If you need access to some fast cash, then you simply transfer it from your Freestyle account to your normal banking account (or anyone's bank account) when you need to. Interest charged on cash advances is different from normal purchases so ensure you know and understand all of the interest rates for your Freestyle account ahead of time.
What does all of this mean when it comes to a new credit card being issued? It means that there is no time, and no new card will be issued. Unlike other providers who provide a plastic card with an expiry date, your Freestyle account lives in your smartphone so there's no waiting by the letterbox for your new card to arrive.

If all of this sounds like the new credit card you have been looking for then the good news is that you're just minutes away from successfully applying with us. Our instant credit card approval process is made possible with a quick and intuitive online application that verifies your application data instantly. Apply online today for fast and easy finance from MoneyMe.