Are you looking for a fixed rate personal loan? Whether you are getting a personal loan for a new car, paying for a wedding, or planning to do some traveling, getting a fixed rate personal loan can take some of the stress out of the process as you'll know exactly what your repayments will be each month. This can make it easier to adhere to your budget and make all your repayments on time.
What is a fixed rate personal loan?
A fixed rate personal loan means that you will be paying the same interest rate over your loan term. Unlike with a variable interest rate, a fixed interest rate will not be impacted when the market interest rate rises or falls. You'll know exactly what the interest rate will be over the whole term of the loan.
Is it better to get a variable or fixed rate personal loan?
There are pros and cons for getting a fixed rate personal loan rather than a variable rate personal loan, so you'll need to weigh up the benefits and decide what the best personal loan option for you is.
The obvious advantage of a fixed rate personal loan, where the interest rate is locked in, is that you will know what your repayments will be over the life of the loan, so you won't need to stress if there is a sudden rise in market interest rate. On the flip side, the interest rates and fees on a fixed rate personal loan are usually higher than on a variable loan. Some fixed rate personal loans charge a fee if you want to pay off the loan early, and you may not be able to make extra repayments or if you can, the repayments might be capped. You'll need to look at the specific conditions on your personal loan, but there can be less flexibility with fixed rate personal loans compared to variable loans.

If you are trying to simplify your payments by taking out a personal loan for debt consolidation, having a fixed rate personal loan will mean your repayments will be consistent. Fixed rate loans provide more certainty to borrowers and protect you against potential rises in interest rates. When you have a variable interest rate your monthly repayments will not always be consistent as they will change as the market interest rates rise and fall each month. This makes budgeting more difficult and it can become stressful if you are struggling to meet the repayments.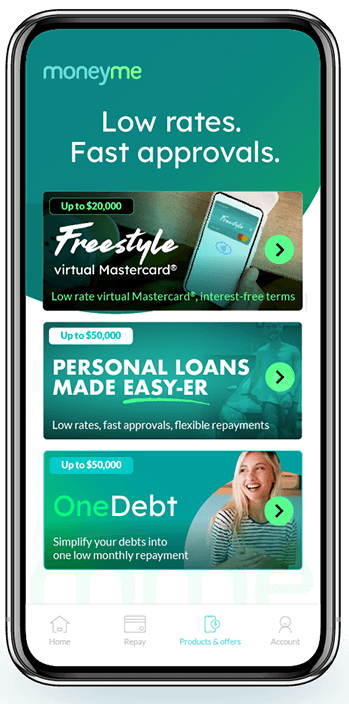 What is the best loan for you?
If you decide on a fixed rate personal loan it is definitely worth doing a personal loan comparison Australia to find the best deal. It makes it more straightforward to compare deals when you know the interest rate will stay the same over the life of the loan. Rather than just comparing the interest rates, make sure you look at the comparison rates too. The comparison rates factor in associated fees such as application fees and ongoing fees that can add up over the life of the loan so will give you a more accurate idea of the total cost of the loan. But remember, the comparison rate will not necessarily factor in all the fees and charges so you'll need to look into each loan in detail before making your final decision.  At MoneyMe, we like to be transparent about our costs, so there are no hidden fees or charges, and no early exit fees. You'll know upfront what the fees are going to be.
Can you refinance a fixed rate personal loan?
In some cases, refinancing a personal loan can be a good idea. If fixed interest rates have gone down significantly since you first took out your loan, you may be able to find a personal loan with a lower interest rate. You also may be able to reduce your interest rate by refinancing if your credit score has improved significantly since you first took out your loan. But remember, your credit score is likely to decrease slightly each time you refinance so you'll need to weigh up the pros and cons.
Fast online loans
Whether you need a $5,000 personal loan or a $30,000 personal loan, at MoneyMe we have a range of easy loans to choose from. We also have a free handy personal loan calculator so you can get a good idea of what your monthly repayments are likely to be before you take out the loan. Once you've decided on how much you can comfortably borrow, it's now time to apply online. To do this simply click the 'apply now' button and you can start the application process which shouldn't take very long, as thankfully there is no lengthy paperwork involved. With our quick loans, you should receive your decision within a few minutes. Once your loan has been approved, if you have applied within business hours you could have access to up to $50,000 in less than an hour, depending on who your bank account is with, and it will take a bit longer if you are applying outside business hours. 

MoneyMe has provided many loans online to borrowers all over Australia. If you have any questions, our support team would love to help you. You can call us during business hours, send us an email or get in touch via LiveChat. Apply for your fixed rate personal loan online today, and join our growing list of happy customers.