If you're after access to fast, flexible cash through a line of credit Sydney, look no further: MoneyMe's Freestyle virtual Mastercard® is the award-winning modern money solution for savvy spenders. Offering instant access to credit limits up to $20,000 for approved applicants and interest-free terms, it's one of the best lines of credit in the business.
Oh - and being virtual, it won't clog up your wallet. You can shop in-store using Tap n Pay on your smartphone, make online purchases in seconds with Freestyle partners, send money straight to your bank account, and soon even make peer-to-peer payments on the spot - anywhere, any time. 
No plastic, no interest, no fuss - what's not to love? To find out how much you can get approval for, apply online using the MoneyMe app today.
What is a line of credit?
A line of credit is a fixed amount of money a bank or other financial provider gives approval for you to access on an ongoing basis. 
Unlike personal loans, where funds are delivered upfront, and you repay the full amount plus interest over time, a line of credit Sydney allows you to access any available money, at any time, as many times as you like. 
Provided you meet the predetermined line of credit payment conditions, you can avoid paying any interest fees - meaning a virtual credit card can be a good financial investment and a sensible way to save and manage your money. 
When is line of credit useful?
Let's face it: having access to cash is always useful! 
MoneyMe offers fast, flexible credit for just about any situation. Whether the unexpected happens and you find yourself in sudden need of money fast to help cover bills or rent, or you're exploring loans online and line of credit rates with a view to bigger things like wedding loans, property renovations or travel, a secured line of credit can be a great financial investment.
To be eligible for a line of credit Sydney like our Freestyle virtual credit card,  you'll need to be at least 18 years of age and an Australian citizen or resident for tax purposes. 
You'll also need to have a regular, demonstrable source of income. It's important that you're able to show what the amount you earn through regular deposits into the same bank account, so if you're self-employed or get paid in cash, you might need to change how you process your finances before you apply. 
As part of the credit card fast approval process, when you apply for a line of credit, we'll check the past 24 months of your credit history. 
Having a sound credit score is important to maximising your chances of approval, as it reflects the level of risk we take on when we lend to you. It also helps inform the conditions under which you can borrow, such as the amount of credit made available to you and at what line of credit interest rate. 
But if you're worried that your credit score has taken a few hits and might not paint you in the most favourable light, or you're perhaps a young person, and this is the first time you've applied for a line of credit, don't sweat it!
Things have changed around how your credit score is calculated. Previously, only negative credit behaviours were tracked on your credit report, such as where you may have missed a bill or line of credit payment such as on a personal loan or credit card. This is called 'defaulting'. 
Nowadays, things are much fairer, thanks to Comprehensive Credit Reports (CCR). Every time you meet your line of credit payment conditions, you're demonstrating positive credit behaviours - and these are now being recorded on your credit history, along with any defaults and applications for lines of credit. 
We think this is great, as it presents a much more comprehensive borrower profile and allows us to see where things are really at, so you're not just being measured against a rough spot you may have gone through in the past or penalised for not having had other financial products.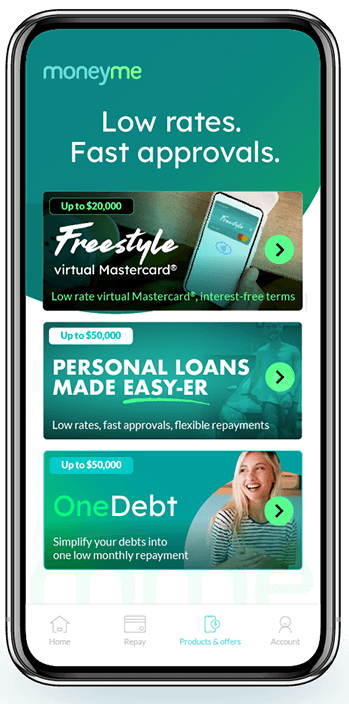 How to apply for a line of credit in Sydney?
If you're ready to apply for a line of credit Sydney, simply download the MoneyMe app onto your phone or jump onto our website and hit 'Apply Now'.
Our Freestyle virtual credit card application process takes less than 5 minutes and doesn't stuff around with uploads of things like payslips. All you'll need to apply for a line of credit with us is two forms of Australian government-issued identification, such as a passport, driver's licence, medicare or proof of age card. No paperwork, no phone calls, no fuss. 
We utilise the latest secure lending technology to verify all the financial information we need online and process your application in real-time. 
First, we'll ask you about what amount of credit you'd like to borrow.  Our Freestyle credit card offers limits up to $20,000 for approved applicants. Next, you'll need to tell us about where you work and what you earn, your regular expenses, and any other debts or lines of credit you might have, e.g. a credit card or personal loan.  
We'll then check your credit history and, as a final step in your application for a line of credit Sydney, obtain read-only access to your bank statements through a secured connection to verify the information you gave us around your income and general financial situation. 
You'll know the outcome of your secured line of credit application within minutes and provided you apply during business hours, get access to your Freestyle cash immediately.