When searching for great credit card offers, don't forget to consider how quickly you can get the fast cash you need from lenders like us, the wholly online credit provider. Anyone hunting for a great credit card looks for low rates and low fees, but they often don't think to check for speedy processing and instant access to the cash they're looking for. 
We offer customers an online low doc personal loan and credit card application process that you can complete and submit in minutes. When you apply during our business hours, customers typically receive an outcome within the hour which means we offer instant credit card approval. Our credit card is powered by Mastercard® and offers you up to 55 days interest-free on purchases made. You can transfer yourself quick cash loans from your credit account to your normal bank account, or someone else's, all from an intuitive online app. 

Say hello to Freestyle, fast approval credit card from MoneyMe, available for credit balances between $1,000 and $20,000. It's the online credit card that lives in your smartphone and not your wallet. Use it in-store wherever Tap n Pay is accepted. Use it for shopping online. Transfer quick cash in cash to your account. We offer low fees and charges and a competitive interest rate.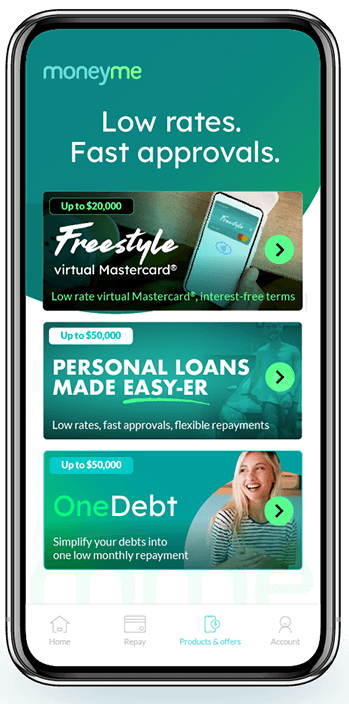 How do credit card offers work?
Credit card offers come in all shapes and sizes and is tailored to the individual. We're the Gen Now money lender and we specialise in offers that appeal to customers just like you. We know that you want a no-nonsense and no bull easy finance option. You want it fast and you want the ability to check your account quickly from your smartphone. That's why the Freestyle account lives on your smartphone and what it only takes you just minutes to complete our credit card application online and submit it.
1. Eligibility
To be eligible for our credit card, or any of the MoneyMe credit products, you will need to be currently employed, an Australian permanent resident and to be at least 18 years of age. When you apply for an online credit card, you go through standard credit checks and evaluations. We look at your current living expenses, what sort of salary you have and any other debit cards or debts that you might have. If your credit file is in good shape, then your internal MoneyMe credit score will be very high. If you've had some trouble in the past with credit, then you can still apply for our other loans products to help you rebuild your credit file. For every successful loan repaid, your credit score increases helping you with future credit applications. As a MoneyMe customer, you automatically qualify for our credit score privileges, with better perks the higher your rating is. 
So, how does any of this translate as great credit card offers? Well, that's in the time and the lack of documentation we need from you. Unlike other providers who might ask you for reams of documents like payslips and debt statements, we just ask you to sign in to your online banking application. When you do, your personal loan broker receives a 90-day statement of your most recent banking transactions in read-only format and we use this to verify your application details. All of this happens at the click of a button which means you save time and get access to the money you're looking for faster. 
Approved applicants usually receive an outcome within an hour of applying and when you're happy with the credit we have offered you, it's simply a case of digitally signing your contract. Once done you have instant access to the funds you have been looking for.
2. Convenience meets flexibility
The Freestyle account from MoneyMe comes with up to 55 days interest-free on purchases made which means when you repay your credit balance within this period then what you basically have is an interest free credit card. It's like buy now and pay later options but even better because not only do you not pay interest on purchases within 55 days, you can also transfer cash to your normal banking account, or anyone else's. The Freestyle account from MoneyMe offers you flexibility and easy finance.
3. Competitive fees and rates
Our credit card comes with low fees and charges as well as a competitive interest rate. It's also flexible so you can choose how you want to repay your credit. You can opt for the minimum monthly repayment or you can choose to increase those payments and save yourself some interest in the long run.
If you're looking to make the most of the credit card offers available, then it's important to first answer the question: what do I need to borrow money for? The Freestyle credit card offers same-day approval when you apply during our business hours, like our instant loans, and can be used for everyday spending like your petrol and general shopping, for helping out with emergency repairs or renovations, or for planning and paying for your next big holiday. So, what do you need a credit card for, and would a personal loan be the better option? Let's take a look at personal loan vs credit card and weigh up your options.
Easy loans from MoneyMe are available for balances between $2100 and $50000 and come with fixed monthly repayments that are directly debited from your account for peace of mind. You can use small loans to help you with getting from pay cycle to pay cycle more comfortable or choose a long term personal loan to help you with things like medical costs, buying big assets like a car, or even get a personal loan to buy shares. 
As you evaluate your options, it's worth considering that when you take out one of our express loans, there is no personal loan redraw facility available on that loan. If you do need to borrow money again then you'll have to either refinance a personal loan (which means borrowing enough on a new loan to pay out the balance on your first loan) or apply for a second loan. Freestyle credit limits are available for between $1,000 and $20,000 so that gives you a lot of credit to play with over and over again because a line of credit means that even repaying part of the funds you have used frees them up for use again. 
The Freestyle account, therefore, offers you flexibility and ongoing credit for as long as you need it. You can save it for special occasions, keep it handy for emergencies or use for your everyday living expenses and repay it within the interest-free period to keep your fees even lower. You benefit from great credit card offers too, including any rolling promotions we have.
Made up your mind? You're just minutes away from completing and submitting your application for any of our credit products online. Make the most of your credit with MoneyMe and choose the online lender who works hard to tailor products to customers just like you. There's no bull, all of our charges are visible on our website and it takes you no time at all to get approved. Apply online today.