There are all types of credit cards available to choose from so knowing which is the best for you comes down to what you need to borrow money for. If you're looking for an everyday credit card you can use for in store shopping and for shopping online, then the Freestyle Virtual Mastercard® from MoneyMe could tick all the boxes for you. Before you decide which credit works best for you, however, it's important to know your options.
What are the different types of credit cards?
Credit comes in all shapes and sizes and even credit cards can be different. Most types of credit cards will be some form of revolving credit which means that you can use the funds you have been pre-approved for (all or only some of those funds) and as soon as you repay all or only some of those funds then that credit becomes available to use again. 
Types of credit card include:
Purchase cards – credit cards designed for use as an everyday card or as one for emergency spending. These types of cards typically come with rewards like interest-free periods. When you repay the money that you have spent within the interest-free term then little or no interest is charged on your balance at all. It turns into an interest free credit card.

Balance transfer cards – this type of credit offers customers lower interest rates on credit balances transferred from other credit cards. Typically, this lower rate will be subject to a specified term (12 or 24 months) during which you can repay your credit balance at a much lower rate than the original credit provider was charging you. This type of credit card, however, often comes with higher rates of interest for purchases made so it's important to be mindful of how you intend to use your balance transfer credit card once you have repaid the initial balance.

Store cards – this a credit card issued by a store and for use only within that store or its affiliates. It may be possible to use it as an everyday purchase card elsewhere but typically interest rates will differ from the normal purchase rate. This kind of credit card is ideal for people to shop continuously at a single store but it's not a very flexible credit option.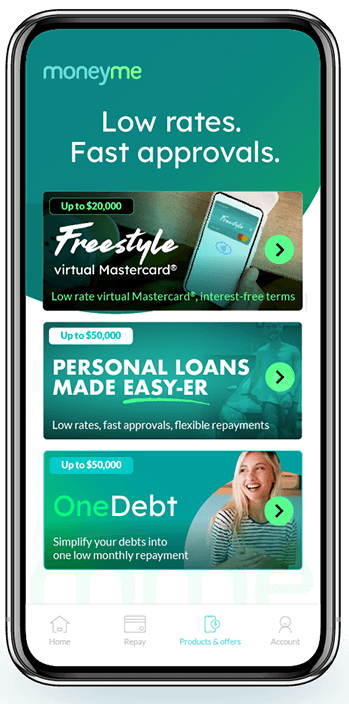 Which type of credit card is best?
Only you will know which type of credit card suits your needs the best. If you're looking for a flexible option that won't take up space in your wallet, then consider the Freestyle virtual credit card powered by Mastercard®. Just like any other purchase card, your Freestyle account can be used for making purchases both in store and online but it's not a piece of plastic. Instead, it's an online credit card and it lives in your smartphone – the one thing you really aren't likely to leave the house without!
Customers can access between $1000 and $20000 in credit with the Freestyle account which also allows you to transfer quick cash loans to your normal banking account when you need to. Purchases made with your Freestyle account also enjoy an interest-free period of up to 55 days. When you compare this to another popular buy now and pay later services, you'll find that you're typically enjoying the same amount of interest-free time but without the flexibility of being able to use those services at every store. Freestyle is accepted wherever Mastercard is accepted making it one of the most widely useable credit cards in the world.
When you're comparing types of credit cards it's important to read all of the terms and conditions that the provider offers you. With MoneyMe, that's quick and easy. Everything you need to know about our Freestyle account is available to view on our website. We believe in fast, no-fuss credit which means that we offer a credit card application online that takes you just minutes to complete and submit as well as making all the relevant information you need to know easily accessible on our website. If you have any questions about our service offerings, then you can chat live with a customer service representative online or you can call on 1300 045 650. Our business hours are Monday to Friday from 8 am to 9 pm and Saturday to Sunday from 9 am to 9 pm.
Our instant credit card approval process is powered by our desire to produce the fastest and easiest application process we can. Instead of asking you for lots of documentation and calling your employer to check your application details, we use the power of the internet instead. Using illion's bank-level encryption software, we access your last 90-day bank statement via your online banking platform. This gives us a read-only PDF format of your statement that we use to verify your income and expenses. It's fast and it's reliable and it's why we can offer customers a fast approval credit card. When you apply during our business hours you can typically expect to receive approval within the hour. When you're happy with what we have offered and ready to proceed, simply digitally sign your contract and the funds become instantly available.
To qualify for a Freestyle account or any of our easy finance products you must be at least 18 years of age, currently employed, and a permanent resident in Australia. We believe in responsible lending which is why we only extend our credit services to customers we believe can comfortably afford them. As standard, we check your credit file and your credit history but don't worry if your credit history isn't quite as good as it could be. A person's credit file is just part of the picture and we take time to ensure that every application we receive is thoroughly and fairly assessed.
If a new type of credit card isn't exactly what you're looking for then we can help you find something more suitable like quick personal loans. Just like our online credit card application, applications for our quick loans also take you just minutes to complete and submit. 
Personal loan eligibility is the same as our application criteria for the Freestyle account so if you fit the bill for our credit card then you're qualified to apply for our express loans service too. Loans from MoneyMe are available for balances between $2100 and $50000. Unlike a credit card, your fixed rate personal loan comes with designated monthly repayments at a fixed rate so it's easy to budget around. Everything you need to know about the cost of your loan is included in your loan offers like the interest rate charged, the number of repayments required, and the total loan amount. We don't sting our customers for closing out their loans early which means that if you're in a position to repay the balance of your loan before the loan term has elapsed then you can do so without additional fees. We like rewarding our customers for being financially healthy. You'll also enjoy an increase in our in-house credit rating system in case you need money from us in the future. Easy finance is what we're all about.
Does the Freestyle Mastercard look like the type of credit card you're looking for? Great! Apply online today in just a matter of minutes.