We offer easy and fast finance options like a credit card consolidation loan all online in a matter of minutes. Get approved for unsecured personal loans from $2,100 up to $50,000 today. Credit card consolidation can help you to budget smarter and reduce your credit fees by combining your repayments. Other benefits of a credit card consolidation loan may include cleaning up your credit file and improving your credit score as well as possibly lowering interest fees and avoiding compounding interest charges you are currently paying.
Not sure how much you could save by consolidating your credit card debt? Use our online tools like a loan calculator to check what you could be paying each month if you opted to consolidate all of your debt into a single cash loan.
What is credit card debt consolidation?
Credit card consolidation is the process of combining all of your credit card debt and paying it out all at the same time with a personal loan. You may wish to do this for a variety of reasons including reducing the interest charged on your credit balances, avoiding other fees associated with your credit card balance or just to streamline and tidy up your money with a quick refinance. This is a great idea if you are about to embark on a new savings plan or you have a financial goal in mind like saving for a home deposit. Reducing your creditors improves your credit file and score. It can also assist with avoiding missed payments and worsening your financial position. 
The quickest and easiest way of attaining credit card consolidation is by applying for our low rate and low fee unsecured personal loans. MoneyMe offers loan balances between $2,100 and $50,000. As a wholly online lender, our application form is available online and will take you less than 5 minutes to complete and submit. Customers who apply for any of our finance products during our business hours will typically receive a response in minutes. Your loan offer is sent online and will detail your total approved amount, the interest rate offered, any other fees and charges as well as your monthly repayment amount. 
All of our personal loans are fixed rate loans which means that your repayment amount remains the same for the entire length of the loan. We don't charge our customers early pay out fees so if you find yourself in a position to pay out your loan balance before the scheduled loan term ends, then you are free to do so without additional termination fees. This helps you to reduce your total payable interest over the course of the loan.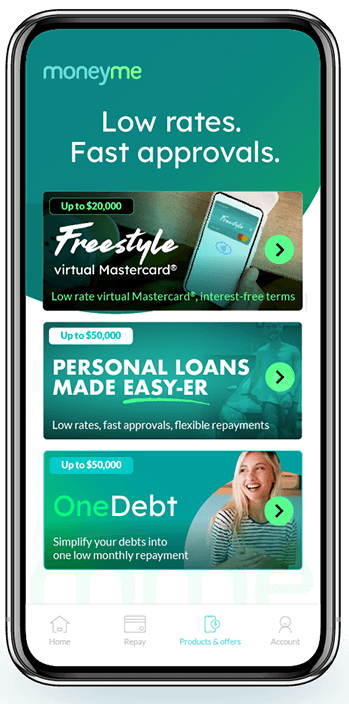 What is the best way to consolidate my credit card debt?
When it comes to consolidating your debt, only you will know the best way forward. Popular options include listing all of your current credit cards and the total owing on them, including any account closure fees that you may be charged once you repay your total credit card balance. Once you know exactly what you owe across all of your credit cards, apply for a loan amount which covers your total balance.
MoneyMe pays loan balances directly to the loan applicant, transferring your funds into your bank account once you have signed your loan contract. We do not pay out your existing debts and close your accounts with your creditors on your behalf. If you are unsure how to finalise any accounts you do not wish to retain once you pay them out, contact your credit provider directly. Often credit providers will require notice of an intention to close an account in writing. Email usually suffices but double-check to ensure that you don't accidentally leave any accounts open that should have been closed when they were paid out. Some credit providers will still charge fees like account keeping fees on remaining accounts even if the credit balance has not been used.
When it comes to applying for your consolidation loan balance, ensure also that you are 100% honest on your application. As part of our standard lending practice, our loan assessment team will review your credit history with your application. Don't worry if your credit file isn't as good as you would like it to be. We thoroughly assess every application that we receive, taking your credit score into account as only part of your financial status. Your credit file will list all of your existing credit and debt commitments so it's important to be upfront about all of your creditors on your application.
Is there a limit on how much credit card debt I can consolidate?
Personal loan balances from MoneyMe are available up to $50,000. This means that you can combine your credit card debt into a single loan up to $50,000 when you apply with us. 
Getting in front of your finances can seem like an overwhelming task at times and that's why we have developed such a fast, easy and effortless application and approval process. When you apply online with us, we don't ask you for lots of documentation or leave you hanging for days, wondering how much you have been approved for. Get fast, easy cash from Australia's online money lender at great rates and low fees. Apply online now to see how much you could be approved for today.