The Freestyle virtual Mastercard® from MoneyMe could be the low income credit card you have been looking for. Balances are available for between $1,000 and $20,000 and our credit card application online takes you just minutes to complete and submit. We offer low fees, great rates and flexible credit options.
Can you get a credit card with low income?
Getting either the Freestyle virtual credit card or qualifying for any of our personal loans is quick and easy with MoneyMe. You need to be at least 18 years of age, currently employed and a permanent resident in Australia. This means that even if you only earn a low income then you can see qualify for credit with us.
We are a responsible money lender in Australia so we take our credit responsibilities very seriously. For example, you can't qualify for either our online credit card or any of our express loan options if your sole income is derived from Centrelink payments. This is to ensure that we are only offering credit to customers that we believe can't comfortably afford to manage their credit commitments. Our Freestyle account is available for balances between $1,000 and $20,000 and our fixed rate personal loans are available for balances between $2,100 and $50,000. If you are looking for a low income personal loan that you can manage comfortably then our range of small loans may be just what you're looking for.
Our quick cash loans are offered with an upfront repayment schedule which clearly shows you what your monthly repayments are when they are due and the total affordability of a quick loan with us. You can check what your interest rate is, how much interest you'll pay over the total term of the loan and work out whether you can repay your new loan ahead of schedule with some clever budgeting. Unlike other credit providers, we don't charge our customers for early termination of their loan. This means that if you're ahead of your finances and in a position to save yourself some interest then we support you by offering a quick early exit process from your current loan obligation.
Cash loans Australia are lump sum payments that are paid directly into your bank account. We offer same day loans that really are the same day. When you apply online during our business hours, you can typically expect a response from us within the hour. If you like our loan offer and you're ready to proceed then all you need to do is digitally sign your online contract. Once done, we release your new funds immediately which means they can hit your bank account the very same day, depending on who you bank with.
If you're interested in a fast approval credit card instead then it's the same quick and easy online application process and the same fast response. Once you have signed your new credit contract with us, we make your new Freestyle funds available immediately. Rather than being a plastic bank card that typically takes 14 business days to arrive by snail mail, we offer customers instant credit card approval and a virtual card that takes no time at all to arrive. It lives on your smartphone rather than in your wallet and you can manage everything from payments to increasing and decreasing your credit limit easily, all from your phone.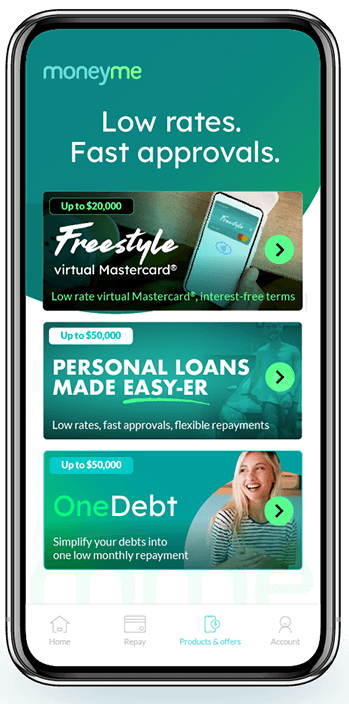 How much income do you need to qualify for a credit card?
When you apply for the Freestyle virtual credit card you need to be currently employed but there is no set limit of income that you need to qualify. We assess every individual credit application carefully using time-saving and intuitive software that quickly checks what we believe you can comfortably afford. If you have a lot of credit commitments already then it might be worth checking what your current borrowing power is before you apply for new credit. This helps to keep your credit file clean and tidy as multiple credit applications can decrease your credit rating.
Other intuitive tools you can use include online personal loan calculators. These are designed to do the heavy maths lifting for you by calculating likely repayment amounts on a desired personal loan at a set interest rate before you apply. You can check how the likely repayments will affect your living expenses and your personal budget before you're approved so that when you are approved you know roughly what to expect and how your cash flow will be affected.
How to pay off credit card debt with low income?
Your credit card provider will issue a minimum monthly repayment on your credit card bill. This is a percentage of the total credit balance owed plus any interest that has been charged. When you choose MoneyMe, this minimum amount is directly debited from your account to ensure that you're always on time with your payments and you don't have to manage them directly. You can always increase the payment that you make, however. Minimum monthly repayments are the absolute minimum that you have to pay to keep your credit card, but they're not designed to help you pay off your credit balance quickly and that's worth keeping in mind if you're trying to save yourself some money. 
You can calculate how long it will take you to repay your credit balance using only minimum repayment amounts using an online credit card calculator. Then you can use the same calculator to help you work out how much you can afford to repay every month and what money that will save you over the long term. It might be worth setting yourself a clear credit card budget every month or pay cycle that helps you manage repayments in the best way that works for you. For example, with the Freestyle Mastercard from MoneyMe, you actually receive up to 55 days interest-free on purchases you make with your account with us. This means that when you repay your credit balance you have used for purchases within this period, you are essentially using an interest free credit card and not paying additional fees and charges.
If you have a bunch of smaller debts that you would like to clean up, then it might be worth considering a personal loan for debt consolidation. These types of credit products offer you a quick and easy way of paying off everything you owe in a single payment and then repaying your loan to just the one provider at a fixed rate of interest and over a fixed term. They can be a great way to help you save on interest and additional fees from a bunch of providers, instead of channelling all of your credit to a single money lender that is much simpler and possibly cheaper to manage.
Ready to get started on a low income credit card application? Our entire application process for any of our credit products take you just 5 minutes to complete and submit. There's no lengthy paperwork and we probably won't even need to call you about your application at all. Simply fill out our online form and enjoy fast approvals usually received within the hour and even faster access to your new easy finance from MoneyMe. Apply online now.