A lot of credit providers will try to hook you with a credit card with no annual fee but once you read the fine print you realise that there are lots of other little fees or charges instead. Compare your credit options to the Freestyle virtual Mastercard® from MoneyMe. Applications take just minutes to complete and submit online. We offer a fast approval credit card with no strings.
What is an annual fee on a credit card?
All types of credit come with fees and charges to help cover costs like a provider's administration costs. We are a wholly online lender which means we don't have costly branch offices to upkeep, and we can pass these savings directly on to our customers. When you have a Freestyle virtual credit card with MoneyMe, you are charged an annual fee from $0 to $149 based on your credit limit. These fees are charged to your credit card balance. We also have a monthly account keeping fee but when you're on top of your credit balance and there is less than $20 owing, we waive this fee entirely. It's just another way that we've found to reward our great credit customers. 
Other ways we like to give back to our customers including not charging early exit fees for anyone who wants to close out their personal loan with us early. Most lenders will slap you with an early termination fee when your loan balance is low enough for you to clear out in one go but MoneyMe doesn't. We like reliable credit customers just like you so it's only fair that we show our appreciation with keeping our fees and charges low. As a MoneyMe customer you also get assigned an internal credit rating with us. When you have successfully repaid any of our fixed rate loans or shown yourself to be a responsible credit customer with our Freestyle Mastercard, we reward you with higher credit limits, lower rates and fees on future credit products that you apply for with us.
If you're currently shopping for a new credit card or easy loans, then there a few things that you might want to consider apart from a credit card with no annual fee. A big one is interest-free periods. With Freestyle, we offer our customers up to 55 days interest-free on purchases made using their online credit card. When you repay your credit balance for purchases within this period, you are essentially using an interest free credit card. Compare this with popular buy now and pay later options and you often find that you receive longer interest-free periods with Freestyle than you do with most other interest-free options. For example, if you have a buy now and pay later option offering you 4 fortnights to repay your debts then you're really only getting 42 days interest-free. You're also not guaranteed that that option can be used at all stores or for all purchases. Some shops will impose a minimum spend limit just to access a buy now and pay later option or some shops won't offer the opportunity at all. Freestyle by MoneyMe is powered by Mastercard which means it's pretty much accepted everywhere. You also have the additional flexibility of extending your repayment period over 55 days if you need whereas buy now and pay later options will sting you with a late fee if your repayments go over the allocated time.
Finally, Freestyle also offers you the chance to transfer cash amounts from your credit account to your own or another person's banking account. If you're stuck between pay cycles and looking for a quick cash loan to help you out, you can transfer cash instantly. Interest rates vary for cash transfers so check out your full schedule of fees and charges before you transfer.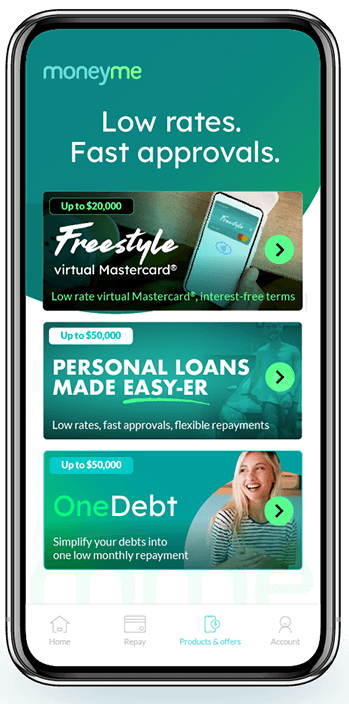 Do all credit cards have an annual fee?
Every credit card works slightly differently so it may not have fees, it may have really high annual fees and no monthly fees, or it might come with an introductory offer that waives your annual fees for the first year. As with any credit product you might be considering applying for, it pays to do your homework and check the full schedule of fees and charges from the provider before applying. We're committed to ensuring that our customers fully understand any credit product they choose from us so you can check out our website for full details and conditions of any kind of credit you're considering.
One of the most popular promotions you'll find for a credit card with no annual fee is balance transfer offers. These are credit cards which offer customers a very low interest rate for a set term which they can use to pay off a credit card balance they have with another provider. The idea is to transfer that credit balance, pay it off over the introductory period and then use the new credit card for everyday spending once the balance is clear (or close to clear). Often, however, a balance transfer deal comes with steep regular interest rates once the introductory period expires so using it for everyday purchases can be very expensive.
If you're tossing up between a personal loan vs credit card, then you might want to consider a MoneyMe personal loan for debt consolidation instead. These types of loans are designed to help you pay out existing debts, like credit card debt, with a short term loan or long term personal loan (depending on how much debt you have). Instead of paying multiple credit providers and getting stung with a range of different fees and interest rates, you consolidate all of those debts into a single fixed rate loan with us. This gives you just one monthly repayment to worry about at a fixed term of interest for the entire term loan. You know ahead of time how much your loan will cost you in total, how many repayments you will need to make and how long the term of the loan is. If you're in a great financial place and you can afford to pay out your loan balance early, then it's worth considering. We don't charge early termination fees on our loans, so you don't get stung for getting ahead of your finances and cleaning up your credit.
With just the one loan to worry about, you can budget easily and when you're ready to go looking for a new credit card then we're waiting with the Freestyle virtual Mastercard® option. Unlike other credit cards which can take weeks to arrive in the mail, Freestyle lives on your smartphone instead. You can use it wherever Tap n Pay is accepted as well as for quick and easy online shopping. Everything you need to manage your credit card with us can be done with a swipe of your finger including arranging payments, increasing and decreasing your credit limit. 
To be eligible to apply for any credit product from MoneyMe, including our instant credit card approval, you'll need to be currently employed, at least 18 years of age and a permanent resident within Australia. Applying is quick and easy, taking you just minutes to complete and submit. When you apply during our business hours you can expect an instant approval credit card with responses taking roughly an hour. When you're happy with the credit card offers we have made you, simply digitally sign your contract and you're ready to go. We'll make your new funds instantly available so you can start spending immediately. 
Ready to go ahead? Complete our credit card application online now for the Freestyle line of credit or any of our loans online.