Find out whether you can get a credit card for temporary residents and other information about the MoneyMe range of credit options for a fast, easy and intuitive loan application. Your application takes just a matter of minutes to complete and submit online with fast approval.
Can a temporary resident get a credit card?
Being a temporary resident in Australia can be limiting when it comes to finding affordable credit options. For example, when you apply for the MoneyMe range of personal loans or our Freestyle virtual Mastercard®, you must be a permanent Australian resident to qualify for our application process. Once you have your permanent residency status, however, you can apply online in just 5 minutes.
The Freestyle virtual credit card is powered by Mastercard, which means that it's accepted nearly everywhere around the world. Unlike other conventional credit cards, however, it doesn't live in your wallet with the rest of your plastic bank cards. Instead, it lives in your smartphone where most of your life and important stuff already is. You can use it in-store wherever Tap n Pay is accepted or for online purchases for an easier, quicker shopping experience.
We offer our customers a low interest rate as well as a variety of perks and features. As a Freestyle customer, you can access up to 55 days interest-free on purchases made which means that when you repay your total credit balance on purchases within that period, you're basically using an interest free credit card. 
We're the tech-savvy money lender who knows exactly what our customers are looking for. We have developed a quick and intuitive online application process for both our online credit card as well as our range of fixed rate personal loans that take you just 5 minutes to complete and submit, all online. We don't need lots of paperwork and we probably won't even need to speak to you about your application. Our fast approval credit card application process uses the power of the internet to verify your application details in minutes. At the end of your credit application for either our express loans or our Freestyle account, you'll be asked to input your online banking credentials. Don't freak out here. By inputting your online banking details, you are agreeing to allow us to view a read-only PDF format of your last 90 days' worth of bank transactions. We don't receive any more access than that and your details are securely managed using illion's bank-level encryption software. 
Once we have verified your application data like your income and your living expenses, then it's simply a matter of approving you for a credit limit that we believe you can comfortably afford. We're a responsible money lender in Australia which means we take our credit responsibilities very seriously. This doesn't mean that if your credit file is a little less attractive than it could be, we're going to deny you credit straight up. We make a careful assessment of all of our credit applications to ensure that we're giving you a fair and balanced response. With recent changes to how credit files work and what a credit provider can now see, this means that we get a much more balanced view of your credit history including not only a default which may appear there but also what you've done over the last 24 months to rectify it. Recent payments show up now where they didn't before, allowing us to see things like your credit affordability much more clearly.
When you apply online during our business hours, you can generally expect an instant response within the hour. If you're approved for your credit option and you like the offer that we have made you, then you simply digitally sign your new contract in minutes. When we have received your signed contract then we immediately release your funds. Depending on who you bank with, this could mean that your quick cash loan amount is in your account by the end of the same day. If you're applying for a Freestyle credit option, then your funds are instantly available. Easy finance done fast and hassle-free is what we're all about at MoneyMe. 
Our Freestyle virtual credit card is available to eligible customers for balances between $1000 and $20,000. You not only receive credit funds you can use in-store and online but you can also transfer cash amounts to your normal bank account or another person. This is just a little extra flexibility to help you out with fast cash when you need it. Our interest rates are different for cash transfers so it's a good idea to check out what the interest will be before you take advantage of this feature. Everything you need to know about our fees and charges is available to view on our website in clear speaking language and not a bunch of jargon. We enjoy keeping our customers informed of their options and any fees that apply to them ahead of time. This keeps you and us happy.
As a MoneyMe credit customer, you're also able to increase your credit rating with us with every successful loan or credit card account. When you repay your balance regularly or meet your monthly repayment options on time, your credit rating with us increases. This opens you up to higher credit balances, lower fees and rates for future credit products you decide to take out with us. We also don't charge our customers early termination fees when they choose to pay out their loan balance with us early. With MoneyMe, you really are rewarded for being a great customer with either our instant credit card approval process or our quick personal loans.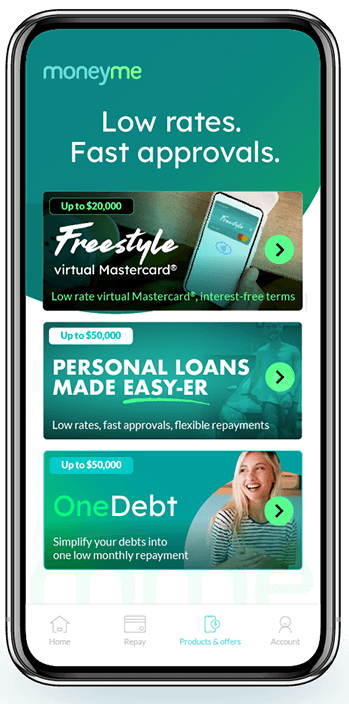 What is a temporary credit limit?
A temporary credit limit can be a great way to give you a little extra peace of mind. You can increase your credit limit for a short period before you head off overseas or when you know that you have some big expenses coming up like medical bills or other costly stuff that will eat in your cash flow. Setting a temporary credit limit gives you a higher than usual balance to use for a set period time that you make with your credit provider. You don't have to use the additional balance that you're approved for, but it can help just knowing that it's available to draw on if you need it. When the set period is over, you can repay your additional funds either by keeping to your minimum monthly repayment or by paying a little bit extra for a while until the balance is clear.
Paying more than your minimum monthly repayment ensures that you're chopping down on the interest costs associated with your credit and saving yourself a bit of money. You can use a credit card calculator online to check things like how long it will take to repay your current credit balance with only minimum repayments versus paying a little extra and set a budget that helps you clear your credit for future use faster.
To be eligible for any of our credit products, including our credit card application online, you must be at least 18 years of age, currently employed and a permanent Australian resident. Applications take you just 5 minutes to complete and submit and when you apply during our business hours, you can expect an immediate response. 
Ready to apply for either the Freestyle virtual credit card or our range of quick loans? Get started now to see how much you can get approved for instantly.