A debt consolidation loan calculator can show you how much you could save by paying out all of your existing debt today. Consolidating your debt into a single personal loan is a popular way of managing multiple creditors and debts. It streamlines your payments, can reduce your interest costs and other fees, as well as frees up your borrowing power for more important financial goals like saving for a home deposit. 
How to use a debt consolidation loan calculator?
A loan repayment calculator is designed to help you assess how affordable a new personal loan would be before you apply for one. Our online calculator shows you what kind of repayment amount you would be looking at on unsecured personal loans up to $50,000. You choose the loan term ranging from 12 months to 5 years (60 months) as well as the loan amount. You can also change the pre-loaded interest rates to experiment with costs for higher and lower rates. A debt consolidation loan calculator will only be able to return an indicative repayment cost and total loan cost so use these outputs as a guide to budgeting for a new loan.
The fastest way to learn whether refinancing with a debt consolidation loan will work for you is to make a list of your current debts and bills, the total owed and the total cost to pay out and close your accounts. Unlike other lenders, MoneyMe does not pay your creditors and close out your accounts on your behalf. When you are approved, and have accepted a new loan contract with us, we pay you a lump sum cash amount for the total borrowed balance. This is paid directly into your bank account. From there, you arrange the pay out and closure of all of your existing accounts. 
What is a good interest rate on a debt consolidation loan?
MoneyMe offers competitive interest rates and low fees and charges across all of our existing credit products, including our Freestyle virtual credit card. The interest rates that we offer are affected by a range of factors including your existing debt, your current income status, your credit history and the total loan balance you have applied for.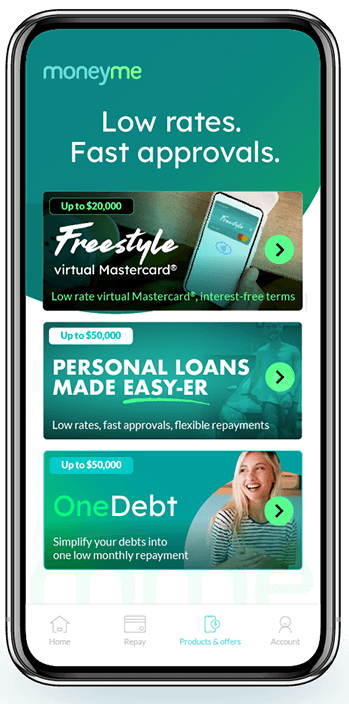 Consolidating your debt into a single loan repayment to a single creditor is ideally supposed to help reduce and simplify your current credit commitments. A good interest rate on a debt consolidation loan is therefore a lower rate of interest than you are currently paying. When you are approved for new loans with MoneyMe, you are sent a digital loan contract online which clearly shows you the total loan amount that you have been approved for, the interest rate offered on that loan balance, the repayment amount, how many repayments you will make over the loan term and finally any other fees and charges applicable. There will be a total loan cost clearly detailed. 
Is it difficult to get a debt consolidation loan?
To be eligible to apply for any finance product available from MoneyMe, applicants must be at least 18 years old, currently employed and a resident in Australia. Your application form will ask you to list your income details, your rent or mortgage payments, any other debts and bills that you may have as well as your general living expenses. It takes less than 5 minutes to complete and submit a new loan application online with us. 
Once you have completed the online form, you will be directed to a secure online platform where you will be asked to sign into your online banking website. We use the same level of encryption that your bank does to ensure that your details are safe, and we do not receive your login credentials. When you log into your account, you are agreeing to send our loan assessment team a recent 90-day transaction statement. We use this statement to confirm your application details and it's the reason why we don't need to contact your employer or likely even need to speak with you before we send you a response.
Standard lending practice also requires us to check your credit file and your credit score. Don't worry if your credit score isn't as high as you would like it to be. When you are applying for a debt consolidation solution, your lender will understand what the purpose of your loan is for and take into account your future financial position once your debts are cleared as well as your current one. We also receive up to 24 months of transaction history on your credit history too. This allows our assessment team to see where you have worked to address any credit issues that you have had.
It is also possible to receive your approval and your new cash loan funds into your account the same day that you applied for them. We service all of Australia offering same day loans in Sydney, Melbourne, Brisbane, Perth and the rest of the country. Customers who apply during our business hours may receive the money they need to tidy up their finances the same afternoon they applied for it or the next business day at the latest.
Apply online today for personal loans from $2,100 to $50,000. Use our debt consolidation calculator to discover how you can start budgeting smarter and reaching your financial objectives sooner rather than later.