Small debt consolidation loans are a type of convenient finance whereby a customer will consolidate their total debt across all of their existing creditors into a single finance loan for one creditor. Usually, you will refinance your current loans or seek consolidation loans when you're trying to streamline your finances and reduce your borrowing costs. You can apply online for small debt consolidation loans from MoneyMe ranging from $2,100 to $50,000 in less than 5 minutes. Approvals are fast and you could have the funds you applied for in your bank account the same day.
Are debt consolidation loans worth it?
Only you can truly decide whether applying for and getting approved for small debt consolidation loans really works for you. Popular reasons for getting small debt consolidation loans include looking for greater flexibility and trying to refinance to secure a lower interest rate on personal loans and other forms of loans like car loans. Interest is charged on all lending products and the lower the interest rate, the lower the comparison rate on your loan of choice. Comparison rates refer to the total cost of a loan and are a more complete picture of finance affordability. It's a good idea to study the published comparison rates on a lender's website before you apply.
Other things like online tools can help you decide whether your finance options are viable and worth it. Use our online loan repayment calculator to check how affordable a new unsecured personal loan from MoneyMe really is and whether you stand to save money and time by consolidating your existing debt into a single cash loan with us instead. Play with the inputs like the interest rate and the loan term to experiment with what you consider to be affordable. 
When you apply for small debt consolidation loans, you should apply for the total finance you need to clean up all of your small debts and bills, like credit card bills and buy now and pay later bills, in one fell swoop. This ensures that you really are released from your other creditors on time and on budget, and it helps to streamline your finances so you're not paying multiple creditors for finance. Paying multiple creditors can be stressful and missing payments or changes in terms and conditions like variable interest rates can result in high financial penalties like late fees or even compounding interest. The purpose of a debt consolidation option is to release you from those terms and conditions and offer you the opportunity to straighten out your financial obligations, reducing costs and saving you money.
Always check that the advice offered is right for you, no matter how good the promotional lending rates look. Consolidating debt is a handy and clean way of managing your finances but only you will know exactly how to make a new loan like this really work for you.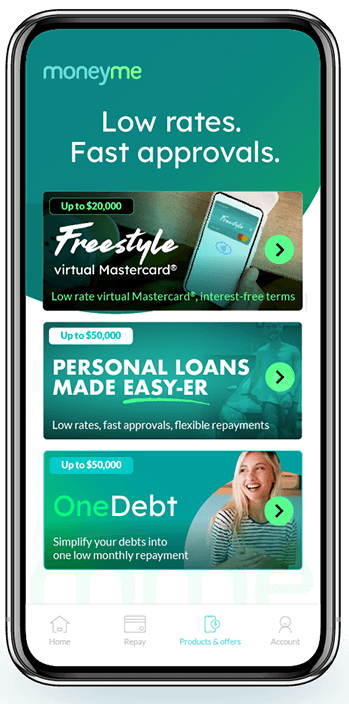 Will getting small debt consolidation loans affect my credit score?
All forms of finance will affect your credit score. The more you have borrowed from money lenders, the lower your credit score becomes. This is because customers with less credit are highly desirable for lenders. Affordable lending means knowing that you can comfortably pay all of your debt obligations and still live comfortably between pay cycles. It doesn't mean just managing to pay your debts on time month to month. 
If you're in the latter position and you're barely making your monthly repayments across all that you owe then small debt consolidation loans could be ideal for you. Multiple creditors on a credit file is just as discouraging as high amounts of credit already issued so if you're looking to clean up your credit and increase your score in time for larger personal loans like a home loan, consolidating your debt to just a single creditor may be the way to do it.
MoneyMe is Australia's Gen Now online lender. We specialise in offering our customers a wide range of financing options from small debt consolidation loans to medical loans and even home improvement loans. Applications take you less than 5 minutes to complete and submit online and approvals are fast, often received within minutes when you apply during our business hours. 
To be eligible for any finance product from MoneyMe, applicants must be at least 18 years of age, currently employed and a resident in Australia. Don't worry if your credit file and your credit history aren't as good as they could be. We look at your total financial status and assess each loan application thoroughly using the latest technology. When you apply online with us, you'll be asked to log into your online banking platform. When you do this, your details are encrypted using the same level of bank encryption software that your internet banking platform uses so your details are nice and safe. We do not receive access to your account or your login credentials. Instead, our assessment team receives a recent 90-day transaction statement from your account and it's this statement that we use to determine your credit risk and your approval. We can instantly verify details like your income and your living expenses via your recent statement. 
Once approved, you'll receive a loan offer detailing the interest rate offered, the total loan amount as well as your repayment amount. All of our finance options are fixed rate personal loans so the repayments stay the same for the life of the loan. You know ahead of time what you will pay and when. If you're in a position to pay out your loan balance ahead of schedule, then that's great news! We don't charge early exit fees for customers seeking to pay out their loan balance early.
Apply online now for small debt consolidation loans in less than 5 minutes and discover how much you could be approved for today. We can help – apply online now!