You may have heard of consolidating debt or refinancing but what is debt consolidation? If you're looking for a way of reducing your credit costs, tidying up your credit score and finally getting in front of your finances then debt consolidation could offer you all of that. You can apply online today for consolidation loans of up to $50,000. Approvals are usually received within minutes and cash transfers are made the moment you sign your new contract online. Apply now to discover how much you could be approved for.
Do I need debt consolidation?
What is debt consolidation? Consolidating your debts is a way of refinancing designed to simplify your current expenses and reduce your current creditors. With the advent of new deferred payment options like buy now and pay later services, multiple credit cards and other forms of small credit, it is easy to collect multiple creditors in a short space of time. This isn't necessarily a problem and if you are comfortably repaying your credit obligations individually then you may have no need for a debt consolidation loan. However, if you would like to reduce the number of creditors you have or you believe that you are paying higher fees and charges individually, a debt consolidation solution may help.
An online calculator will give you an indicative interest rate (which you can change to alter your repayment amount), an indicative repayment amount and an indicative total cost for your finance option. You can use our calculator to double-check that a new personal loan is affordable, comfortable and will help you achieve your financial goals before you even apply with us. Even if you are comfortably managing multiple creditors at the moment, it might be worth a few minutes of your time to check whether you could afford to save a little extra anyway.
Other reasons why you may be interested in applying for debt consolidation is to improve your credit score. Owing multiple amounts to many creditors reduces your borrowing power and your credit score. Many people planning to save for big assets and investments like a home deposit may find it helpful to reduce their creditors and their debts first. Not only do you stand to clean up your credit history but you may also find that your lower monthly repayment amount helps you boost your savings balance too.
What are the benefits of debt consolidation?
The main benefit for consolidating your debt is to reduce credit and lending costs like interest payments, compounding interest and other fees and charges like payment or transaction fees. This may not be the case for every applicant but it's usually the main reason why someone looks for a consolidation solution. Some debt relief providers will also negotiate directly with creditors to help customers secure reduced or suspended interest periods as well as pay out and close your account with your creditors directly. MoneyMe is different.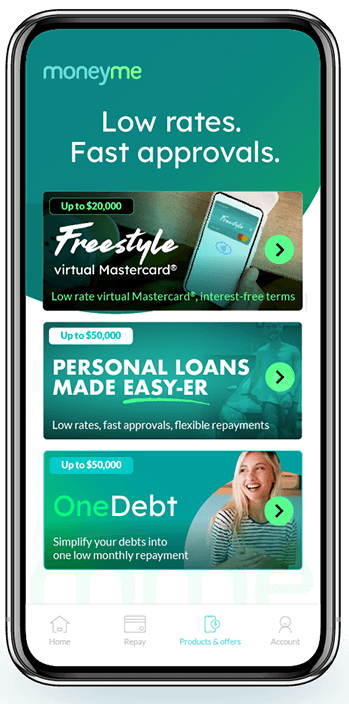 When you are approved for a new loan with us, we pay you the cash lump sum amount, transferring directly into your bank account as soon as you sign your new cash loan contract online. For some customers, this might mean that you have access to the cash that you applied for the same afternoon that you applied for it. 
When you receive your funds, you must contact your creditors and close out your accounts. If you are unsure how to close an account like a credit card or other debt, contact your credit provider for information. It's important that you understand how to close your accounts as paying them out may not be enough. Some providers will request notice to close an account in writing and if they do not receive formal notice then they may continue to charge you fees such as account fees or transaction fees.
How to apply for debt consolidation loan?
Applying for any of our finance products is fast and easy. We offer customers a quick online application form that takes you less than 5 minutes to complete and submit. We'll ask you for some general financial information including your income, your rent or mortgage repayments, details of any current debts and expenses that you have as well as your general living costs. We will also check your credit file as part of our standing lending process. 
Recent changes to the way your credit file is accessed means that our assessment team now has access to the last 24 months of transactions on your credit file. This shows us whether there were any credit problems in your past and what steps you have taken to rectify them, helping to provide a broader or more complete understanding of your financial position. This is great news for customers struggling to regain control of their credit and who are looking for a consolidation solution that reduces their fees, cleans up their credit score and stands them in good stead for maintaining their financial health.
Apply online today for debt consolidation loans between $2,100 and $50,000. Approvals are usually received within minutes when you apply during our business hours.