With rapid line of credit Brisbane approvals and instant access to credit limits of up to $20,000 for approved applicants, MoneyMe's Freestyle virtual Mastercard® is a great way to get flexible cash fast. MoneyMe is the award-winning face of modern money lending. We've ditched the documentation and gone digital, operating 100% online - no paperwork, no phone calls, no fuss.
We're totally mobile, and that means you are too. You can apply for a line of credit Brisbane - or one of our small personal loans - online and manage your money from the convenience of a handheld device anywhere, any time using the MoneyMe app.
It takes less than 5 minutes to apply for a line of credit with us. We utilise advanced lending technologies to fast-track the outcome of your secured line of credit application.
Gone are the days of agonising waits - you'll know almost immediately if you've been approved for our Freestyle virtual Mastercard® and, assuming you're successful and applied within business hours, you'll have access to your funds immediately.
Being virtual, your new card won't take up space in your wallet. You'll be able to use it to shop in-store using Tap N Pay on your smartphone, make online purchases in seconds with Freestyle partners, send money straight to your bank account, and soon even make peer-to-peer payments on the spot - anywhere, any time.
Now that's fast, flexible cash! To find out 'how much can I borrow?', apply online using the MoneyMe app today.
How is a line of credit different from other types of borrowing?
With the thousands of line of credit Brisbane options out there, it's understandable if things start to get confusing! Not every financial product is the same or offered by every professional money lender.
When you take out a secured line of credit, such as with a credit card or line of credit home loans, you're given access to a specific amount of cash that you can repeatedly use or draw upon if you meet your repayment conditions.
This is in contrast to when you borrow money through a credit product like a personal loan, where the loan amount is delivered up front, and you repay the full amount plus interest over time. If you have a loan that offers redraw facilities, you will pay more back in interest the more you redraw - and you can only ever redraw funds made through additional repayments, not the initial loan amount.
The MoneyMe virtual Mastercard® offers credit limits of up to $20,000 to approved applicants, with a 55-day interest-free purchase period at some of the most competitive line of credit interest rates in the country.
Provided you can make your line of credit payment within 55 days of each purchase, you'll never pay interest fees - and you can spend as much of your available credit limit as you want, as many times as you like.
Benefits like these mean a secured line of credit can be a good financial investment and sensible way to save and manage your money and are just some of the reasons MoneyMe's Freestyle virtual Mastercard © is one of the best lines of credit Brisbane choices around. 
What credit score is required for a line of credit?
As a big part of the assessment process for any line of credit Brisbane application - and, in fact, all of our credit products, including our virtual credit card and unsecured loans - we'll take a look at your credit history. 
You may have heard that there have been some significant changes in the way that credit is reported and recorded. Previously, your credit file only reflected negative credit behaviours, such as where you may have missed a bill or defaulted on a line of credit. 
The new, more comprehensive method of credit reporting allows us also to see your positive credit behaviours. This means all your regular, on-time bill and line of credit payments are recognised, creating a much clearer, fairer, and more positive borrower profile. 
Given that your credit score plays a huge part in determining what you can borrow and what line of credit interest rates you'll be offered, we think this is great! It also means that repairing damaged credit, or building a credit profile if you've never borrowed before, is easier. 
MoneyMe takes care to consider each secured line of credit request individually and utilises the latest lending technology to ensure our assessments are fair and transparent so that we can offer you the best line of credit loan with the most competitive line of credit interest rate for your current financial circumstances.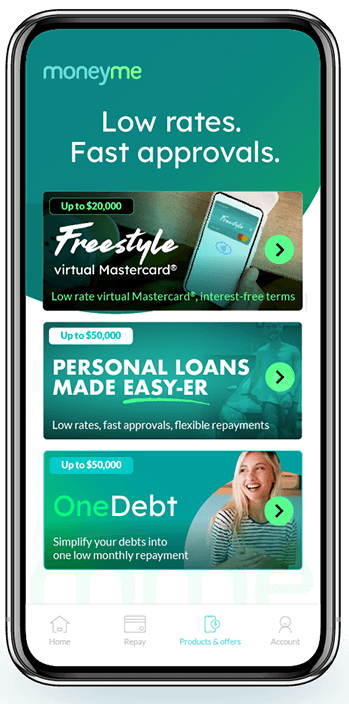 How to apply for a line of credit in Brisbane?
You can apply for a line of credit Brisbane directly via our mobile-friendly website (just click 'Apply Now') using your smartphone or other devices.
Our 100% online instant loans and virtual credit card application process doesn't require messing around with uploads of supporting documents and takes less than five minutes to complete. 
First, we'll ask you about what credit limit you'd like for your Freestyle virtual MasterCard®. Once we know that, you'll need to tell us about your employment and income, living expenses, and any debt, savings, and assets. 
We'll then run a quick credit check before asking you to sign in to your online bank platform. We won't receive access to your account - our system simply requests a 90-day transaction statement in PDF read-only format from your bank. Combined, this information gives us an accurate picture of your current borrowing capacity, including accounting for contingencies. 
You'll receive an outcome within minutes of completing your application and, if successful, get instant access to your cash through your Freestyle virtual Mastercard®.