MoneyMe offers customers quick online applications and fast approvals for a line of credit Hobart that customers can leverage to bolster their financial position. We are an Australian accredited lender, but we like to do things a little differently to make accessing finances easy and hassle-free for every Australian.
We're an online-only company, so the first benefit to our customers is that there's no unnecessary paperwork involved in getting your loan approved or even applying; everything is completed right on our website from the convenience of your own home. Unlike traditional personal loans, where you pay off over time at set intervals each month, a line of credit provides access to more monetary help whenever it's needed within one single limit amount that can be increased if required.  
In comparison to other types of loans where you might have to wait weeks before you get your next payment from an instalment plan, with a line of credit, Hobart customers can get quick loans in as little as 60 minutes. However, much of it they need to access, like in case of emergencies.  A line of credit is a type of revolving loan that lets you access funds anytime, anywhere, and are typically either secured lines of credit or unsecured lines of credit.  
Secured lines of credit are backed by collateral – which means you need to secure your line of credit against your personal assets, such as your home equity, car, or another type of financial asset. The lender does have the right to seize the asset in the event you fail to repay your line of credit, which is why the interest rates are typically lower.  
On the other hand, an unsecured line of credit is not backed by any asset. Since there is no collateral involved, it usually comes with higher interest rates to pose lesser risks to the lender. 
At MoneyMe, we know that there are already many obstacles standing in the way of everyday Australians, and we're here to make financial access simple, especially when people need it most. That's why we are excited to be offering an accessible line of credit Hobart customers can use when they need it. However, they need to access it.
Is a line of credit really worth it?
A line of credit is an accessible way to get cash without needing to get cash advance loans and can be worthwhile keeping in your back pocket or for significant purchases you know are coming your way, like student loans or even a wedding. You can borrow up to $10,000 on your account, and you can repay it in smaller amounts if needed. The great part about a line of credit Hobart customers can enjoy with us is that once repaid completely, or at any time before repayment begins again (whichever comes first), available funds are yours for use again.  
Your credit limit, the maximum amount you can borrow for a line of credit, is specific to your individual circumstances and application. Here at MoneyMe, our credit limits range from $1,000 to $20,000. To determine your personal line of credit limit, we consider a range of factors such as your credit history, income, debt obligations, and living expenses. If you are approved for $10,000 on a line of credit, this means you can borrow up to $10,000, but you don't have to borrow the entire amount – it's dependent on your needs. 
Unlike regular credit accounts, you don't need to pay any interest unless you actually use your money with a line of credit. We base your annual fee on your credit limit, and the monthly fee is waived if your balance is less than a specific amount month to month.  
The great thing about a line of credit is that you can use it for almost anything – such as paying for a holiday trip, purchasing a new car, paying bills, or simply having cash on hand whenever you need it. It is not only meant for big spending, but also for small, everyday purchases. By opting for a line of credit, Hobart customers can experience a new way to pay for things anytime or anywhere.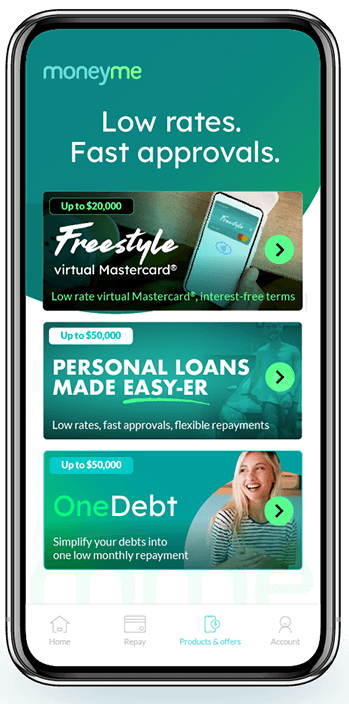 How does the repayment for a line of credit work?
Because every line of credit is unique to each customer's circumstances, repayment amounts will differ depending on the loan and how you use your funds. At MoneyMe, we tailor fortnightly and monthly repayment amounts that sync with your pay cycle so you're never caught out with late fees, making it a line of credit Hobart customers can use with peace of mind. We even have a quick and easy personal loan calculator that can help you crunch the numbers before you even apply. 
How to apply for a line of credit in Hobart?
If you are 18 years or older, a resident of Australia, and currently employed, then you are eligible to apply for a line of credit, easy loans, or short-term loans with MoneyMe. As responsible money lenders, we also look at a range of factors such as your credit history, income, living expenses, and the existing small loans you may have before we decide. You may even be available for our revolutionary line of credit service, Freestyle Virtual Credit Account which allows you quick cash whenever you need it.  
Apply online for a MoneyMe line of credit Hobart customers can access now.