How long does it take to get a credit card? What if you could get fast finance anywhere in Australia from a provider who offers instant credit card approval online?

You could have MoneyMe's Freestyle Virtual Mastercard® the same day that you apply for it. As a wholly online lender, we specialise in bringing our customers the fastest and most intuitive credit card application online that takes you just minutes to complete and submit. Our low doc personal loan and credit card application process are designed to save you time and frustration. Apply online for either our Freestyle line of credit or a fixed rate personal loan in minutes, get approved within the hour when you apply during our business hours and get your easy finance option the very same day.
Introducing Freestyle from MoneyMe – it's more than just a revolving line of credit. You know what kind of flexibility a low-rate credit card can offer you but now there's the even smarter choice from MoneyMe. The Freestyle card lives in your smartphone, delivering you access to instant loans in the form of a line of credit of up to $20,000 once approved. Designed for Tap n Pay in-store and for shopping online, you can apply for your own fast cash in a matter of minutes without any lengthy paperwork. 
Just like a regular credit card and powered by Mastercard, the Freestyle account is a type of easy finance from MoneyMe which gives you access to credit funds on a revolving basis. Rather than credit in the form of a personal loan that is paid out to an applicant in one lump sum and then repaid to the credit provider on a regular payment schedule, a line of credit offers constant access up to a specified approved amount which can be drawn down in increments, repaid in full or in part, and then drawn down again when more credit is needed. 

Think of it as a quick cash loan when you need it. It's access to a small loan instantly on an already approved credit account that offers you flexible repayment options. Repaying your line of credit is in your control. Choose to pay the minimum monthly repayment or clear out your credit balance in one fell swoop. It's flexible funds when and if you need them. MoneyMe offers a complete suite of credit options designed for Gen Now customers and residents of Australia.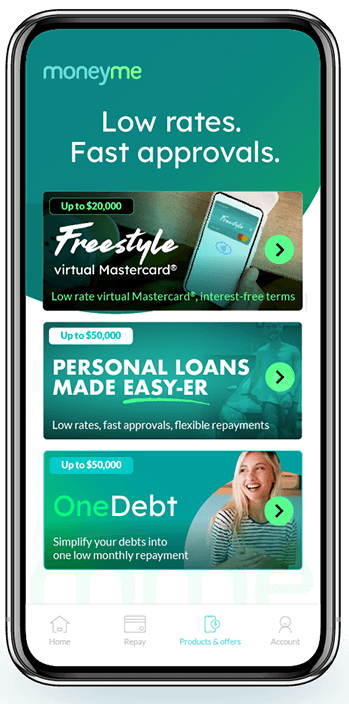 How to calculate monthly interest on a line of credit?
Lines of credit are typically offered in the form of a credit card which acts like a bank debit card but for credit funds rather than the cash in your bank account. MoneyMe's Freestyle account works a little differently. Not only do we offer a wholly online application and approval process, but we also don't waste time and resources with unnecessary plastic. Your credit card from MoneyMe lives in your smartphone and is designed for use in stores wherever Tap n Pay is accepted, and online shopping. Why? Because we offer Gen Now credit options that are relevant to our customers, are easy to apply and get approved for, and offer fast and painless digital contracts you can sign instantly.  
The type of credit line you have applied and been approved for, like our fast loans online and same day loans, will offer yearly interest rates for the credit funds you draw on. Understanding how to calculate the interest payable on your credit account is important. If you have taken out something like a car loan then using a personal loan repayment calculator can help you to understand what part of your regular repayment constitutes your principal loan amount (the amount you borrowed) and which part is the interest repayment. Credit card interest works a bit differently and the amount can change month to month.
Interest is calculated every month and your credit bill should show you what the amount payable is as well as which part of that payable amount is the interest payment. We offer our virtual credit card customers options like 55 days interest-free on purchases which means that interest is not calculated on credit amounts until that 55-day period has expired. If you repay your credit amount within the 55 days in full then what you're basically using is an interest free credit card.
When you take out quick loans, you agree to a fixed repayment schedule in which your yearly interest is broken down to monthly amounts. This interest repayment is automatically calculated into your fixed repayment amount that you pay weekly, fortnightly or monthly, depending on your pay cycle and personal preference. A personal loan calculator can show you what the total amount of interest is payable over the length of your loan and give you an indication of the kind of repayment amount you will be looking at if you intend to apply for a loan. 
If you're looking for a quick way to calculate your monthly interest on a line of credit or for our express loans you have already taken out or plan to in the future, then you'll need access to a calculator. First, convert the annual interest rate from a percentage to a decimal format. You can do this by dividing the percentage amount by 100. Now divide that annual rate by 12 (i.e. monthly) and then times it by the total amount you have borrowed. You can convert that monthly rate back to a percentage by multiplying it by 100. 
To be eligible for any of our credit products you must be at least 18 years of age, a permanent resident in Australia and currently employed. As a responsible moneylender, we also look at your living expenses and any other debts you may have before we approve our customers for our range of credit products. This also means that we assess your credit file. We also understand, however, that a person's credit history isn't the complete financial picture so rest assured that your application for any of our financial loan options is assessed fairly and thoroughly by your personal loan broker.
The reason we can offer such fast approvals is that we don't ask you for lots of paperwork and we don't waste time staring at all of the paperwork we made you upload. Instead, we ask you for your online banking credentials which then gives us a 90-day statement of your recent banking transactions. This statement is offered in read-only PDF format and no one receives your login details. It's powered by illion's bank-level encryption software and you can view our privacy statement online for more details about how we protect your data.

Ready to get started? Then discover for yourself the answer to the question: how long does it take to get a credit card in just a matter of minutes? The MoneyMe online application process is designed for customers just like you. Apply now for our fast approval credit card to see how much credit you can get.