Often a borrower will seek out a secured debt consolidation loan in the hopes of achieving a lower lending rate than they would with an unsecured personal loan. At MoneyMe, we offer our customers access to flexible and competitive unsecured personal loans at great rates. Applications take you just 5 minutes to complete and submit online and you could have the funds you're looking for in your bank account the same day that you apply.
We are the low doc lender that knows just how valuable your time really is. Get approved fast for debt consolidation loans at MoneyMe from $2,100 to $50,000.
What are secured debt consolidation loans vs unsecured debt consolidation loans?
A secured debt consolidation loan is a type of personal finance product which is secured against the value of a large asset that you own. All secured personal loans must be secured against the value of an asset that a borrower owns completely. The purpose of a secured versus an unsecured loan is to reduce lending costs to the borrower. When you secure your finance to the value of an asset that you own, you are effectively offering that asset to your lender in the case of default on your loan. The lender can recoup any lost income from your loan by selling your asset.
While securing your personal finance to your assets like your home or a vehicle can help reduce your lending costs, there's not a lot of room for flexibility once you have got a secured loan. You are unable to sell or give away the asset you have secured your finance to until you have completely settled your loan balance.
An unsecured personal loan has none of those restrictions. Unsecured loans are the more flexible alternative and we offer customers fast approvals and easy applications for personal loans of between $2,100 and $50,000 all online. Our application process is low doc meaning we don't need you to upload lots of supporting documents when you apply. We also don't need to speak with your employers and we probably won't even need to speak with you. You simply apply online for the cash loan balance of your choice in less than 5 minutes. When you apply during our business hours, customers typically receive a response in minutes. If you're happy with the loan offer that we have made and you are ready to accept it, then simply sign your online contract and return it to us. As soon as we receive your digitally signed contract, we transfer your new funds immediately. Depending on which bank you use, this could mean that the cash you apply for today is in your account the same day that you applied for it.
As a wholly online lender, MoneyMe services all of Australia with competitive finance products. You can apply online for same day loans in Sydney, Melbourne, Brisbane, Perth and receive the cash you need to get in front of your finances today.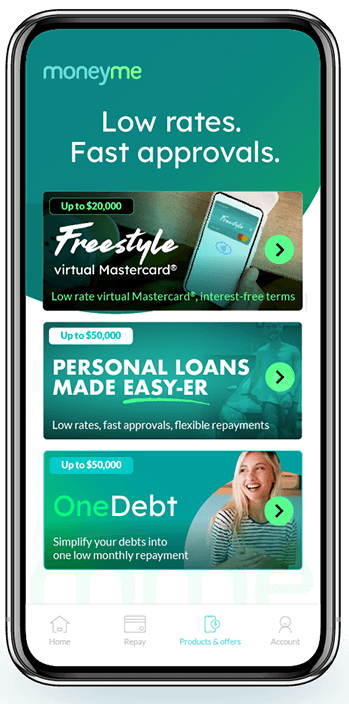 What are the steps to obtain a secured debt consolidation loan?
A consolidation loan is a great way to bundle all of your existing debt, spread over many creditors, into a single loan product with a fixed monthly repayment. You can stop compounding interest in its tracks as well as enjoy the flexibility of paying out your loan balance with us ahead of schedule without having to pay early exit fees.
The first step if you're looking for a debt consolidation solution is to calculate everything you owe. Ensure you include absolutely everything, including credit cards and store cards, in your calculations. Then use our online loan repayment calculator to estimate what your repayments would be like on a personal loan covering the total amount that you currently owe. Play with inputs like the loan term and interest rates to get as close an idea as possible to what you are likely to pay should you choose one of our consolidation loans.
Once you know how much you need to apply for, simply apply online using our online form. It takes less than 5 minutes to complete and submit a new application with us. To be eligible to apply, applicants must be at least 18 years of age, currently employed and a resident within Australia.
Now that you know unsecured loans are more flexible than secured debt consolidation loans, it's time to apply online with us to discover how much you could be approved for today. Apply online now.