MoneyMe is a fast and easy online lender offering fixed rate personal loans at competitive interest and low fees. As a low doc personal loan provider, we're committed to ensuring our customers experience a quick and effective online application process, fast approvals and even faster cash fund transfers. Applying with MoneyMe takes you just 5 minutes. Approvals are often offered within the same hour and once everything is digitally signed, your funds are transferred. For some customers – depending on who you bank with – this could mean that your new loan funds hit your account the very same day. Easy finance and no fuss administration – that's MoneyMe.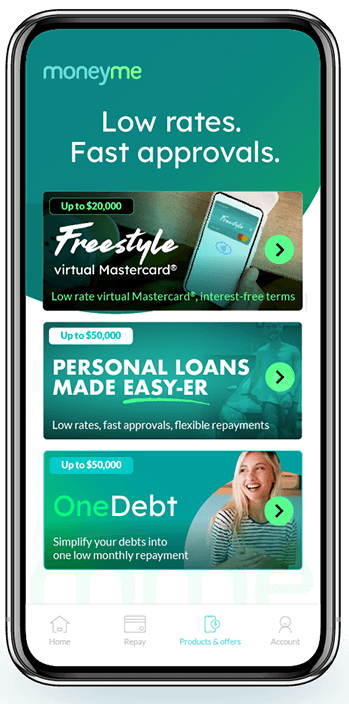 How do fixed rate personal loans work?
Fixed rate personal loans are cash lump sums paid directly to the borrower's account by a credit provider like MoneyMe. A personal loan is a form of financing where a borrower – that's you – agrees to a loan contract for a nominated sum of money they need. The loan contract will describe the term of the loan – how long you need to pay it back – and the interest rate payable over that term. Interest is calculated daily and offered as a per annum percentage of the total loan value. You can use online tools like a personal loan calculator to work out how much a loan will cost you to repay and to find indicative monthly repayment amounts on that loan before you apply.
It's always a good idea to check out a few different credit providers before settling on a loan. Doing a quick personal loan comparison Australia will help you find a lender that works best for you. The yearly interest rate on a loan offer is not always the best indication of whether a loan or a provider is right for you. Each money lender will have slightly different rules, fees and charges. Just because they appear to be offering the lowest interest rate is not always an indication that you're getting the cheapest loan that you can find. MoneyMe is a fair and upfront lender so all of our fees and charges are clearly shown on our website. We don't hit up our customers with hidden fees once the contracts are signed and we also don't sting you for paying out your loan balance early. A lot of money lenders will stick on an added fee if you're in a position to repay the total loan balance before the end of your loan term. When you are comparing money lenders, ensure you compare terms and conditions of your available loans too. 
A credit card, by comparison, is a revolving line of credit. When you are approved for a credit card you are given a total credit amount and then free to use as much or as little of that pre-approved credit as you need. For example, the Freestyle virtual credit card offered by MoneyMe offers approved applicants up to $20,000 in credit. When you use the credit funds available and repay them, they become available to use again. A fixed rate personal loan does not often offer a personal loan redraw facility so once you have used the funds that you have borrowed you cannot then use them again, regardless of how much of the original loan value you have repaid.
If you would like to refinance a personal loan, then you will often need to apply for a brand new loan which includes the total amount owing on your first loan. Once you're approved for your second loan you can use those funds to pay out the remaining balance on the first one and then the rest of the cash for whatever else you have planned for it. This is a popular refinancing option for people who need money for new assets like a car or for completing things like renovations on their property. It offers the borrower the option to roll their personal loan over, clearing out their previous credit and starting fresh with a new loan option. 
These types of loans are flexible and can be used for all kinds of things. For example, if you're considering heading back to the books – or starting a new degree – then a fixed rate personal loan can help you pay out your tuition right at the start of your course. Often education providers will offer students big discounts if they are able to pay for their full tuition upfront at the start of their course. Once you're enrolled and studying then you simply repay the education loan monthly with fixed instalments that are directly debited from your bank account.
Are fixed rate personal loans a good idea?
An instant loan from MoneyMe could be a good idea for anyone who needs to borrow money and can comfortably afford this kind of credit option. As a responsible lender, MoneyMe is committed to tailoring our credit products to our customers' needs. This means that we only lend credit to individuals who can afford to repay their loans comfortably.
Fixed rate personal loans offer you a clear loan term and total cost before you agree to your new fast cash loan, unlike variable rate personal loans. The repayments on your loan are also fixed throughout the term so you know exactly how much you are paying each month and for how long. This makes it easier to budget your new loan cost ahead of time and clearly see whether your current living expenses and income can cover your new costs. Don't forget that if you're using an easy loan from MoneyMe to purchase a new asset then you might also have ongoing costs associated with that asset like car registration or maintenance costs. It's a good idea to factor this in when you're budgeting or a new same day loan too.
To find out whether quick cash loans are right for you, you can ask yourself a couple of quick questions:
 

Do I have any other debts?





Managing credit options comfortably means keeping on top of your current debts. You can use your quick loan from us to help you pay out little debts so you can more easily manage your monthly repayments. When you apply for a loan, we will ask whether you have any other credit and take a quick look at your credit history. We will then return you a loan offer that we believe you can comfortably afford. 

 

What do I need the money for?





If you're buying something like a car or a new computer then a long term personal loan allows you to pay for your new assets with cash and all upfront. If you need some credit to help you manage some bills and ongoing expenses, then an online credit card might work better for you. Revolving credit means that the money becomes available again as soon as it is repaid so if you have ongoing expenses that you need a little breathing room with for a while, this might be a better idea.
Ready to apply for a fixed rate personal loan from MoneyMe? Get started now and complete your application in just 5 minutes all online.