The Freestyle virtual credit card from MoneyMe is more than just a revolving line of credit and we offer instant credit card approval when applying online with use within business hours. Customers usually receive an answer within the hour. Learn how to apply for a credit card in just minutes and what kind of flexibility our credit options offer you.
You know what kind of flexibility buy now and pay later options can offer you but now there's the even smarter choice from MoneyMe. The Freestyle account is an online credit card that lives in your smartphone, delivering you access to instant loans in the form of a line of credit of up to $20,000 once approved. Designed for in-store Tap n Pay and for online shopping, you can apply for your own instant cash in a matter of minutes without any lengthy paperwork. Eligible customers receive up to 55 days interest-free on purchases made making the Freestyle account (when credit funds are repaid with this period) essentially an interest-free credit service. Sounds good? Learn how to apply for a credit card in just minutes using our fully online service designed to ensure you get fast cash the easy way.

First, check that you are an eligible applicant. To apply for a Freestyle account you will need to be currently employed, at least 18 years of age, and a permanent resident in Australia. Your credit card application online will ask for things like your total income, your living expenses (including things like utility bills, mortgage repayments or rent, etc.) as well as any other debt that you have. Instead of taking the time to manually verify your application details, MoneyMe has designed a fast and easy online alternative. At the time of your application, you will be asked to provide your online banking details. This gives our assessment team access to a read-only, 90-day statement of your bank account in PDF format. No one gets your banking credentials, and we see only this statement. Once we have verified your application details we send through your approval and your proposed credit limit. It's fast and easy finance.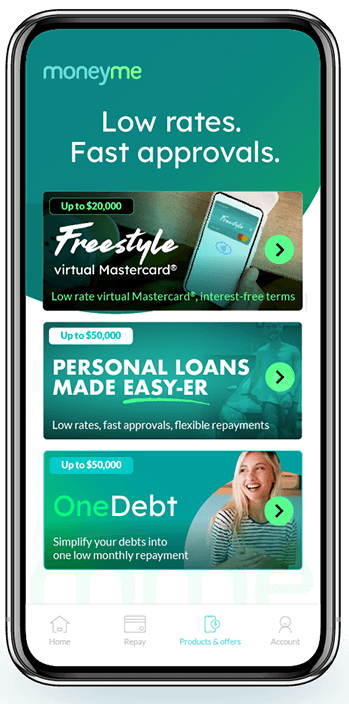 What is a line of credit?
A line of credit is a type of financing option in which a person has access to credit funds on a revolving basis up to a pre-approved limit. Rather than credit in the form of a personal loan that is paid out to an applicant in one lump sum and then repaid to the credit provider on a regular payment schedule, a line of credit offers constant access up to a specified approved amount which can be drawn down in increments, repaid in full or in part, and then drawn down again when more credit is needed. 
Think of it as a quick cash loan when you need money in a hurry. It's access to a small loan instantly on an already approved credit account that offers you flexible repayment options. Repaying your line of credit in full doesn't come with early payout fees as you'd often find from other express loan providers. In fact, MoneyMe offers a suite of easy finance options in the form of fixed-rate personal loans and doesn't charge you early exit fees on those, either. So, if you're tossing up between a personal loan vs credit card, you may find that MoneyMe is the ideal provider regardless of which option you find works best for you.
Freestyle means flexible funds when and if you need them. We offer a complete suite of credit options designed for Gen Now customers and residents of Australia who enjoy fast credit card applications online. 
Are credit card repayments the same as loan repayments?
When you take out any of our instant loan options, you agree to a fixed repayment schedule in which your yearly interest is broken down into monthly amounts comprising part of your repayment. Your repayments remain the same throughout the term of your loan with the repayment calculations all done ahead of time. Credit card repayments work differently. 
You will receive notice of your minimum monthly repayment on your credit card balance (you are free to make additional payments!) which is a percentage of the total owed on your account and delivered as a dollar amount. This repayment may change month to month, depending on the balance of your credit.
How to calculate monthly interest on a line of credit
Lines of credit are typically offered in the form of a credit card which acts like a bank access card but for credit funds rather than the cash in your bank account. MoneyMe's Freestyle Virtual Mastercard® works the same but looks a little bit different because we know what our tech-savvy customers are really looking for. Not only do we offer a wholly online application and fast approval credit card service, but we also don't waste time and resources with unnecessary plastic. Your credit card from MoneyMe lives in your smartphone and is designed to support store tap and go and online shopping. Why? Because we offer Gen Now credit options that are relevant to our customers, are easy to apply and get approved for, and offer fast and painless digital contracts you can sign instantly. Quick loans in the form of a line of credit offer greater flexibility for credit customers and we're all about making things easier, faster, and low doc.
The type of credit line you have applied and been approved for, like fast cash loans or same day loans, will offer yearly interest rates for the credit funds you draw on. Understanding how to calculate the interest payable on your credit account is important. If you have taken out some easy finance in the form of a long term personal loan then the breakdown of what part of your monthly repayment constitutes your principal loan amount (the amount you borrowed) and which part is the interest repayment is all in your loan contract. A credit card works a little bit differently. Because it's a revolving line of credit, you can redraw partially or fully repaid credit. There is no personal loan redraw facility for a finance loan from us.
Interest on any financial product is calculated every month and your Freestyle Mastercard bill should show you the minimum monthly repayment you need to make on your Freestyle account. MoneyMe offers Freestyle customers great perks like 55 days interest-free on purchases which means that interest is not calculated on credit amounts until that 55-day period has expired. If you repay your credit amount within 55 days in full then you don't pay interest on it. It's basically an interest free credit card and works like another buy now and pay later options but the with added benefit of being able to use it wherever Mastercard is accepted and with the added flexibility of drawing cash amounts from your Freestyle account too. Interest is calculated differently on cash advance amounts so ensure you read our terms and conditions.
That's everything you need to know about how to apply for a credit card. If you're happy to proceed then apply now for a Freestyle Virtual Mastercard® online. It takes just minutes and approvals are fast.