The best credit cards are the ones that work best for your personal finances. Not all credit cards are equal, and each one offers a range of features and extras tailored to particular customers looking for particular benefits. At the end of the day, a credit card in its most basic form is a revolving line of credit that offers you a set, pre-approved credit balance you can use to pay for things in-store and online. It will likely also offer you the ability to transfer cash to your normal banking account (or anyone else's). This credit is extended at a particular interest rate which may or may not be fixed for the period you use your credit card. When you have repaid the credit that you have used (either some or all of it) then those funds become available again.
Providers will request set minimum monthly repayments which can be directly debited from your account for your convenience. This helps to ensure you avoid costly late fees or compounding interest on your credit balance. Whilst that's the basic definition of a credit card and they all work essentially like that, each provider and each type of credit card is slightly different. Knowing what you want before you apply will help you identify the best credit cards that work for you.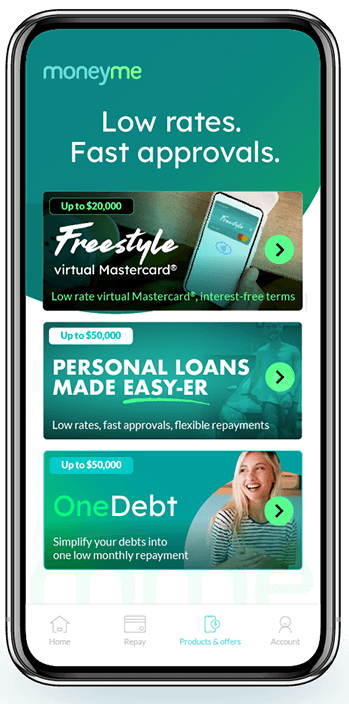 How to find the best credit card?
Credit cards, like all personal finance products, come in all shapes and sizes so knowing what the best credit card is will depend on what you need money for and how you intend to use it. There are a few things that you can consider before you sign up for a new credit product which may help you identify the right provider and the right online credit card for you.
1. How much can you pay off each month?
Knowing what you can comfortably afford to pay off each month will help you budget for your new credit card and determine a reasonable spending limit. Of course, a credit card can also double as an emergency spending card in case of unexpected expenses like car repairs, urgent flights, home repairs, or other general life events that can throw out your regular living budget. If you know what you can afford to repay at the end of every month – or come to every pay cycle – then you can plan for how emergency spending on your credit account is repaid quickly and effectively.
Even the best credit cards can sometimes develop a poor reputation for trapping people in compounding debt but, like quick cash loans or other credit products, planning your budget and sticking to it helps to avoid uncomfortable debt. If you do have multiple credit cards or other smaller debts that have become too expensive to pay off individually then a personal loan to pay off credit cards could be worth considering. Debt consolidation loans are a type of credit that an individual applies for intending to use the fast cash to clear out a bunch of small debts and start afresh. Your repayments are fixed, and you know what the interest rate for your loan is before you sign your contract. This can help you budget repayments for the term of the loan and clean up untidy finances in one fell swoop. Once your personal loan for debt consolidation has been paid off you can start hunting for the best credit card option for you.

If your living budget is comfortable and you're on top of your finances already, then that's great news! Planning for your new credit should be quick and simple. When you know that you can repay your credit card balance at the end of every month, then an online credit card offering customers a fixed interest-free period is definitely worth considering. Interest free credit card options offer customers a set term (MoneyMe offers 55 days interest-free on purchases made with the Freestyle Virtual Mastercard®) in which they repay their credit funds without getting charged of interest. This works like a lot of popular buy now and pay later credit options but with the added flexibility of knowing that your interest-free period applies to any purchase that you have made with your credit card instead of at only select stores.
2. Setting an affordable credit limit
MoneyMe is a responsible money lender so we tailor all of our credit products carefully to ensure that our customers can afford our quick loans or our credit card balances. You will know what the most affordable credit limit is for you, so you can always apply to have your limit increased or decreased as you need. Changing your credit card limit with us is fast and easy – you can manage any of your credit funds with us directly from your smartphone with our intuitive app.
3. Comparing your options
Just like shopping for a personal loan, when you're considering the best credit card it's a good idea to compare what's available. Doing a quick personal loan comparison in Australia will help you list the fees and charges each provider has as well as any ongoing costs which might be associated with your credit card or same day loan. Things to consider when comparing credit include:
Introductory interest rates – rates offered for a limited time only. This could still be worth your while if you have an intended use for your credit card but keep an eye on when those rates change and whether the new rate is still affordable before you sign up.

Interest-free days – which provider is offering the highest amount of interest-free days?

Purchase interest rate – once the interest-free period has elapsed, is the regular rate affordable for you?

Fees – which credit card has the lowest annual or monthly fees? Are there late fees for missed repayments? If cash advance options are available, what are the fees for withdrawing or transferring cash amounts from your credit card?

Application time – how quickly can you get a credit card? Is the application online and simple? Are you offered instant credit card approval?
When you're looking for any kind of personal credit, providers offering added benefits like a hassle-free credit card application online are definitely worth considering. Regardless of whether you want to borrow money immediately or not, you don't want to wait around for approval or have to provide reams of paperwork to prove your creditworthiness. Choosing fast approval credit card options helps to reduce stress and wasted time in the long run.
To be eligible for any of the MoneyMe credit products, applicants must be at least 18 years of age, a permanent resident in Australia, and currently employed. Our online application process is fast and easy to navigate. It takes just 5 minutes to complete and submit a new application online and approvals are super-fast, especially when you apply during business hours. 
Everything you need to know about how the Freestyle Virtual Mastercard® from MoneyMe works is available to a few online, including a complete table of our fees as well as a complete statement detailing our terms and conditions of use. When you're happy with the Freestyle Virtual Mastercard® and ready to apply, you can do so via our website in a matter of minutes. Apply online today.