Are you looking for an easy approval credit card so you can get extra funds quickly? The Freestyle virtual Mastercard® works like an online credit card and offers fast access to up to $20,000 once approved. To be eligible for a Freestyle virtual Mastercard® you need to be at least 18 years old, have a regular income and be an Australian citizen or resident. The simple and straight-forward application process can be completed in a matter of minutes, and it can all be done online.
The fast approval process means you won't need to wait long to find out whether you have received credit approval. Once we've approved your Freestyle virtual Mastercard®, we'll set up your account so you can start making purchases immediately.  A Freestyle account is great for times in your life when a bit of extra money could make all the difference, but waiting weeks to have your finance approved isn't an option.  
The difference between the Freestyle virtual Mastercard® and traditional personal loans is that you can get access to credit whenever you need it and unlike personal loans, you don't need to pay the money back over a fixed term or specify upfront how much money you are going to use as long as you stay within your credit limit. And with a line of credit, once you pay off the balance, it becomes available for use again. 
The Freestyle virtual Mastercard® can be accessed via your smartphone and can be used to Tap n Pay in-store or shop online. You can even send money directly to your bank account or a friend's account. The pay anyone feature makes sending money to other accounts a very straightforward process. It's really easy to check your account status, view your transaction history and manage repayments limits directly via the member's area on the website or via the MoneyMe app. A Freestyle virtual account conveniently gives you quick access to money when and where you need it. You can use your line of credit limit virtually anywhere at any time.
At MoneyMe, credit limits range from $1,000 to $20,000 and will depend on your own individual circumstances. Your credit limit will be determined by factors including your income, other debt obligations, your living expenses and your credit history. If you start off with a low credit limit for your easy approval credit card, you can apply to increase your limit later if you need to. Once you've requested the increase, we'll evaluate it and let you know the outcome depending on your payment history and financial standing with us. It can all be requested via your app.
What can you use your line of credit for? The good news is that you can use your Freestyle virtual Mastercard® on almost anything—from buying a car or paying for a holiday to smaller, everyday purchases. Aside from making purchases, you can also use your Freestyle virtual Mastercard® to transfer money to your bank account, or the bank account of someone else. Depending on who you bank with, this transfer can take from just a few minutes to up to one business day.
Is credit score important for a credit card?
As a general rule, your credit score is taken into consideration when determining whether you are eligible for an easy approval credit card in Australia. Many credit card providers won't approve a credit card application for those who have a bad credit history. At MoneyMe, when you are applying for Freestyle virtual Mastercard®, we take the whole picture into consideration. Aside from considering your credit score, we also take into account your income, living expenses and other financial decisions to help us make a fair decision. If you are not successful the first time, you are welcome to apply again if your financial situation changes.
What fees are associated with a credit card?
The fees and charges for an easy approval credit card will vary between loan companies and credit card lenders so it's worth investigating what these are before signing your contract. Depending on the particular credit card, there are several different fees and charges that could be associated with the account including annual or monthly fees, late repayment fees, interest payments, fees if you go over your credit limit for the month and cash advance fees. Some credit cards also have fees if you are using your credit card when you are outside Australia.
With the Freestyle virtual Mastercard® our fees and charges are clearly outlined on our website so you'll know upfront what to expect and can plan accordingly. You don't need to worry about any hidden costs. Being a line of credit, you don't need to pay any interest unless you have used your money and you can get up to 55 days interest-free on purchases. At MoneyMe, your annual fee differs depending on your credit limit and your monthly fee will be waived if your balance is less than a specific amount.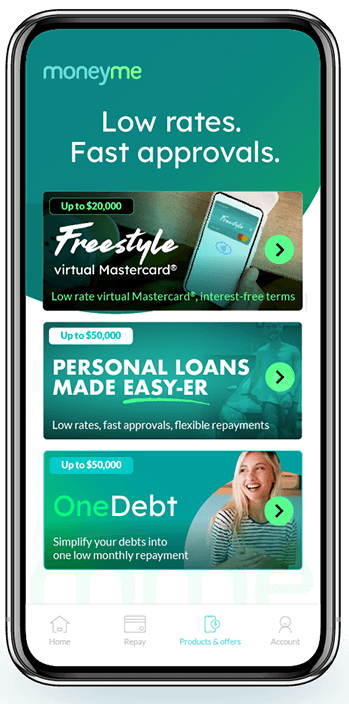 What documents are required for a credit card?
The documentation required to apply for an easy approval credit card will differ depending on the lender. At MoneyMe, we have made the application process for our Freestyle virtual Mastercard® quick and straightforward. To apply for the MoneyMe Freestyle virtual Mastercard®, you need to be 18 years or older, have a regular income source and be an Australian citizen or resident. At MoneyMe, the application process is completely online. There are no branches to visit and there is no need for a face-to-face meeting. The streamlined application process only takes a few minutes.
All you need to do is provide some basic information such as your personal details (name, contact details, residency or citizenship status and identification documents), employment information, income and expenses. You can submit your bank statements to us online using our safe online portal. We use secure technology that provides a "read-only" 90-day view of your bank statement transactions in a PDF format. MoneyMe will not gain access to your account or any login details, but will simply be provided with a snapshot of your transactions.
So what are you waiting for? Apply for a Freestyle virtual Mastercard® either online or via the MoneyMe app today, and you could have access to extra funds before you know it. By giving you access to pre-approved funds of up to $20000, a virtual Freestyle account can make your life a whole lot easier.
Aside from the Freestyle virtual Mastercard®, MoneyMe also offers fast loans up to $50,000 if you need to make a bigger purchase. So if you are looking for last minute loans, you can also apply for MoneyMe cash loans online. If you are running a company, you can also check out our business payment solution. MoneyMe+ is a merchant payment solution that provides an easy way to allow your customers to make purchases in store and pay for them later, and you can also offer interest free payment plans for up to 55 days.
If you have any questions, you can call us at 1300 329 037, send us a message or get in touch via live chat (Mon to Fri 8am to 9pm, Sat & Sun 9am to 9pm – Sydney/Melbourne time).