When life happens and you need a little help with some quick cash, a cash advance credit card option can be just what you're looking for. Cash advances from your pre-approved credit balance offer you instant money right when you need it. You don't need to fill out a new application or sign up for additional credit. It is just fast cash debited directly into your bank account.
If you're looking for instant credit card approval on a new credit option, then you have come to the right place. We offer a fast and hassle-free credit card application online that takes you just minutes to complete and submit.
What is a cash advance?
The term 'cash advance' typically means a small loan that is usually used to help you out between pay cycles. It can refer to when a company offers an employee the ability to claim their pay before it is technically due to be paid to them or when a payer pays part of a person's wages before they start work on things like building projects and other projects which require a cash outlay at the start. In the online credit card world, however, a cash advance is a cash transfer from your credit account to your normal banking account, or someone else's. A cash advance from your credit card comes with a different interest rate to normal purchases and possibly cash advance fees. 
Because of this, cash advance loans have received a poor reputation for being very high in interest and very inflexible with repayment options but MoneyMe is the moneylender changing the field of play in this area. We specialise in quick cash loans from between $2100 and $50,000 available to apply for online and with competitive interest rates and very fast approvals and turnarounds. We use the power of the internet to process our loan applications faster than your bank. We have tailored our low doc personal loan applications to customers just like you who want easy finance applications and fast cash straight away. 
You can even repay your total loan amount when your pay cycle arrives, regardless of the original loan terms. We don't charge early payout fees, so you don't get stung for repaying your credit in full sooner rather than later. Or you can take a look at our complete suite of loan products to find the best fit to express loans online we have available.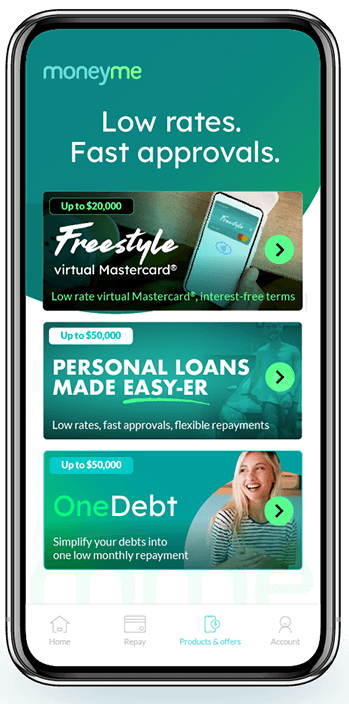 Can you get a cash advance on a credit card?
If you're looking for less than $2,100 in cash, then a cash advance credit card option might work best for you. A quick injection of cash can come in handy for covering emergency costs like urgent home repairs or mechanical repairs. It can even help you out covering your rent or other regular payments when your finances are a bit stressed like around the holiday seasons or when you've been ill and haven't been able to work.
MoneyMe offers customers the Freestyle virtual Mastercard®. Like any other credit card, it gives you access to a revolving line of credit for balances between $1,000 and $20,000. Unlike other providers, however, our credit card doesn't live in your wallet with the other plastic cards; it lives in your smartphone instead. Use it to pay for purchases in-store using Tap n Pay or for shopping online and paying your everyday bills online in a breeze. You get up to 55 days interest-free on purchases made which means that if you repay your credit funds within that period, you're essentially using an interest-free credit card.
There is also the added benefit of drawing cash from your Freestyle account. The Freestyle fast approval credit card offers you endless funds to draw on up to your pre-approved amount. Every repayment frees up new credit you can use again. If you need a little cash boost between paydays, then you can transfer money using the cash advance credit card option to your normal account and withdraw it instantly. 
We're a fair and responsible money lender so everything you need to know about drawing cash from your Freestyle account is available to view on our website, including our full schedule of fees and charges, as well as the cash advance interest rate. It's a good idea to know exactly how much a cash advance from your credit card will cost you before you choose this option. For example, everyday purchases you make with the Freestyle Mastercard from MoneyMe come with up to 55 days interest-free, but your cash advance does not. You are charged the annual interest rate immediately and until the cash advance amount has been repaid to your credit card.
If you can use your Freestyle account to pay for what you need instead of drawing cash, then this is definitely the cheaper option but when you can't, you know that Freestyle is there and available. It might be a good idea to prepare a repayment budget before you draw your extra cash so you know how much it will cost you and how long it will take you to pay it back.
How do I pay back cash advance on a credit card?
Paying back your cash advance amount is quick and easy, just like all of your repayments with MoneyMe. We have tailored our personal loan and credit card options to ensure that they are fuss-free and easy to navigate. For example, your minimum monthly repayment for your Freestyle account is clearly shown on your dashboard and then direct debited from your account when it is due. This is just the minimum repayment required, however, and doesn't mean that you can't make extra repayments to chop down the interest charged. You can repay your entire credit balance immediately if that suits you.
If you're regularly using your Freestyle account to help you out with quick cash loans, then it might be a good idea to consider our fixed rate personal loans instead. A $5000 personal loan, for example, could give you the cash you need in a convenient lump sum amount credited directly to your bank account. Our express loans come with fixed monthly repayments and a fixed interest rate throughout the term of the loan. When you receive your loan contract, you can check exactly how many loan repayments must be made throughout the term of the loan which will show you precisely how much the total loan will cost you. As we mentioned before, we don't sting our customers for paying out their loan balance early which means that you can reduce the number of repayments (and the amount of interest) by making additional payments or clearing out your loan balance before the term is up.
Applying for either our Freestyle virtual credit card or our express loans is quick and easy. You can apply online within just minutes and when you submit your application during our business hours you can expect an approval within the hour. Once approved, you'll receive your new credit contract from us which can be signed digitally online too. Once we've received your signed contract, we transfer your same day loan funds or make your Freestyle credit account instantly accessible.