Get approved for cash loans in Sydney right now. MoneyMe offers credit customers fast approvals for a range of loans online, as well as instant credit card approval. MoneyMe is the next generation in money lending, offering smart, low doc loan personal loan applications that take just 5 minutes to complete. 
We offer credit to every Australian across the country. We don't have an expensive local branch office in Chatswood or North Bondi. Instead, we rely on a tech-driven online loan platform to offer cash to customers looking for fast credit solutions.
When you apply for cash loans in Sydney with us, there are no phone calls required and everything is submitted online. Applying for quick cash loans with MoneyMe really is easy. When you submit your application, you will be asked to provide your online banking details. We then receive read-only access to your statement which verifies your income and expense data in real-time. By speeding up the application process, we have also been able to speed up our approval process and get you the funds you need as soon as possible. Applicants can receive their approval and their new funds the same day they applied for any our fixed rate personal loans. So, when we say that we offer same day loans, we really do mean it.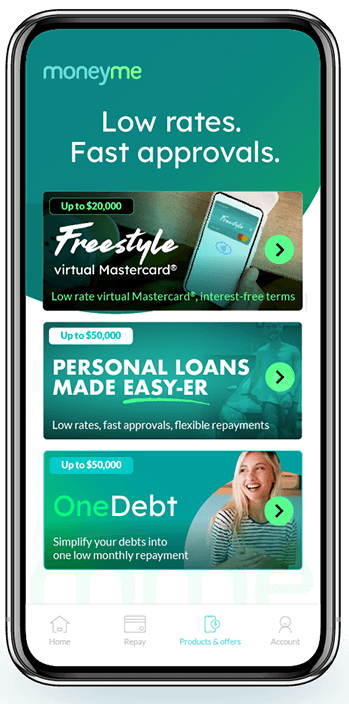 How do cash loans work?
Quick cash loans can give you more cash flow flexibility and a little bit of your much-needed breathing space, and help you plan for the future and cover your daily expenses when big costs suddenly arrive. When you need fast cash and you need it at a competitive rate, MoneyMe is here to help. Our personal loan rates start at just 6.25% p.a. (comparison rate 7.25% p.a.) and you choose the loan term that works best for you. 
To start your application, you'll need to know how much you want to borrow. How much you can borrow depends on a range of different factors. Firstly, affordability. MoneyMe believes in responsible lending, which means that we extend credit to customers that we believe they can comfortably afford to repay. This includes short term loans and long term loans. You apply for quick cash loans from $2,100 to $50,000 with the repayments fixed for the loan term and directly debited from your bank account.
If you're looking for express loans but you're not sure how much you need, then our Freestyle virtual Mastercard® could be a better fit for you. Freestyle works like a credit card, but better: you get approved for up to $20,000 but instead of another plastic card to add to your wallet, it lives in your smartphone. You can use it to pay for things in-store using Tap and Pay or you can shop and pay bills online with it. You don't have to use the funds that you're pre-approved for, but you know that they're always there just in case.
Freestyle works by offering you a revolving line of credit that you can draw down in the form of quick loans when you need them and then either repay your small loans in full or on regular, scheduled payments. It's your credit, your way.

The Freestyle account is designed to be flexible and easy to maintain, offering you easy money when you need it. You can even transfer cash from your Freestyle account to your normal banking account, or anyone else's account. If you're on the hunt for cash loans Sydney and you need a more flexible credit option that you remain in control of, apply online today for a Freestyle account with us.
Where to get quick cash loans in Sydney?
To be eligible to apply for cash loans in Sydney or any of our other credit products, you must be at least 18 years old, a permanent resident in Australia, and currently employed. If you're looking for low credit score personal loans, you're in luck. We understand if your credit score isn't great or if you're still too young to have built up a lot of credit history yet. 
To increase your chances of larger long-term loans with us, consider applying for small loans in Australia first. Once we have seen that you're a reliable and trustworthy credit customer, we can re-evaluate your credit score with us. The next time that you need the money and apply for bigger loan amounts with MoneyMe, your new credit score may be able to help you secure greater rates and lower fees. 
As a reputable money lender with an Australian Credit Licence, it's our responsibility to ensure that all of our customers can manage their credit products without overextending themselves. Express loans can help you get out of a tight financial spot such as when big expenses arrive like mechanical repairs to your car, paying for moving costs as a rental tenant, and covering student costs like the setup costs for new study equipment. We offer quick and simple loans at great rates designed to help you manage life's little expenses comfortably and quickly.
How do the repayments work for cash loans in Sydney?
Using a personal loan calculator is a great way to check what kind of loan amount you can afford to repay and how you can afford to repay it before you apply. These tools are designed to give you indicative costs on any kind of finance from credit cards to big loans. You can use a personal loan repayment calculator to check how much interest will be payable over the entire course of the loan term and how to factor in your monthly repayments on your long term personal loan. It's always a good idea to do a quick personal loan comparison in Australia before you opt for a credit provider so you know how competitive the rate you have been offered really is and whether there are more affordable credit options available.
Your loan repayments are fixed throughout the term of your loan and all the information you need is included in your loan contract from MoneyMe. Your contract will show you exactly what your repayment amount is, how often it is directly debited and how many repayments you need to make to repay your entire loan amount. If you're looking to manage repayments yourself then you may find our Freestyle virtual Mastercard® the more comfortable option. There is no set and fixed repayments with this type of credit and how and when you choose to repay your borrowed funds remains in your hands. 

Whatever you need cash loans online for, MoneyMe can help with approved loans for up to $50,000 available right now or our Freestyle credit card available for up to $20,000. Start living your life and get yourself the money you need for some breathing space, for changing your life, for travelling, for paying for big, important events like a wedding or renovating the house. Get cash loans in Sydney online in a matter of minutes from MoneyMe.